Joined

Oct 8, 2019
Messages

2,701
Just received my Kuiu Pro Bush pants and here are some first impressions.
My package came in less than pristine shape which wound up being a great opportunity to see how it handles slices. Package came delivered with a slice through the outer package and the Kuiu product package. Zero damage or marks on the pants.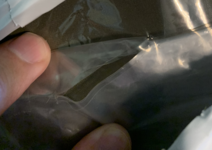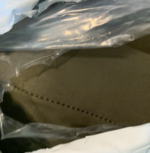 Initial Assessment: Appears to be cut-resistant (to some degree) at a minimum (no further planned testing will be performed).
Fit
Same fit on me as my Attacks, Pro, and Kutanas so I am happy.
Color
Close to my Ash-colored Kutanas. Inside the house the color is more green-ish; in sunlight is becomes more brown-ish. Pro Bush on the left and Kutana on the right.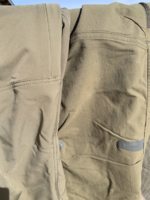 Noise Level
iPhone App: NIOSH SLM
10 rubs of pant legs 2" above phone microphone
Take highest dB reading
Attack (used): Highest 59.0 dB
Kutana (heavily used): 65.1 dB
Pro Brush (brand new and unwashed): 76.1 dB
Initial Assessment: Likely not going to be a hit with the archery hunters. May quiet down after use and washes.
Fit
Same fit on me as my Attacks, Pro, and Kutanas.
Random Observations
* Suspenders - No idea why Kuiu decided to include suspenders with these pants. Mine will be going in a drawer until I become enlightened.
* Boot Lace Hook - Should not hurt but I've never had my pants creep up my legs far enough to warrant the need to worry about it. Will be interesting to see if they incorporate this on all of their pants or if this feature is only required in a desert environment.
Remaining Questions
How will they do in the heat? Four vents will be nice; will see how they are when walking. Material is more like Kutana than Attack or Pro (feel and thickness) so that looks promising. Have to wait until June-August to get a true feel for how they do in central AZ heat.
How do they do with thorns? Still need to test this out. With spring bear a few weeks out they'll get some field time soon enough.