For my part it's just an acknowledgment of what you need/what system is easier or better. I prefer a weather meter that gives me wind speed and DA as it's quicker. The chart for DA is a great back up field tool.

As for weather meters the one I really preferred was the Brunton ADC Pro as it did both wind speed and DA, but also a clock and an alarm and the battery lasted a year plus constant on. They had some QC issues and were discontinued however.
I wonder if the Brunton ADC Summit is an option?
It's not showing on Brunton's US site, but is still showing as available but discontinued on their NZ site, and on Amazon:
https://www.amazon.com/Brunton-ADC-Atmospheric-Data-Center/dp/B000FKMUE4/ref=sr_1_2
Manual seems to suggest it will do DA: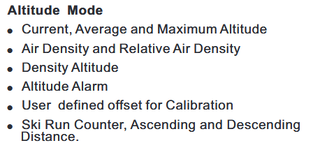 Manual is here:
https://cdn.shopify.com/s/files/1/0217/7948/files/ADC_Summit_Manual.pdf?17230039625499351574