I didnt realize the subtle play on words for this product until I sat down to author this post about it. Maximized nutrition, minimized weight? Perhaps...
I caught wind of a new product (Minimus Nutrition) being developed and tested so I pestered one of the entrepreneurs ( @Larry Bartlett ) for product samples. In the shortest description this is a type of nutrient dense powder that can be added to meals or drank or eaten as a standalone supplement. Why would you add MORE to backcountry meals that are already loaded with protein, fats, carbs etc? A few reasons that I consider intriguing:

More food (protein, carbs, fats)

More nutrients (vitamins, minerals, etc)

More time afield?
But, after following the path of the ounce counter and visiting my various gear spreadsheets, food spreadsheets etc. I really did not see many places to cut weight to accommodate MORE food (atleast none that I was willing to sacrifice). In 2021 I was gearing up for the typical "I am new to AK 10-day DIY sheep hunt". I have always been well aware that the longer the hunt, the heavier the pack, and that a larger proportion of that weight is food as the duration of the hunt extends. As I looked at my food pile for that 2021 hunt, with the added Minimus I wasn't too happy with the weight. But after talking with Larry B. I decided it was not irrational to cut all my dinners in HALF (reduced by 2.5oz) and add a 2oz. package of TaterDust to each half dinner. In this example the total weight loss of ½ a meal equals about 2.5oz of bulk food and replaced with 2oz of instantized nutrients that muscles begin using immediately.


Using Peak refuel Chili Mac meal as my example. Cutting that meal in half I end up with 2.6 ounces per meal. Adding 2 ounces to each bring each dinner to ~4.6 ounces. Original dinner weight 5.33 minus new dinner weight 4.59 comes to~ 0.75 ounces saved per dinner. Multiply that savings by my 9 dinners and the total weight savings equals 6.75 ounces(~1/3 a lb), and that's only one component of the daily menu where savings potential exists.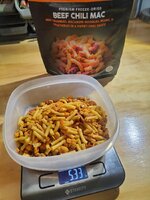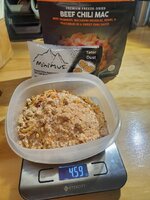 Great we are saving weight, but what are we getting in return for the weight.

We can compare the nutritional label (calories, protein, total carbs) of the original meal to that of ½ meal + minimus (we will make the assumption that half the meal is roughly half the nutritional label of original meal). First, a bit about labels….

The package of Minimus TaterDust states it has an optimized Carbohydrate blend, Instantized Essential Amino Acids, all the Omega 3s and healthy medium chain triglycerides. Now, my nutritional knowledge starts and ends with beans are good, beans cause gastronomical stress which is manifested in a toxic posterior combustion. BUT, I do remember a little bit from organic chemistry… and that is Protein(s) is made up of amino acids (actually I think its several amino acids make a polypeptite chain and protein is made of one ore more polypeptide chain). Essential amino acids are those that are not produced by our body so we have to ingest them (usually in the form of plants and animals). But, the weight of the amino acids are not counted in the weight of the protein. More clarity is needed on the amino acid to protein ratio for a more solid comparison. Nonetheless….

Macro Comparison:

| | | | | | |
| --- | --- | --- | --- | --- | --- |
| Meal | Weight(oz) | Calories | Total Fat(g) | Total Carb(g) | Protein(g) |
| Peak-Chili Mac | 5.33 | 720 | 29 | 74 | 40 |
| TaterDust | 2 | 200 | 4.5 | 37 | 4 |
| ½ Peak + TaterDust | 4.59 | 570 | 19.5 | 75 | 24* |




A couple thoughts thus far:
Weight reduction is welcome

The increased nutrition benefit depends on a persons perspective on nutrition

A google search of amio acid to protein ratio yields a variety of different values. Likely the 4 g of protein in the table above for the TaterDust does NOT account for the amount of protein you are getting in the form of amino acids.
Of the three Minimus offerings I have only used the TaterDust in the field while hunting (sheep and goat hunts in 2022). But I was able to get my grubby paws on some of the CocoaDust and MaterDust in 2023.

TASTE

TATERDUST:

I did not really track how much water I was adding to the peak/taterdust meals on my hunts. I just add water, stir, check consistency and add more if I find I need more. Overall the taterdust would make the meals a bit more bland. I usually have a packet of Cholula in my meals so that helped. I was never starving after the meal nor was I "full". I was satisfied as much as one can be (sans those occasional thoughts about belly bustin' burgers etc). I ended up losing 7 lbs on the sheep hunt. I never felt like I was underfed, low energy etc. I generally don't eat a lot while hunting and it is more of a chore that I have to do rather than something I look forward to (besides the coffee and bullion!). The Tater Dust seems to just assimilate into whatever you are adding it to. I have tossed it into my blender at the house for post workout smoothies even. No taste red-flags or gastronomical irregularities for me.

COCOADUST:

The Cocoa recommends 5 oz of water. I would say for me, when I used 5 oz, the result was too thick and some was not dissolved. I upped it to 7oz and thought that was the minimum for my preference. Coffee is a mainstay in my life no matter the activity. When I hunt I have atleast two servings of coffee for every day (usually both consumed in the morning). I added one CocoaDust to my coffee and it tasted good. I wouldn't say it was this flavor explosion or anything, but it tasted good to me. I have not penciled out how the added nutrition would change my meal approach, likely it would not as I do not bring much for breakfast anymore.

MATERDUST:

Anymore, bullion cubes are always in my food bag. I usually have enough for one per day. When time allows and I am not being lazy, I will heat up water mid-day and toss in a bullion cube. Other times I will drink it while I am waiting for my dinner to rehydrate. I tell myself all the salt in the bullion is good for me and I need it. I doubt that is true, but I feel damn good drinking it. The MaterDust recommends 5 oz of water. I found 5oz of water was just fine. All the substance dissolved and it was not overly thick. I also added a package to 7 oz of hot water and a bullion cup. Man, I really thought that was a great combo and will be bringing that materdust bullion combo into my rainy hunts from here on out! The materdust really tastes like a fancy, thin type tomato soup to me.



There is a good amount of science and research behind amino acid blends, proteins etc. I am hoping others on here can offer their knowledge on these topics (@Larry Bartlett , @V2Pnutrition ). Weight and macros aside when you look at the variety of vitamins, minerals and other elements on these products, it is like adding a multivitamin to your dinner. If I can get better nutritional quality (more good stuff) AND save weight that is appealing to me. Looking forward to some engaged discussion on these products and hopefully more of the "science".