Joined

Apr 3, 2021
Messages

521
Background:
Bought this rifle (300 Win Mag Bergara B14 Ridge Wilderness) a couple of years ago. Never could get it to shoot very well with premium ammo (4-5 MOA). Sent it back to Bergara and they re-worked it, claimed sub MOA with 3 shot group (some machining involved on the chamber and the muzzle brake I believe).
Finally had a chance to take it back out to see if it will shoot, and the groups did tighten up by ~2X, but still generally well outside of 1 MOA. I was shooting indoors, through a 100-yard tunnel (no wind) on a cradle. Pretty stable setup, with shots several minutes apart to allow for the barrel to cool (never got more than warm).
I did notice the bolt was sticky on extraction, not the lift so much. I don't remember this being an issue before, and my other Bergara's action is pure glass pretty much.
I did notice some uneven/segmented scratches on Hornady fired brass, and some minor bulging on fired Federal Premium brass (pics below, with fired brass on the left/unfired on the right). No extractor marks/primer issues on the base that I could see.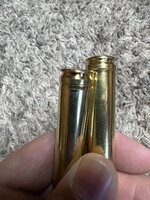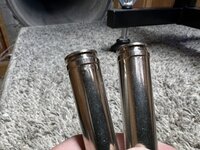 Range Results:
Federal Premium Nosler Accubond 180gr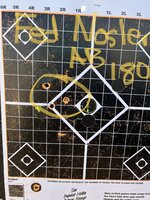 Federal Premium Terminal Ascent 200gr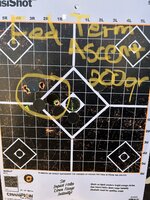 Federal Premium Trophy Bonded 165gr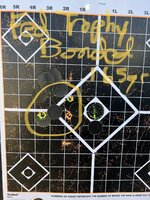 Hornadly ELD-X 200gr
Note - this is the first ammo I tried after zeroing in with Norma. However I came back at the end after a long cool down and shot two more with this cartridge and they were about 3 inches apart...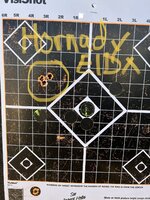 Cheap Norma Softpoint 150gr for sighting in: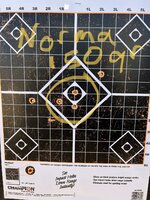 I don't want to end up going down the path of the "Bergarbage" thread guy, as most of these cartridges are ~$3 each. I haven't ruled out the scope, but I suppose I could swap that out and try one more time...
Thoughts? I'm itching to buy a 20" carbon pre-fit to convert this rifle into a lighter 7mm PRC with a suppressor.