Joined

Mar 28, 2017
Messages

8,449
Location
This scouting and hunting season
@robby denning
arranged for me to test out the modularity and functionality of Seek Outside's Wingspan Pockets
https://seekoutside.com/wingspan-pocket/
I will be using these in multiple configurations with a Goshawk, Merlin, lid, and load shelf on the Revolution frame. They arrived this week in time to go check some cameras today and worked out well to keep me organized and my laptop protected.
My goal is to have an initial review published by mid-August, so please chime in on what you're curious about, have questions on, or would like to see.
***Update 8/21/22***
Seek Outside Wingspan Pockets Review
Better pictures to come 😉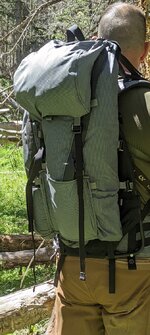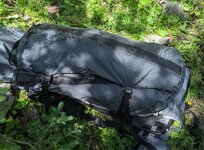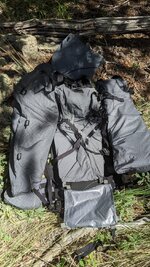 So far this hunting season, first week of September, the Wingspan Pockets have worked out great.
For day hunting archery elk, my wife has the tag so we set up one wingspan with her stuff (kill kit, rain coat, snacks, layers, etc), and one wingspan with my stuff (rain coat, layers, snacks, etc.). She is using her Seek Outside Revolution frame with just a Talon to carry her water bladder when we are together, and I carry both Wingspans. When we separate, she takes on her Wingspan and with the easy back and forth she is able to hunt most efficiently and quietly. I am still using the lid and load shelf. If we can fool a dumb one we will both be able to pack meat and will have all the gear we need. I suspect that as it gets colder, I will add the Merlin so I can carry a puffy and stool.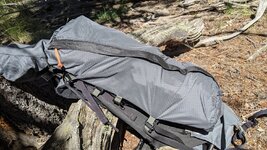 I did go on a backcountry Bighorn hunt to help on the spotter and carrying things. I packed in 5 days worth of gear to a base camp about 6 miles in, and dropped one Wingspan with supplemental gear, and used the other Wingspan as the food bag to hang. It worked out great and was the perfect size for this.
I continued on another 5 miles with just the Goshawk and two days worth of gear.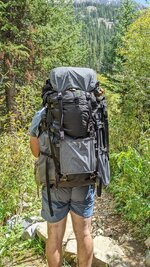 A ram was shot. The hunter and his other friends wanted to take a soak in a hot spring close by, so I carried all of the meat (four bone in quarters, backstops, and tenderloins) and my two day camp somewhere between 1.5-2 miles towards the trailhead while they did their thing and then caught up.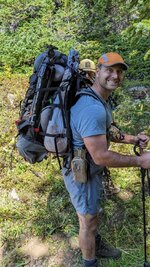 Once they caught up, I offloaded a rear quarter and tenderloins to another person then continued on to the basecamp with the other three quarters. At basecamp I offloaded a front quarter, added back both wingspans, and continued on with a front/rear/backstraps and my five day camp. I had started the pack in at about 10am on Monday, arrived at basecamp midday, spike camp in the afternoon, and they meat packing started about 10am on Tuesday. I packed in prepared for five days (6 days of meals because I am terribly fearful of being hungry) but ended up only eating two meals.
Final configuration for the 6 mile walk out from basecamp to trailhead. Goshawk 4800, both Wingspan Pockets, lid. Rear quarter, front quarter, backstops from a bighorn ram in meat/load shelf area.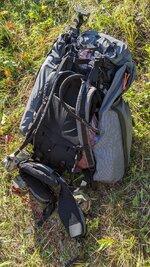 Someone on another thread had asked about comfort level over 100lbs. I believe the first leg of the packet I was around or over 100lbs (30lbs camp + 80lbs meat). I won't tell you it was comfortable or enjoyable. I will tell you that me, myself, and I was the limiting factor in hiking speed as I have never trained for that load or had any desire to entertain it. I view this sort of thing in tiers of "comfort", "painful", and "injuring". I was not hurt/in serious pain and I was not injured; the limiting factor was my glutes burning and uphill pushes where I would need to pause.
Offloading one quarter brought things back to comfortable, and once we hit basecamp and I picked up the remainder of my gear in the Wingspans and offloaded the other quarter, left me right in my wheel house of efficiency. I weighed my pack when I got home, and my 5 day load out was at 33lbs with no water and I had brought my Kowa 884 and tripod in the house. I believe with the front/rear/backstraps added in I was probably carrying 70-80lbs. Before this trip, I did take the extra few minutes to put in the 4" extensions, making the frame height 28", and that was awesome. I have 100% confidence that the Revolution frame is up to any task that Man or Woman can throw at it and stay out of the above mentioned "injuring" and "painful" tiers.
The UltraPE400 and Spectra materials both proved to be waterproof (blood) and I used a handful of wet paper towels to wipe the dried blood off of them in a few minutes.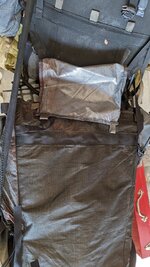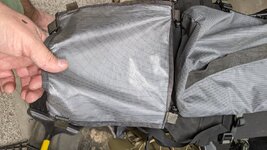 Last edited: