All,
Please join me in congratulating/welcoming Billy Molls as the latest Rokslide Pro Staff/Field Editor. Billy's extensive knowledge of hunting Alaska will be a great addition to the Rokslide team.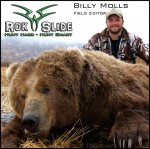 For over 70 years Billy's grandfather made a living as a professional fur trapper. At the age of 4, Billy became his trapping partner, and has been trapping, hunting, or fishing ever since. After graduating high school, Billy left the family farm in Wisconsin, and headed North to Alaska to blaze a trail for his own career in the outdoors. For the past 15 years he has guided big game hunters across The Last Frontier for Brown bear, grizzly bear, moose, caribou, Dall sheep, and wolf. During the first 9 years of his guiding career, Billy would head to Idaho as soon as he finished his Alaska season, and guide there for elk, mule deer, and bighorn sheep. For four consecutive years, between Alaska and Idaho, Billy lived as many as 240 days of the year in a tent, but he currently spends an average of 100 days guiding in the bush of Alaska.
Since his very first hunt in Alaska, Billy has had a video camera is hand the entire time. He produces a unique line of hunting videos titled, "The Modern Day Mountain Man." With a focus on the wilderness lifestyle and raw adventure, Billy is currently in production of his 10th Alaskan hunting DVD and his first book.
Billy's Alaskan hunting dvd's can be purchased in the Rokslide store.