I already own and use both a GoLITE Shangri-La 3 and Shangri-La 5. I really like the Shangri-La shelters so you might wonder why mess with another similar shelter. Ever since I saw the Hoopla 4, I was drawn to it's siren song of better design. Specifically there were three features I saw as better and worth exploring.
More usable floor space.
More usable head room.
Designed for one trekking pole.
When a deep discount on the Hoopla 4 presented itself, I ordered one in. Today the Hoopla arrived. I didn't have much time to play but I was able to set up the Hoopla and get some initial impressions. It was dusk and getting dark fast, but I managed to get a few pictures too.
The Hoopla isn't difficult to pitch. I did the American thing and just went to work after watching a video and not reading the instructions.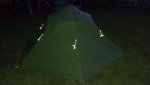 Here the Hoopla has the door and adjoining panel open. This would be a nice shelter to glass from if camp was positioned such that you could. There was ample head room.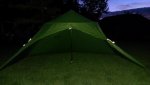 I laid down to check the space. More room than the SL3 but no way I could get 4 adults like in Mountain Hardwear's diagram.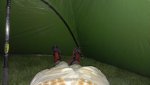 Only one small vent on the top.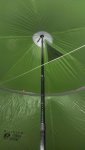 Initial impressions:
Quality is good, good fit and finish
All Seams except hoop seem are taped
Complete package, includes fly, hoop pole, pole repair sleeve, 3 stuff sacks, 6, reflective guy lines, 12 stakes, and Seam Grip
Like the door on the SL3 better
Not as easy to tension Hoopla as SL3. Hoopla doesn't have adjustable stake loops
SL3 is easier to pitch high
Hoopla only has one small vent
Vent support is mailable
Vent is fairly horizontal and could allow water in
Has more head room around the perimeter than the SL3
I plan to weigh everything and set up the Hoopla, SL3 and SL5 to compare as well as do some field time before I pass final judgement.