Joined

Dec 13, 2017
Messages

409
Location
I recently decided to buy or build myself a lightweight .223 after moving to AZ and realizing that any game I could hunt with any regularity in the state could be handled just fine with a .223. After soaking in all
@PNWGATOR
's thread ".223 for bear, deer, elk and moose" had to offer, and comparing it with my own .223 experience on deer (bang, flop), I decided a .223 was all I really needed.
The .223
Kimber Montana's in .223 being impossible to find, my plan was to purchase a Howa Carbon Stalker in .223, chop the barrel to 16", and set it up with a Griffin Armament Optimus Micro Suppressor. With an advertised weight of 4lb 10oz, it would make a handy rifle to carry on every outing in a state where any hike can become a mountain lion hunt from Aug-May with a little luck.
I ordered my first Howa Carbon Stalker, but it never shipped--before shipping the dealer realized the stock had sustained damage and would have to be returned to Howa for repairs with an estimated 60-120 day wait. So, I ordered another (HCBN223KA), and it arrived without issue until I got home and inspected it outside of the plastic seal Howa ships their rifles in. I weighed the gun, 5lb 2oz, half a pound more than I was expecting.
Bummer.
The inletting was off, and the barrel was pressed hard against the side of barrel channel. Not what I expected out of a ~$1000 rifle.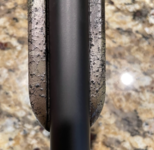 Damn.
I called Howa, and after insinuating I was at fault for not performing a closer inspection before transfer (does that mean they want the customer to QC, or that they want some schmuck who doesn't know better to buy?), they told me this was a common issue and could be remedied by putting pressure on the barrel and stock while retightening the action screws. It didn't work, and I had already tried the same on my own. I sent in a series of pictures detailing the barrel channel and a couple other stock and finish flaws, and they agreed to send me a shipping label to return the rifle for warranty repairs with a 60-120 day turnaround time.
Shame. I really liked the little action. The plastic magazine setup was pretty junky and awkward, the stock quality was lacking, and it was well over advertised weight... but I still liked it. Were it not for the rubberized finish and price tag, I would have sanded the barrel channel out and moved on with my life.
For years I'd been kicking around the thought of building a 6.5 Grendel, and knowing that I wouldn't have my .223 back any time soon to hunt with, I decided to pick up a Grendel. I thought I'd build a lightweight AR, but after handling the Howa Mini action, realizing that Stocky's sold factory second carbon fiber stocks at a discount, and finding Oregunsmithing's Howa bottom metal, I decided to have another go with Howa--this time knowing I was walking into a project...
When the .223 finally returns, it will be outfitted with a Trijicon Accupoint 3-9x40 scope with green triangle post. I might go wild later and add a Carbon Six CF barrel.
The 6.5 Build
The best price I could find for a Howa in 6.5 Grendel ended up being a Howa Mini with a heavy 20" threaded barrel in an Excl Lite chassis (HMXL65GB). Unless you have long arms or plan on replacing the stock with a shorter tube, I wouldn't recommend that chassis--the length of pull is pretty long. If you actually do want one, lemme know, as I'll be selling this chassis.
The Grendel arrived today, and after opening up the barrel channel in the factory second Stocky's carbon fiber stock, I collected some weights people might find useful. There isn't a lot of good info on weights for Howa's rifles and components, so I included them in the next section.
For now, I think I'll set this rifle up with some Talley scope mounts and a 3.5-10x50 Vortex Diamondback scope (~16 oz) I have hanging out on the workbench. I've already ditched the Howa magazine for the Oregunsmithing bottom metal.
Component Weights
Howa Mini Action with 20" Heavy Threaded Barrel in 6.5 Grendel (no bottom metal) - 4 lb 1.9 oz
Howa Mini Excl Lite Folding Chassis - 2 lb 3.4 oz
Stocky's Carbon Fiber Stock - 1 lb .9 oz
Stock's with Limb Saver pad and sling studs removed - 14.5 oz
Howa Plastic Trigger Guard + Magazine - 3.3 oz
Oregunsmithing Bottom Metal Assembly - 3.5 oz
The 6.5 Grendel with a 20" heavy barrel, Oregunsmithing bottom metal, and Stocky's CF stock weighed in at 5 lb 4.4 oz. Having the barrel fluted would drop some weight, but I'm pretty happy with it for now. Once I get the scope mounted I'll upload a picture and final weight. Not sure I can live with that shiny carbon fiber, so it may get sprayed down with Krylon soon.