Joined

Aug 12, 2022
Messages

24
Location
So I received my Kuiu in the mail and have been looking it over. Here are my initial thoughts on things. I am 5 11" and 170 for reference. I hope some of the photos show in a little better detail some of the features. Here is a photo of the whole setup.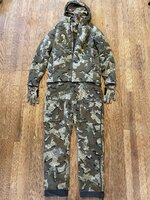 The hat is their Wind Pro Beanie, Wind Pro Neck Gaiter, the Proximity Jacket, the Proximity Pants, Axis Gloves.
Lets start with the beanie. I have a fat head and their XL is a nice going to stay on my head but not give me a headache fit. Including when I've got a bit longer hair. This reminds me of the Under Armor fleece beanies. It doesn't let wind come through, we had some 40mph winds earlier today and I couldn't feel it on my head. It is also thin enough that my hearing did not seem overly impaired. I think once it actually gets cold out, the trade off in warmth to my ears versus hearing will be worth it.
Working our way down, I love the neck gaiter. I think that the holes cut out to breathe through are awesome. I don't have glasses but I imagine this might help with some of the lense fogging that occurs once the mercury dives. The cinch in the back is a little hard to loosen one handed but it seems like it'll be set and forget, especially with the wire in the nose that you can form to the bridge of your nose. The gaiter fits nicely into the jacket and seems like it'll go down over the neck if I want to wear paint instead. It is the same thickness as the beanie.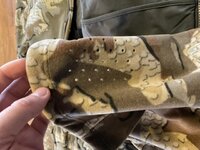 Moving down to the jacket, there is a lot to like. First and foremost, it doesn't feel cheap like the Cabelas fleece that used to be a thing. It is thick and it really feels like there's some heft to it. I think it is plenty quiet to pull a bow back and the sleeves are slim enough that there's not a lot of excess. The jacket fits very very well. Not too baggy, I don't feel there's a need to size up unless I wanted to maybe double up on a sweatshirt and down.
I tend to get very cold quickly. A light sweatshirt outside below 60 can sometimes not be enough. I was able to fit s Super Down Ultra in the same size underneath which really turned this thing into a furnace. I will note that doing this made the jacket substantially louder than without it. The jacket is so quiet that I can hear the crinkling of the down jacket over whatever sound the proximity jacket is making. It's about 50 and rainy out and I was getting quite warm in it. I think this piece will really come into play when things drop below 45 degrees.
Here are some of the features I like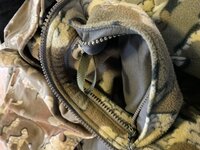 Gear loop in both front chest pockets. These will get used quite a bit for a grunt call and a rangefinder. I can see using it in turkey season too for similar reasons.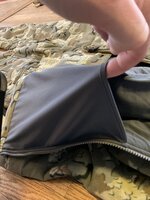 The drop pockets are awesome, there is one on each side. I love to throw thinner gloves or handwarmers into these
The so I am happy to see it on this jacket.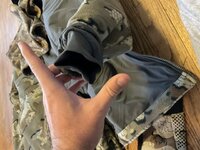 The cuffs are pretty tight on this. Wearing a big watch might be difficult, but I was able to get the gloves slid between the fleece and the elastic sleeve. Itll really be nice once the snow flies for keeping melting snow out and off my arm.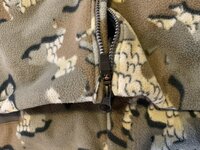 It is a double zipper and I'm actually not a fan in this case. With the piece of cloth that folds over the bottom zipper it can be a real pain. I know it's just nit picking at this point but perhaps I will learn to love it.
On the gloves, I have the Axis and they fit nicely with the rest of the stuff. I don't really have much to say about them until I'm freezing in a tree with them. They might be a little bit too neoprene like to be my preferred gloves with the bow.
As others have stated, the Proximity pants are more like bibs. I love them. They are true to fit, very very warm and they sit a bit higher than my other pants and even cover up my back a little bit. The suspenders can be removed easily if needed but I don't see myself doing that. If you wear a layer under the jacket, you will probably want to tuck it into the pants with the suspender of wear them over the straps. The real awesome part of these I think are the pockets. I no longer have to fight my regular pants pockets and hope my phone doesnt take a header off the ground below.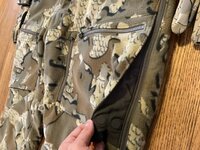 The pockets also expand via magnet. Note that the vertical and horizontal pockets are two separate pockets, not two ways to get into the same compartment. These might be dangerous since I'll just end up loading them up, I can also see handwarmers going into these.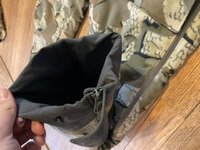 The pants have a zipper up top and a zipper on the bottom where you can snap a flap over it. They advertise them as able to be worn over rubber boots. I can confirm that Muck Wetlands fit under these but I'm not sure how much girthier you would want of a boot to put the pants over. Also not sure I will do that because I think I would fall out of the tree in bulky boots, Ground blind though? No problem.
So all in all, I think this will be a pretty awesome setup. I will likely update this as I use them in an actual hunting scenario here. My plans for the year include hunting my home state here in WY once things cool down a bit, and I have some hunting planned in the Upper Peninsula in November where I really (don't) hope to put them to the test in the wind and possibly a good amount of snow.
If anyone has any questions, let me know and I'll take a look at my stuff and see if I can answer. I know I wish there was a little bit more info out on them but at this point I'm just happy to have them for the fall.