Joined

May 3, 2012
Messages

15
My friend and I stopped by KUIU to pick up our packs last Friday before a weekend early season bowhunt/scouting trip here in Northern California. The gracious and ever so helpful customer service ladies allowed us to bring our gear in and load our packs up before we headed out. I had probably 20-25 lbs in my pack including water and food for 3 days. My buddy had slightly more as he had the spotting scope and tripod. The grin on his face when he put it on was something I won't forget. He has a Misery Ranch 6500 that he said he would never sell but after putting the Icon on he asked me how much I thought he could get for it since I had just sold mine. To say this is the most comfortable pack I have ever worn is an understatement. When you tighten the load lifters it makes the pack feel one with your body. They flex the frame so it transfers the weight to your hips. That 25 lbs now felt like nothing at all. I know 25lbs isn't much but for a pack to make the weight feel as if it isn't there means the load lifters are designed correctly. Many packs don't have this crucial feature designed right.
Here's my initial thoughts.
- The new lumbar pad is perfect size and very tacky so it stays put in your back. There is no slippage when loaded down with weight.
- The memory foam in the shoulder straps and waist belt is much more cushioning than the previous material and the waist belt now goes smaller to fit those with a 32 waist (it tightens down to probably a 29 waist).
- The new velcro adjustable shoulder straps are genius and so easy to adjust it amazing. It is now adjustable for those with a shorter torso length. I'm 5'9" and there is still another 1" in adjustment down.
- There are many small details that were added such as the small web keepers on every loose strap and hydration tube holder on the shoulder strap.
- The internal organizational pockets are larger and fit much more.
- The four way zip side pockets are brilliant and will come in very handy.
- The waist belt pockets are a huge improvement over the stretch mesh and are just what I had hoped for.
- The frame is slightly thicker and beefier making it not flex under heavy weight. I loaded it up with 90 lbs when I got home and it was still the most comfortable pack I have ever worn.
- The new Duraflex hardware is sweet.
- It is easy to put into load sling mode and makes the pack capable of carrying a boned out buck no problem.
- The outer center pocket is larger than the Gen 1 and it will comfortably fit my sleeping bag, pad, down jacket, and extra merino. My buddy fit his spotting scope and tripod in it.
- You can also now look uphill without the back of your head hitting the pack.
Now I know some guys and other pack manufacturers say you can't use carbon fiber in a frame and it won't work blah blah blah.... Well I say BS...Jason has and it is an absolute homerun. If that train of thought existed everywhere we would still be in the stone age. The innovative thinking that Jason and KUIU uses is something you need in today's world of below average products that flood the market. The first gen had its issues and KUIU fixed them with this one. I don't know of any other pack company that listens to its customers' requests as well as KUIU does, implements them and has them ready for the next hunting season. Am I mad that Jason came out with a new pack so soon after buying the Gen 1 Icon? Not at all, it is still a great pack and I sold it to someone who is very happy with it. In my opinion this new pack makes the other heavy packs on the market obsolete. The way it organizes your gear, carries a load and adjusts so fast to the user is astonishing. For those that are on the fence about buying one, don't be. This pack is the best hunting pack I have ever worn and I really can't believe it is just the 2nd gen of a new company because it blows away the competition that has been around forever. I have to take my hat off to Jason and the crew because they continue to push the envelope and develop gear that we can rely on when mountain hunting.
Here are a few pics from the weekend. The hunt was a typical early season hunt here in CA. 105* with ticks and mosquitoes. We saw 10 bucks but getting within range proved to be very hard with the dry grass and many eyes. It was a good trip overall though. Cant complain when you get to chase Blacktails in July. One cool thing I learned was that I can range out to 2200 yards with the new EL Range binocs as long as the target is reflective. (green leaves)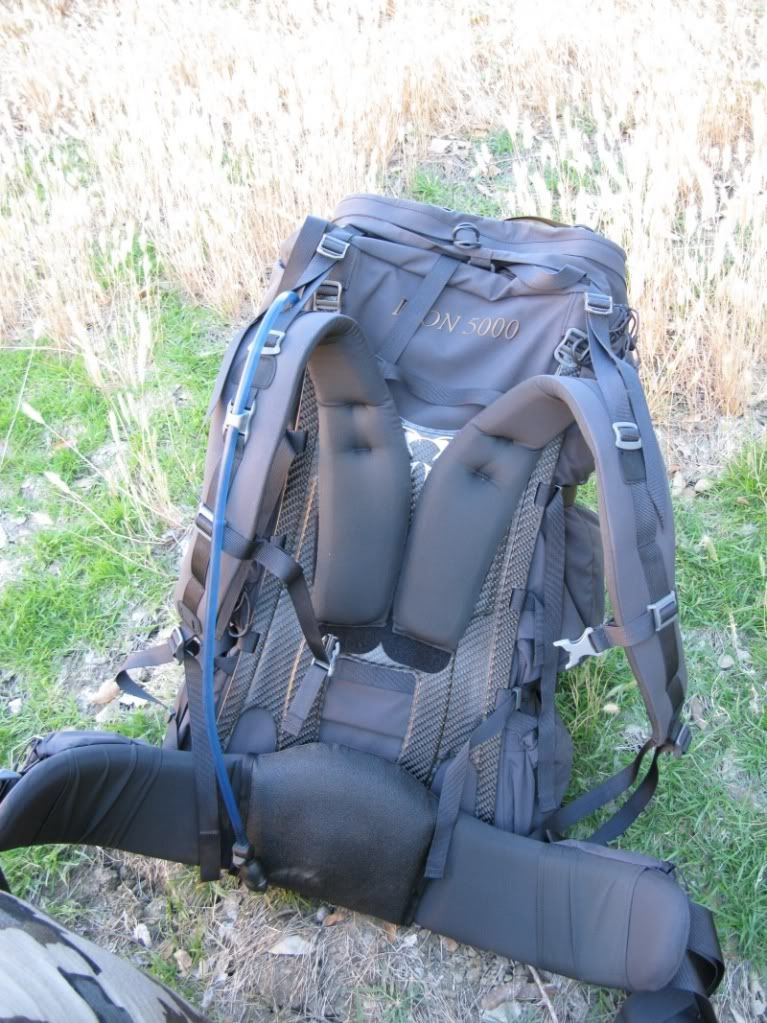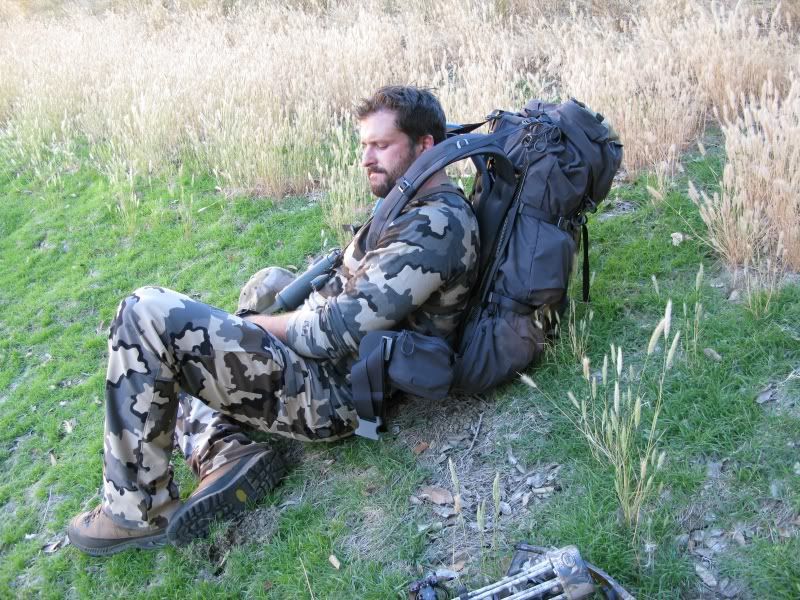 Follow up post.
Just got back from a quick 3 miler with 100 lbs in the pack. I put a 50lb salt bag in the main compartment, a 35 lb weight in the load sling, and a 10 and 5 lb in the top lid. Here are my thoughts...
- The pack did not move from my waist. It stayed put like its supposed to and did not move down my hips at all. The lumbar pad sticks comfortably in your lower back and doesn't move. This was the biggest question mark for me and it exceeded my expectations.
- The frame does not flex like the Gen 1 when loaded down with a lot of weight. It feels solid like an external tubular frame.
- The way the frame arches and has minimal attachments gives you a lot ventilation on your back keeping it cool.
- The pack did not squeak at all. I mean completely silent. The way the pack attaches to the waist belt has been simplified with a pouch that the frame slides into and then has a flap that goes over it and velcros to the other side.
- I had no hot spots or pressure points and actually felt great after the hike. My shoulders/traps felt good. There was no digging in at all. Once you figure out how you like your shoulder straps it is very comfy.
I'm smiling because I have never had 100lbs feel this good.