Joined

Dec 24, 2015
Messages

792
Long one here, but do read if you have any interest in hunting with this outfitter listed in the title.
Having had a couple of years' experience hunting elk - archery in Colorado (2) muzzleloader in Northern New Mexico (1), I wasn't completely green to it, but had yet to taste true success. In Colorado in the second year, I wounded a raghorn bull I had called in, that I unfortunately could not recover. I've hunted deer/pigs and other animals, besides elk, since I was 8-12 years old. I was 31 in 2020, and hungry for my first elk.
It's been two years since I hunted 1st archery season in New Mexico's famed Gila unit 16D in 2020. It was only the second year that I had applied for NM (what luck right?), that I saw that "successful" next to my first choice which was 16D 1st archery season. I was torn on whether to go guided or un-guided, but having no friends or family that could take off vacation time to accompany me on the hunt I leaned towards the option of going guided. I talked to as many guides in the area that I possibly could and ended up settling on David Silva of Gila DNA Outfitters. He is a native of Reserve, NM (in the unit) and grew up hunting those mountains, sounded decent enough throughout our couple phone conversations, and after much research and calling all references, I couldn't dig up any legitimate dirt. So, I booked it. Quick fact – he charged $1,000 more than his competition for one less hunting day. $7,500 for a 6 day hunt & $1,000/per day extra if you wanted to stay. Competition at that time hovered right around $6,500 for 7 days of hunting.
I showed up a day early and met him at a café in Reserve. Off to the house where we are staying at for the hunt from there, couple miles South of Reserve. I could care less about where I was sleeping but there was electricity, hot water, a bed and food so it was fine. There was another gentleman, an attorney from Louisiana who was already there, and he had been there since September 1st planning on hunting the entire 14 day season. I was showing up on the 3rd or the 4th with the plan that if I needed to, I could add days on the back end, hoping for more rut activity on the tail end. The next day morning we head to the spot, about 1.5-2hr drive from the house. We see bulls, big bulls (350-370), from a long way off through spotting scopes. On the morning of day 2 or 3, we get in early and follow a bugle through the PJ before its light to hopefully be in position when it gets daylight. We end up 85-95 yards from the bull as he gathers his cows moving away. David asks if I want to take the shot? Absolutely not… off we go from there. We try to follow them up the ridge but I am admittedly not fast enough to keep up with him or the elk. Day 3-6/7 we were on elk, had some cool encounters watching bulls from distance, covered ground, but no bulls were called in and there were no shot opportunities that presented themselves. David hunts more spot and stalk than calling, not wanting to call that much.
On day 6 or 7, we spot a bull from a couple hundred yards away bedded, I'm stoked, lets get after it! Wrong, "We aren't here to chase dinks" David says. I say, we're here to chase what I want to chase because I'm the client and just paid you a lot of money. Nope, refuses to do go on this stalk. Keep in mind this bull was probably 310-320 (his words not mine). Here we are, at the end of the originally planned hunt, and your guide is refusing to go after an animal you want to harvest? I get extremely frustrated as you can imagine. It was either the afternoon of day 6 or day 7 and we get into some other discussion about me wanting to lower standards and go home with an animal. He obviously disagreed with that and responds "if you want some elk meat man, I'll give you some out of my freezer I have a bunch at home." We had some disagreements on tactics, I wanted to try more calling because the spot and stalk obviously wasn't working for us after all these days, (see attached Instagram video). Later that night after the hunt we get back to the truck, (riding a quad). I hop in the front seat exhausted and sit down. He starts to load the quad into the back of the truck, we had been leaving the quad stashed up at this spot a couple hours from camp the entire hunt. I ask, why're you loading up the quad aren't we coming back here? His response "F*** that, we can chase dinks in town." So here we are, night of day 7 and the start of your $1,000 per day extra fee, and your guide that you hired is giving up on this spot to hunt in town because you've lowered your standards.
We hunt the next day or 2 in town, could've shot a cow (wish I would have). On the morning of day 10, another guide from the outfit he was collaborating with and possibly merging with (believe their name was G3 outfitters) shows up to join us on the hunt, we hit a different area out of town but close, David had promised that we would grind it out all day for the last day of the hunt and I was trying to get passed all the previous drama in the hunt. Midday on the last day, we roll back into the house we are staying at, thinking we'll hit a quick lunch and get back out there, try to spot a bedded bull, sit water, anything but sit on the couch right… wrong… I find David asleep in the recliner taking a nap. I try to nap myself but by this time my nerves are shot and I've had it with this operation. I pack all my stuff, put it in the truck while he's sleeping, wake him up leave him a check and headed for home, forfeiting a half a day worth of hunting. While I was there, two hunters from Ohio were in the camp, came and went without opportunity for harvest. I spoke with the gentleman from Louisiana on the phone after the hunt and he went home after 14 days without an opportunity to harvest. Sounded like the camp was 0-4 first archery. They were in 16A.
I left there, never getting in realistic archery range of a branch antlered bull, no raghorns, the only elk we called in was a spike somewhere in the middle of the hunt. I went back and looked at my apple watch stats from the hunt, we hiked an average of 7.75 miles a day over the time I was there with a couple 10 mile days and a 13 mile day. While I'm not Cam Hanes, or David Silva for that matter, I can get around decent, slowly but surely.
I also encountered other bizarre behavior on my hunt with David. One day while walking out at dark back to the quad, he was ahead of me and turned off his light and disappeared into the canyon, "alright, weird, I didn't drop a pin on the quad but I think its this way" I thought, so I continued on, further down the canyon, 15 minutes later he pops out of the bushes behind me as if he was trying to listen to me or watch me or scare me? Not quite sure, but extremely weird behavior. He talked a lot about his upbringing and how they were for lack of a better term – "thugs" in reserve, beating people up, partying, etc. Unsure if this was meant to be intimidating or what it was, nonetheless, strange. He would throw plastic water bottles and snack wrappers on the ground while out hunting constantly– presumably to not make any noise if you encountered elk. All trash while at the truck was thrown in the back of the open bed of the truck where it would fly out while driving. This was a big joke with him and he dubbed it the "magic truck". In my opinion, this was extremely odd behavior for someone that makes their living off the Gila National Forest and its resources. Maybe the most odd thing I experienced was where he asked me to borrow $100, "I'll pay you back" he said. I gave him a $100 bill, but was never repaid.
I sat on this story for two years and honestly had moved passed it. It wasn't until today that I decided I would write something up about my experience. I got on Instagram to follow the hunting world and stumbled across his page, and I noticed the attached video of myself on David's Instagram with audio overlayed on the video saying "I'm retarded" and with a caption insinuating everyone knows a retarded elk hunter. He took this video of me without my knowledge after we disagreed on what tactics to use and I wanted to use the bugle tube. At the end of the day, this isn't about my skill as a hunter or whether or not the hunt was successful- I expect a guide to be respectful, courteous, professional, and to treat clients as more than just a "trigger puller" on the hunt. This could not have been farther from the experience I had, so I hope to save even just one of you from making the mistake I made in going with David.
I learned a lot about myself, and what I want out of hunting. I am an experience hunter, the adventure of the hunt and who you share the hunt with (or don't share it with) is worth so much more than the trophy. I wanted a top shelf hunting experience, and the elk was secondary. I regret not attempting to tackle it solo, and if I could go back, I would have.
Wishing everyone the best of luck this fall!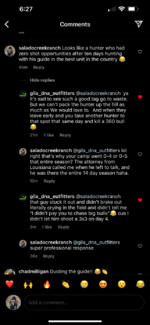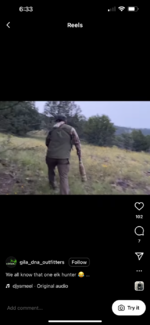 Last edited: