Joined

Feb 24, 2016
Messages

1,633
Location
Feel free to laugh and make fun. I'll follow up after this season on my experience with the glue.
Yes, I said glue. Review on Amazon said it holds well on canvas tents. I did not treat my tent with anything like I thought about doing. 20 something years old, too many sources said not to. Never leaked anyway. This stuff was about 6 bucks.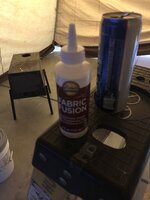 Got the stove jack of Amazon too. At this point you may laugh. Too hot and the only shade available was here. Short on headroom so I only could get the wall up on the stove side. As a plus, I cranked the swamp cooler to 10, opened the door and had a great cool breeze.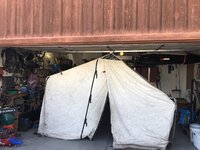 Laid everything out, marked it up, had a drink and began surgery.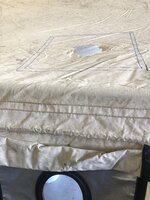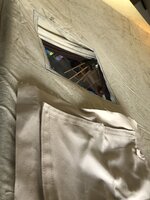 I wiped all the dirt off I could from the perimeter of the cut to give the glue it's best chance. Laid a decent amount all over the canvas edge of the new jack. Tried to rig a brace off my ladder so I could put some weight down to give the glue a better chance, but it didn't work. The glued surfaces seemed to hold together anyway, almost sucked itself down.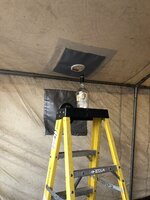 Glue is dry, and flexible and stuck well. I can't lift a corner off, so I toasted to a minor victory.
Since the base camp will be going in on a SxS, I'm not taking the nice big stove. I'm taking the seek XL stove, and that will go right up thru the new vent.