Super Moderator
Staff member
Joined

Mar 9, 2012
Messages

3,860
Location
I have had my new pair of Zen-Ray ed3s 10x43 for a few months now, I wish it was hunting season to put them to the real test. I have spent a fair amount of time hiking in the hills, being up at first light and glassing through them at dusk to give my thoughts on these binoculars a fair review. I wish I had my old Leupold golden rings hd to compare side by side however I am going to have to count on the countless hours I have spent through them as comparison.I will tell you they had the budget hardcore hunter in mind when they developed these binos!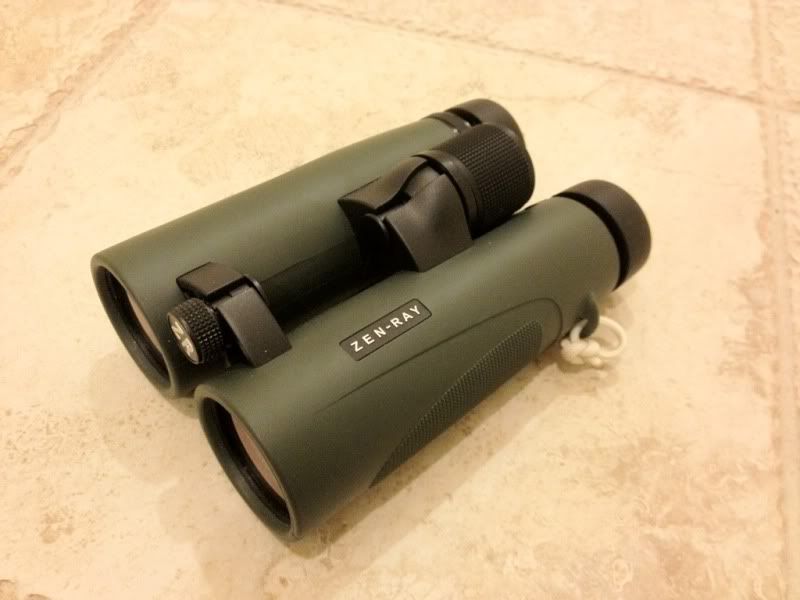 My first impressions of the binos out of the box were great! The rubber armor feels really good on the hands, it is not too plasticy feeling if that makes any sense. It also is not too sticky of a rubber like older style of binos or those bushnells they used to make in the 90s or so. My biggest complaint with these binos which is good because it is a small detail is the rubber coating on the body where you attach lanyard or bino straps. This area is a metal loop that is built into the body and the rubber armor loosely protects it. It looks and feels like a real cheap set of binoculars right there. I don't know if it would be better on future models to have the loops exposed and have the rubber coating stop at the body might be more aesthetically pleasing. There is what appears to be 20lpi checkering on the sides which fits nicely into my palms. *There is also a cutout for your thumbs on the bottom of the binoculars. The diopter adjustment does not have numbers on it just the middle indicator and a plus on one side and respectively a minus on the other, it is not a big deal for me because my adjustment is right above the minus, if I had more unequal eyes I can see it being an issue if it accidentally gets moved it might take a minute to get back into focus. The ring also has the same 20lpi checkering.*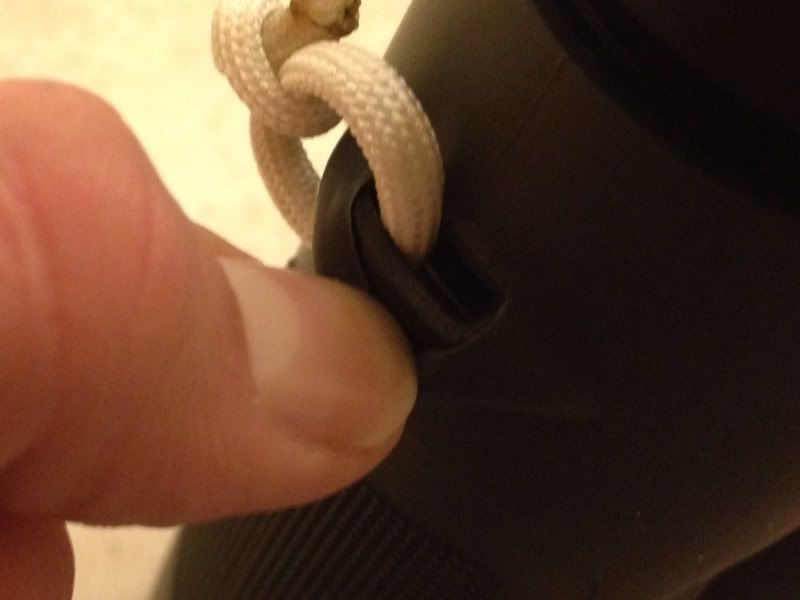 The focus wheel Has the same 20 lpi checkering with the points knocked down and provides great traction on your index finger, the wheel is stiff which I really like, it is stiffer than a lot of other brands and might take some getting used to for some people. The focus wheel is also really fast meaning it has a really quick ratio *that also might take some getting used to but is a really nice feature in my opinion because I can get on target quickly.
The open bridge design is the best thing since sliced bread! I do not think I will ever buy binoculars that have a piano style hinge again! This design allows me to be more steady because my hands are taking up more real estate on the binos. Also the added benefit of less weight.*
The optical quality is superb, I have had these out well before light and was astonished! The gather light very well. During the day it is really crisp,and easy to look through for an extended period of time. I always find binoculars uncomfortable on the eyecups and find myself putting a lot of pressure on them to get correct field of view which in turn creates fatigue. With these, I rest them on the bridge of my nose and I'm done, I see myself spending a lot of time through these, more than in the past due to increased comfort level. the field of view is very good(340 ft/1000yards). I was happy with the quality of optics from my leupolds however I had serious issues with the design. Purchasing these Zen-Rays gave me a better pair of binoculars for my needs by making them comfortable for me and providing a better quality of optics! Again I wish I could compare side by side but I still give the edge optically to the Zens.
These binoculars also have two spots for a tripod adapter, one on the front, and the other in front of focus wheel. I haven't played around much with the most rearward one yet but I can see the advantages. The tripod adapter cover has a big ZR in a silver finish which I would like to see subdued, I will probably cover it in a sharpie.*
They weigh in at 26.8 oz. that cut 6 oz. of off my Leupold hd's thus widening the margin of optical quality and weight even more.*
I purchased these directly from Zens website. Great customer service, I also bought other items from him including the S4 lockdown which I highly recommend! They make sense and it is extremely easy to throw your binos up. I haven't spent more than 20 hours with them strapped on and I have no problem giving them five stars! Charles at Zen-Ray recommends using the supplied zip ties to attach the Zens to the harness, I ran with that setup for a few weeks and my fears of one breaking came true but it was at my house luckily. Since then I tied parachute cord in a square knot to give a solid, quiet attachment point and have had good luck with it.
There was a small communication problem with my order, the box came in and everything was there except the harness, I was however billed for the harness, I took pictures of everything and sent it to Charles at Zen-Ray. He informed me the harness ships out separately from another site. It did create a little panic in me because I was thinking the worst, invoice says it's there and it was not, I thought it had the potential to turn into, "it was in the box, I put it in there myself" issue. *It turned out all good it just would have been nice to know that ahead of time. Speaking with Charles at Zen-Ray gives them 5 stars on customer service as well, he returned emails very promptly and answered all of my questions.
All in all, I will have these binoculars in the family for the rest of my life. When my kids get old enough to go hunting, I will either hand these down or buy them a pair of Zen-Rays. I do see myself with a pair of zeiss or Swaros but not any time soon! My opinion is these are the best binos for under 1500$ pretty good considering I paid under 500$ for them! I wish I would have found them sooner. Here is the specs from the website:
Dimension (HxW) 6.5x5
Weatherproofing Waterproof/Fogproof
Magnification 10x
Field of View 340ft/1000yards
Eye Relief 15.2mm
Close Focus 2 m
Weight 26.8 oz
Interpupilary distance (IPD in mm) 56-74
Carrying case EVA Premium Hard Case
Neckstrap Cushion Padded Premium Neckstrap with Quickconnect
Ocular Lens Cover Yes
Objective Lens Covers Yes
Last edited: