24" coyote duplex frame with medium belt. I can't find a label on the straps but I was told they were short. This is a catch and release. I really wanted to like this, but the lumbar pad is just a little too much for me. Super clean, one smudge on the inside of the hip belt. Have 2 medium, I think, coyote pouches as well. They both measure about 9x6 which is medium per the Kifaru website. Can do a phone call, facetime, video chat or whatever as well.
$370 shipped for the frame;
$430 for frame and both pouches.

$40 shipped per pouch; $70 for both.
Pouches sold
Frame Pics:
Proof: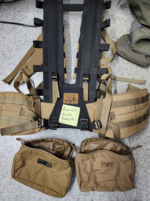 Last edited: