Joined

Feb 25, 2012
Messages

489
Location
This year I will be going back to my light weight tipi stuctures ( tried and true for many years- my Integral Designs "George" Tarp for 2 guys. And a Golite SL-3 for solo). The ID George Tarp's design was the idea genesis for the newly made and designed Seekoutside BCS.
Also in the past for really light weight solo use and great weather expected I have used and will use again a Terra Nova Bivy Tarp (Double wall protection- small tarp and single person nest)- weighs right at 24 oz all set up all included- but... it is small.
http://www.terra-nova.co.uk/Product_Type/Tents/1_Person_Tents_Bivis/Bivi_Tarp.html
This past season for bivy hunting I used a Seekoutside Breakaway tarp which is about between the same size of a Kifaru Super tarp and para tarp. I used it along with the Terra nova bivy tarp's single nest inside for the 'skeeters that were bad this year: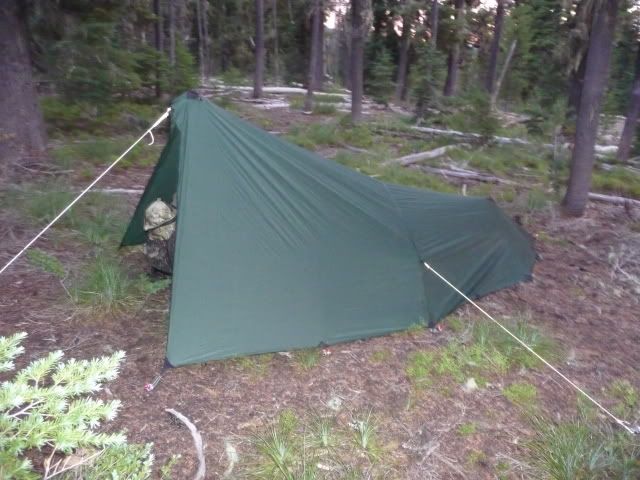 But I found it a little small for my liking when compared to the weight ( The SO Breakaway weighs 16 oz. and about almost 20 all set up with the stakes and guylines). And it was more of an issue to set up compared to the ease that I put up the tipi's. But that could be that I have more experience with the small tipi's.
I missed the size weight ratio of my ID George tarp- which can fit 3 in a pinch and 2 guys is a snap and is a palace for 1. The ID George tarp weighs in at 23-24 oz with bag, all of the stakes/ lines etc. The Golite SL-3 shell weighs in at 29 with all of the stakes for me.
I found that I may like to take a little more weight with the tipi's- for more weather protection and lots more room.
Inside of the tipi's, I can run just a bag and pad, or a single nest structure like the Terra Nova Bivy's nest, or a simple light weight bivy for further warmth and protection from the weather, 'skeeters and creepy crawly's.
Last edited: