Well Known Rokslider
Rokslide Sponsor
Joined

Oct 12, 2016
Messages

360
Location
We've been working on a tent line for several years to build a line of shelters that had all of the features we wanted in a mountain hunting tent. I'm excited to finally launch this lineup. We're going to be selling a 2P and a 4P this year, with more sizes to come in future years. If you want all of the specs/details, check out the links below.
We are going to be running a limited run pre-sale on February 15th at 10 a.m. MST
if you are intersted in getting your hands on one
.
Shoot me any questions you have in the comments below.
**7/10/22**
Absaroka Review
, By Jaden Bales
We designed both our
Absaroka 4p
and
Rincon 2P
to be a balance between weight, space and size. Both tents feature our new and innovative
ARC Removable stove jack
system, which allows you to run the tent in lightweight mode when you know you aren't going to use a stove, or in hot tent mode when you want a stove by zipping in our zipping out the stove jack. This also will save some weight and bulk in your pack.
We also use a 20D sil poly fabric, which won't sag when wet, avoiding the dreaded "tent sag" that can happen with some fabrics and maintaining usable space inside the tent. A few other features:
Lightweight-1.87 lbs for Absaroka 4P, 19 oz for Rincon 2P
Adjustable Pitch-Sewn in line-loc adjusters on all guy-out points allow you to pitch close to the ground or elevated for better air flow.
Reflective materials sewn in throughout the tent for night visibility
Single Pole Pitch-Use a dediated center pole or trekking poles to pitch
Modular Design-Run in floorless mode or with an Insert for traditional double wall coverage
Link to Absaroka 4P Product Page
Link to Rincon 2P Product Page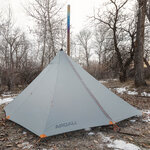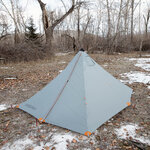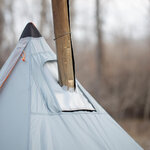 Last edited by a moderator: