I purchased a steelhead a few months ago when they were released and lent it to a friend for him to use for the spring/summer. with hunting season coming along, he returned it to me. He didn't return it with the harness. Says I never gave that to him...
I noticed on Kilaru's website, that they don't sell just the harness, which is at odds with their YouTube video. The recommend the hydro harness, but that is a little more than i need. With all that said, can someone take a few measurements of their harness? Length, width, strap lengths things like that?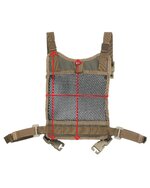 I'm thinking if I get that info, I'll be able to have someone make me a new one.
Thanks for any measurements of other suggestions