Joined

Nov 28, 2021
Messages

398
I just finished up my first elk hunt, run and gun style. What an amazing experience. We had 6 guys shot 5 bulls but lost one. Called 18 bulls into bow range. One of the first couple days we had 20 different bulls bugling back at us. Of course we were split up into smaller groups.
First off I'd like to thank the guys that took me under their wing and show me the ropes. I'd also like to thank all WKRs for helping me make decisions over the last couple years in gear and equipment.
I knew I wasn't going to be in mountain shape being from South Georgia, but man is that style of hunting taxing on the body. Next time I'll be in better shape.
Ultimately I was ecstatic to be with friends and family in the mountains and elk hunting. The highs were really high and lows were heartbreaking. From having my first bull called into archery range be a nice 6x6 broadside at 45 yards and watching him run away because I was too winded to hold steady for a clean shot, to loosing my bow and not able to find another guys bull. Then all of a sudden stacking up the bulls in back to back to back days.
If anyone knows Dave drives a white jeep rubicon license plate number dav441, member of the Boone and Crocker club. Send him my way and I'll tell him thank you for finding my bow were we parked and leaning it up against a tree for me to find the next day.
Here's a picture of the bull my brother called in for me. I wasn't expecting anything this big. What an unbelievable experience.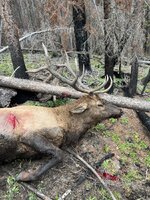 Last edited: