Joined

Nov 30, 2022
Messages

29
Location
This will be the initial review of my new Canis Pamir Jacket. I have only had it for two weeks and not used it in the field, so I will just go over the features and construction of the jacket and how I plan to use it. There are not many reviews on Canis gear so I figured this might be helpful to someone looking for more insight on this product. I will update this thread as I get some field use this winter.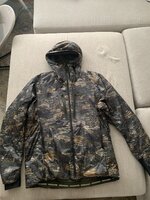 The Pamir is Canis' synthetic insulation jacket. It is available in their unique camo, which I like for my uses, and a dark green "grape leaf" solid color. It is made in Vietnam. It uses Climashield Apex continuous filament insulation which seems to be highly regarded in the world of synthetics for its warmth to weight and durability over time with regards to loft. Searching for jackets with this insulation is what led me to the Canis Pamir. It is not an ultralight jacket at 21oz in size 2XL, but is pretty full featured.
Sizing:
As mentioned in most reviews on their site, the sizing is strange for this jacket. I am 6'0", 215 Lbs, wear a 44 R Suit jacket, 35 sleeves and normally wear an XL in just about everything. I purchased a 2XL in this jacket and it fits like it was made for me. It is an athletic cut, fitting trim but not tight in all areas. The sleeves are the perfect length and not baggy but not tight, the chest/shoulders are perfect, and it is not baggy in the mid section. I can layer a base layer, an XL Kuiu Peloton 97 or 200, and XL Kuiu Kenai or 240 under this jacket (3 total layers under, changing for conditions), and still have full range of motion and minimal bulk. Even so it still seems trim fitting with just a T-Shirt. It also layers perfectly under my XL Forloh Allclima softshell. This jacket finds that perfect medium between fitting with and without layers and I rate it excellent in this area.
The Material:
From my research, I believe this Jacket uses 3.5oz Apex in the body and 2.6 oz in the sleeves, but this is not listed on Canis' site so I can't verify that for sure. The shell material is listed as Cordura 4 way stretch fabric combined with Cordura double rip stop. Again, the Denier is not listed for this material, but I would estimate it at 30D compared to other garments I have. It definitely feels more durable than most Puffies. It is listed as Polyamide on the tag but feels like most nylons. It is DWR coated throughout and not shiny. The 4 way stretch fabric has a different texture and is located in the chest and top of shoulders. This works well for allowing full arm motion. The interior lining seems to be the same double rip stop as the outside. This jacket is fairly loud. Pretty standard noise level among puffies, not near as quiet as the Kuiu Kenai. The overall construction seems very good and I will update on durability as I use it.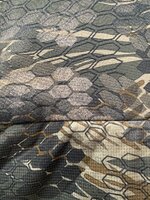 Pockets:
This jacket has 5 pockets. The lower handwarmer pockets are zippered and at pack height. They are sufficient for hands but on the small side. There is not any additional depth below the zipper openings, so zipping will be necessary to keep things from falling out. There are two exterior zippered chest pockets, and one interior left chest zippered pocket. There is no fleece lining in the pockets. All zippers on the jacket are YKK Aquaguard. This makes it look and feel more premium to me and while the waterproof aspect is not necessary on a jacket that is not waterproof, I think these zippers will be better in the wind. One thing I think they missed on with the pockets is that they are all on the outside of the insulation, instead of being behind the insulation as I would expect. This may not be a big deal but I feel like it will sacrifice some warmth in the hand warmer pockets.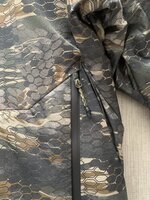 Cuffs:
I really like the cuff design on this jacket. They are made from "Ceramic coated Jersey" as described by Canis. They are very stretchy and have some grip to them to keep them in place. The design places insulation over the top of the wrist but not on the underside, which makes it feel much more streamlined coming down to the wrist. They are nice and tight but not restrictive. There is no need to hold the cuffs when putting on an outer layer due to the tight streamlined fit and the smooth material in the arms. It also feels a lot less bunched up under other layers. Very nice and rather unique design.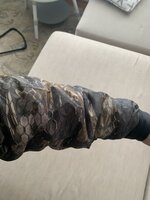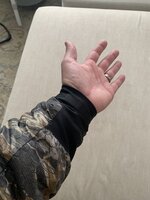 The Hood:
The hood is fully insulated and has a nice stiff brim. It is not overly large and provides excellent protection. The front collar is an area that some people will love and some will hate. It zips up clear to my nose. This will be very nice when sitting in cold winds and running a boat in cold weather. It does however leave a lot of collar flapping around when not zipped up or using the hood, and frankly looks kind of funny. It does not lend itself to everyday use because of this, but I will likely only wear this jacket Hunting when it is cold enough that I need the protection of the hood and high collar. The front hood cinches are nicely designed with very small keepers up near the face opening, but the cord continuing through the collar to the neck, leaving just single strands of cord hanging out of the way and not in a loop to catch on everything. The hood does not have a rear cinch, but rather a small piece of elastic at the back of the head. Canis describes it as self-adjusting, but it is not near tight enough to keep the hood moving with my head. I would much prefer an adjustable cinch. The brim can be flipped up to increase field of vision at the expense of concealment. I will likely wear a brimmed hat with this jacket in order to keep the hood moving with me when looking around. Overall not bad but a third cinch would make it so much better.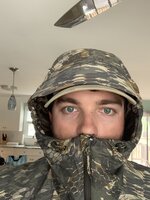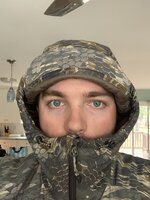 Misc. Features
The hem area is elastic with silicone grip panels to keep it in place. The elastic is reasonably tight around my waist. It does not have hem cinches. This design is kind of Meh for me. Its not bad, but doesn't seem worth the weight and complexity as a traditionally cinched hem works just fine. I could see the silicon grip panels being annoying in some instances but that remains to be seen.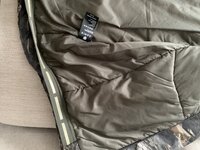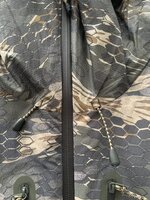 Packability
Canis provides a nice Waterproof stuff sack. It packs down fairly small, seen below compared to a 20oz yeti cup. The sack could maybe be a touch larger as it is somewhat difficult to get the jacket fully packed into it, but it does go.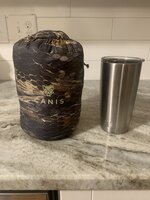 Water Resistance
This jacket is DWR coated but is in no way waterproof. The Cuffs however are not DWR coated and water goes right through them. I feel like the combination of DWR and water resistant synthetic insulation will allow me to remain comfortable through light rain and splashing and should retain warmth when wet. I don't plan to have this as my outer in the rain. Pretty standard as far as synthetic puffies go. Better than down but not like a shell.
Wind Resistance
My initial impression is that the wind resistance will be quite good. I have worn it around town on a few breezy 45-50 degree days, and haven't noticed any cold getting through, but I will have to put it to a more thorough test with some cold boat rides and windy sits to see how it really does. Most reviews on Canis' site seem to point to it being wind proof.
Warmth
Again just an initial impression, but based on the loft and general feeling of the jacket, I think I would be fine stationary down to 32* F with a base and Kuiu Peloton 200 underneath, and maybe a shell on top depending on rain and how the wind resistance works out. I will probably add my Kuiu Kenai underneath if it is going to be colder (not very often here in NC). Compared to the Kenai, it definitely has more loft and feels warmer. It does not feel instantly hot wearing it indoors at room temperature, but any movement and I can feel the heat build quickly. I don't think this is going to be active insulation as I would likely overheat quickly. Again, I will update as I get some field use.
Summary
This is not a cheap jacket at $329 normally. I was able to pick it up for $269 during their recent Black Friday Sale. That is right in line with a lot of premium down and some synthetic options. It is not as light as a down jacket of similar warmth and likely not as warm as a down jacket of similar weight, so probably not the best option for a backpack hunt. It does seem like it will be very durable as puffies go and the design is very well thought out. My main use will be wearing it on cold duck hunts over mid layers, but under my waders, and under a shell when necessary. It is superbly comfortable and feels light wearing it even though it is not super light. I am excited to try it out as it will be a lot more comfortable and allow better range of motion than previous waterfowl specific, heavy jackets I have worn in the past, while still providing the features and warmth that I need.