Joined

Mar 25, 2013
Messages

635
Location
This sucker was on the want list for awhile, finally made it happen over the winter. Thought i'd have to order one but found a straight stocked .270 win as one of maybe two or three for sale my side of border and as soon as i saw the pic they emailed me i couldn't reply fast enough that it was meant to be mine.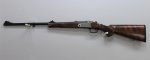 Its taken a long time to appreciate wood/blued rifles again and i think this is still the only one around that gets me excited, otherwise i like stainless synthetics. So my excitement was off the chart when the truck showed up with it, to see if it really was the one in that picture as they assured me, it was even the best deal around, easy 500 off list so it was win win and meant to be!
What is a Blaser K95? My take...lightweight take down carbine of high quality that is accurate and back up iron sights with very repeatable scope quick release system, the most repeatable going from research i could do. Here is data on mine.
.270 win
40 3/4" overall length
23 5/8" barrel length
5 lb 7 oz
16.0 oz trigger pull
Feels awesome, shoulder, balance, that quality in your hand feel you know it when you feel it. I was pumped. Europtic had good price on the scope base so ordered that up for 6.5 oz and then my machinest shaved some off the bottom of the standard height rings for me so i could get the leupold vx3 as low on that mount as possible.
Scope is 11.5 oz, i had our Leupold customizer Korth Industries put the lr duplex reticle in it for me and parallax correct it for 300 yards. I did two scopes the same as i put one on my other sheep banger the sako a7 .270 wsm, more on that later.
So rifle, with scope mount (1" rings) goes 5 lb 13.5oz and add the scope put it at one ounce heavier than 6.5 lbs....6 lb 9 oz scoped.
Beartooth neoprene shell holder is 1 oz...and i weighed 6 rounds of the ammo at 5.5 oz so almost as it goes up mountain, if i use a butler creek flip on objective end which i often do that would be another 1/2 oz or if i use the leupold scope coat instead that would be 1 oz....but may have a custom softcase made up minimalist style for jamming in the pack taken down so i may end up adding more weight than 1/2 or 1 oz that will have to see, still looking for local stitcher that can build me what is in my head. Back to shooting it.
I don't reload. All factory ammo, barrel cleaning after few rounds and repeat for first box of 150gr cheap soft points, i only use wipeout and sometimes sweets if stubborn copper requires it but haven't needed sweets on this rifle, no brushes touch my bores, then did 5 rounds and cleans for another box roughly, and then started to see what i could group with it. Enough of break in stuff, i'm good to my guns, never get em hot, always cool before next group etc. so has plenty of cleanings in the first few boxes of ammo but no brushes. Its not a benchrest gun but i like to do what i can.
Even with cheap ammo just getting paper while breaking in it was pulling off moa to moa and half type groups. Gun has 110 rounds on barrel now and i have not seen one single flier or really huge group. All ammos with same bullet weight seem to all have the same poi, little different verticles with the different velocities of the different weights but otherwise it feels like you could stuff just about anything in it and kill to 300 all day without changing zero.
I tried at least 6-8 different ammo's for groups and really seemed to like 130gr ballistic tip loads and 140gr accubond loads from nosler and federal over the fusions which it held to moa or a touch over and then the cheap power points and the 130 partitions from federal looked good too but end of day i'm an accubond man and when i went out cold one morning and first five shots down the tube did this...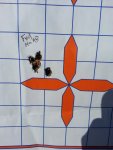 I quit looking for my load, i am realizing the gun can outshoot me and likely with all ammos i'm trying, i'm just not that good a shot with a light short gun that hits me, yes i'm recoil sensitive, this gun actually really handles recoil well, its less than the tikka t3 i had in .270 shooting 130 fusions and was 7 lbs all up....so i am impressed with its ability to handle recoil as research had also told me. But anyrate there is a them, my first shooting of the day is the best, i get flinchy and blinky as the shots roll past 6-9 etc. And thats ok with me, i'm very conscious of the first shots of anything bow or gun as i set one up as i'm 100% hunter and thats all i really care about. So i ordered up a few cases of this ammo as i'm told its being discontinued so i have around 680 rounds which should take me a lifetime or two to use up lol, my kids can appreciate my bulk buying after i'm gone.
Now to shoot long. I want to zero at 250 yards, setting my sako up exactly the same. Now, keep in mind, i have a muzzle brake for my sako and usually use it, plus i used to have a mark 4 4.5-14x40 on the sako also, so at 7 lb 3.5 oz with a brake the .270 wsm was a total pussycat to shoot and i held it to 3/4 moa for 3-5 shots always, any day, any range, 500m no sweat, i did a lot of long range practice with it, up to 920 yards, i know that gun inside out and in that config. i can shoot it always at 3/4 moa real world. Its different now with this little vx3 2.5-8x (less weight and magnification) and no muzzle brake...it gets me flinchy/blinky several rounds quicker than the blaser does...but i have a perfect test medium with that sako...it too btw loves the federal 140 accubond load and i've got a couple cases of it stacked away also. So i'm set for my big game hunters.
250 yards, zero it two days ago but forgot my front/rear bags and didn't even have a pack, had the crappiest make shift rest, i lay in field on private land with my carttharts on, like hunting, field conditions. But one 3 shot group i felt good about in the few shots i took went 2.15" ctc....sub-moa. I was ok with thats. So this morning i went out this time with the bags. I never touched the scopes to see if i did get zero's dialed in on both rifles.
I really wanted to give the blaser a real world condition test. I took scope off, put it back on and shot 1st shot, then took the scope off and put back on for second shot, and then did it again for 3rd shot. Here is what it did at 250 yards.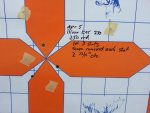 A hair over moa, i'll take that, so i grabbed the sako in its new config and shot the target right beside it (i had two up). And shot a 3 shot group 1/16" larger than the blaser. Right on! Here is the sako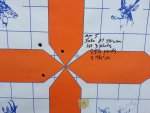 So now, i'm happy, zero is perfect on the blaser, the sako i may tweak a click to the right but made no changes and moved the target out to 350 yards. Next 3 shots i did from the blaser, same target, i just masked the holes. Now we get a 3 shot group just under moa. I'm tickled. I didn't take the scope off/on for each shot this time, figured that was proven with the group at 250 yards fyi. So here is the 350 yard group from the blaser.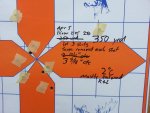 Last edited: