Joined

Dec 28, 2015
Messages

260
Location
January of 2020 my dad and I finally pulled the trigger on a dream trip to New Zealand for April of 2022. Shortly after sending our deposits COVID hit and shut everything down. No problem, since our hunt is 2 years out. Well 2022 came and we got the email from our Outfitter that our hunt would need to be pushed to 2023 as the County was still not open. Not a big deal. I had plenty of points to burn for a Wyoming antelope hunt in Sept. Shortly after my wife told me that we would be expecting our second child in August or Sept. Luckly she is great and when i asked about heading back up to BC in spring to chase bears she said go for it.
This was my second hunt with Beaverfoot Outfitting of Golden BC. The first being a Mtn Goat hunt that i tagged out on day 1 in 2017. I had been in communication with my guide Chad since my goat hunt and he had always asked me to come back up to chase spring bears. After getting my schedule figured out the check was sent. Hunt date of May 15- May 21.
Travel day and everything went smoothly. It was very easy getting into Canada as long as everything was filled out properly before hand. Troy (the outfitter) picked me up at the airport and we started our 3.5 hr drive to Chads house. On our way he gave me all my tags, which included a wolf tag. Chances of seeing a wolf were slim but a tag in hand was a good thing. On arrival at Chads he had a few ribeye steaks out and ready for the grill. After a great meal we headed to check zero and do a quick evening hunt. No bears were spotted that night.
Day 1: We woke up early on day 1 and had a great breakfast and hit the truck early. Cruising pastures and old logging roads to hopefully find a good bear out feeding. I had 2 bear tags for this hunt and told Chad i wouldnt be too pick on the first. The morning of day 1 was very slow. We only saw 1 Griz out in a pasture feeding 100 yds or so away. Left my phone scope at his house that day. Would have made for some cool pictures.
That afternoon we started cruising logging roads again. We came up onto a hill that Chad said the road would swithch back on and the road would go 600 yds or so straight out from the hill. "lefts just get out and see if anything is walking it" he said. Out we went and as soon as we could see the road Chad noticed something running down it towards us. "Wolf" he said. 300 yds. SHOOT. Bipod opened, scoped dialed and a bullet pushed into the chamber I laid prone and put the cross hairs just under his chin. BOOM...Hit Chad said "shoot him again hes still up". Another round Chambered and BOOM. Down. Holy crap. Did that just happen? Did we actually kill a wolf on day 1?. When we got to him i couldnt belived the size. They are just beast. He was actually 250 yrd rather than 300. We didnt have a rangefinder when we got out of the truck and didnt expect to be shooting this quickly. The first shot hit the left lower jaw and exited his left armpit. Was lethal but didnt want to chance it and sent the second.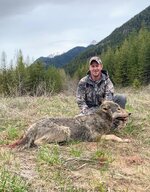 After a quick skin job we were back to bear hunting.
The fist corner we came around after skinning the wolf a sow and cub were out on the road edge feeding. They spotted the truck and were out of there. A few corners later we came around and a bear was out in a grass patch feeding several hundred yards in front of us. Parked the truck and out to glass. Chad said he wasnt huge but was average for the area. The stalk was on. He was feeding in a small grass patch that pushed to the right of the road with a brush pile in the middle. Wind was perfect in our face as we stalked down the logging road closer to the bear. we got to about 200yds and the bear was starting to feed out towards the road. bipod down and got into the prone position. Dang now we are too low to see from prone. The bear started feeding back behind the brush pile. Got back up and stalked closer. Got into 100 yds and the bear again started feeding out onto the road. 100 yds off hand i felt steady enough to shoot. BOOM. rolled him. Shoot again. BOOM not sure if the second hit. We quickly made out way up to the clearing to find the bear just inside the bush. BOOM. Bear was down.
Day 1 we had a wolf down and a bear. Just incredible.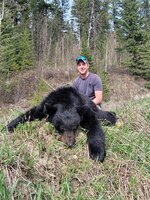 The bear wasnt huge but it was my first Canadian black bear and i was more than thrilled. That nigt we caped the bear and got him salted.
A few celebration beers and a good meal and we were off to bed.
Day 2: Once again the morning of Day 2 was pretty slow with only a sow and 3 cubs being spotted. That afternoon we made a plan to drive roads and hit a big group of pastures later in the evening. We did see a few beas on the roads but nothing i wanted to go after. It was time to find someting BIG. Later on we started cruzing the pastures. The first field we got to right way Chad spotted a nice bear 700 yds out. He was feeding laying down and would not stand.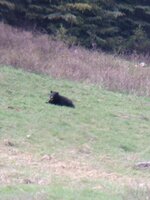 Looks like a decent bear Chad said. Lets take a closer look. We were able to drive the truck past him to hopefully stalk the treeline that he was around the corner. When we got to where he was feeding the bear was no where to be found. The wind had switched and he more than likely winded us. We did find a cool mule deer skull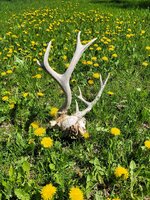 Back to the truck to find another. about 1/2 mile of so down the road we spotted another bear that was similar to the first i shot. We decided to pass. We continued on and made our way to an upper pasture that was picture perfect spot. However we never saw a bear in it all week.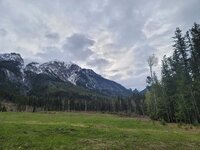 We spent a bit of time in the upper pasture waiting and glassing hoping something would come out. Nothing ever did. We decided to make our way back through the pastures in hopes the first big bear was back. About a mile prior to getting to the first pastured we had just entered another huge pasture and out of the corner of my eye I saw a bear feeding below us on the treeline. We both looked over him and decided to take a close look. We decided to continue in the truck to get over a hill to get out of sight from him and try to get infront of where he was feeding to. We were able to stalk to within 300 yds before he came back into sight and he was still feeding towards us. We werent sure on how to judge him as he was out in the open pasture with nothing to compare his size. I wasnt sure i wanted my hunt to get over on day 2. He looked good to me so i told Chad we should try to stalk down to another bench and if we got to within 200 yds i would consider shooting him. we were able to ease down to the next bench without him seeing us. 200 yds on the rangefinder. Gun was up and bullet in the chamber. i went back and forth on whether to shoot or not. Ultimately i decided to shoot. for the fact everything was perfect. Above him shooting down. Bipod rock solid and gun butt resting perfectly on the ground. He was now looking very big. Safety came off. Crosshairs behind the shoulder and squeeze. The gun went off and the bear rolled. You could see blood pouring from him. If an animal is still up im still shooting. Second shot went out and heard the bullet hit. The bear was down. Chad said "man when you rolled him the thing is huge". We got down to him and he was a pig of a bear. I couldnt have been any happier with my choice to shoot. We never weighed him but had to use a hill to get him into the back of the truck.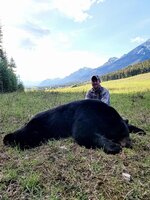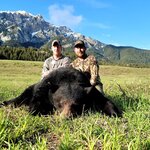 Good friends and a great end to a hunt. Or kind of.
After a quick skin job and hanging him to cool we had another great dinner and a few celebration beers.
Day 3: We spent the day finishing caping out the bear and getting him into the salt. We also got to do a little ground hog shooting.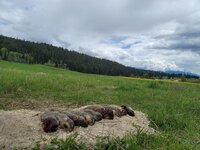 Day 4: I cant quite remember what we did during the day. That evening it got interesting. After we had finished making some chicken wings on his BBQ his girlfriend's little pup started barking like crazy outside the house. She joked that that was his bark when there was a wolf close buy. Well we might as well go check. Chad had mentioned he has seen several wolves up on the cut above his house the past few weeks. 1 big black and 1 grey. Out the door with her gun. As soon as we could see the hill chad said BLACK WOLF!. I held the pup as they started to get closer for a clear shot. They were able to sneak to 100 yds or so before she was able to shoot. After she had shot i notced the big grey wolf heading up the cut. another round rang out. as i made my way up the hill i could see the big black wolf down. She was pumped. I asked if they had shot at the grey wolf and neither were able to see it heading up. DANG. The black wolf was a monster compared to mine.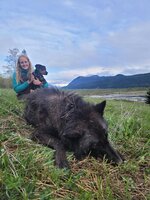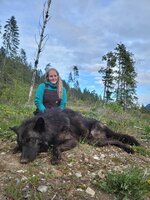 We again made quick work of getting the wolf skinned out before he stiffened and got his cape into the freezer. What a night! and What a hunt!
We did make an attempted to shoot the first big bear in the pasture with Sierras tag and did find him feeding again in the same spot. However he must have seen the truck for about 1 second at 700yrds ofrso when we came over a small hill. Hit the breaks and backed up. Wind was perfect and out of sight, but when we got to another hill to check him he was gone. Smart old boy.
The rest of the week we took care of boiling the skulls. Getting a CITIES permit for my wolf and hitting some side by side trails.
I can not thank Chad and Beaverfoot outfitting enough for this hunt. An incredible week spent with good friend. Cant wait to come back again for another one.
Last edited: