Well, it has been quite the past couple years and figured it was time for my first post. This years' worth of stories actually started back in March of 2020. As the world was flipping upside down in the early stages of COVID 19, myself and 300 of my Shipmates were headed out for another surprise deployment. With no planned port calls I knew this was going to be a long one, so I downloaded an unthinkable number of podcasts to help me through as I ran miles and miles in a little circle on the ship's aft missile deck. One of these was Tundra Talk, listening to these guys talk about Dall sheep hunting really got me thinking, not just about the sheep, but the adventure that comes with it. But like many people seeing the price tag of these hunts was a bit of a shock and discouraged me from fully jumping in.
Fast forward to November 2020, I still feel the drive to hunt sheep but think to myself, how? So, I start looking into options, and land on the "poor man's sheep hunt, Aoudad". My father has been talking about going Aoudad hunting as long as I can remember. So, I think this will be a great opportunity for us to do something together and fulfill a dream of his. I find an outfitter (Roy Hurley H.E. Sproul Ranch) get all the information and call my dad and we talk about Aoudad hunting, I tell him that if he is ever going to go, we need to make it happen. Long story short, after that conversation we were booked for November 2021.
Some months go by, and I continue to listen, watch, and read everything I possibly can about sheep hunting, primarily Dall's. After 2 years of sea duty and 18 months of that being underway, I had an itch for adventure. I start seriously kicking around the idea of booking a sheep hunt, I think to myself, I am on shore duty, in my mid 30's, and decently in shape, the time is now. I start researching outfitters and sending emails and talking with them. Most importantly, at this time, I start talking to my wife about sheep hunting and dropping little hints as much as possible. After a while I decide, I am going to seriously discuss this with her, I narrow my list down to 3 outfitters. I decide the best way to bring this up and explain what I want to do and why is to build a power point. I build a 7-slide power point, covering everything from why I want to do this, why 2022 is the year, to a deep dive on the 3 outfitters I wanted to decide between, etc, etc. Guess what? It worked! After I presented the brief, she said I needed to do it and after discussion we both decide I should book with Luke Tyrrell of Tyrrells Trails. I do want to be clear; my wife has always supported me and my hunting obsession, I was just surprised because of the overall investment of this hunt and that she green lit the Aoudad hunt a couple months earlier. Luckily, Luke still had one open spot for 2022 and I took it.
Let the preparation begin, I started knocking out the gear list orders, started the MTN Tough workout programs, and spoke with my command who strongly supported me and approved 28 days of leave for August 2022!
Fast forward to October 2021, I decide to fly back home to Missouri and bring my oldest son with me so we can drive down to Ft. Davis with dad. Fortunately, we were able to hunt Missouri's youth deer season before we headed for Texas, the hunt went well.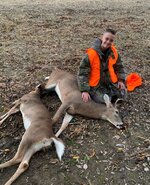 Alright, lets get to the sheep hunting. The title is "The Year of Sheep" after all!
We grind out the 18-hour drive to Ft. Davis Texas and get in the day before. Right before pulling into town, we see a big band of Aoudad that had a really big ram in it. We are pumped!!! After checking into the hotel, we decided to drive back and look at them some more! Needless to say, it was pretty tough to sleep that night. Next morning, we get up, get some breakfast, and meet Roy at the ranch around noon. Once we do a little paperwork, shoot the guns and eat lunch we were head out for an afternoon hunt. Dad was up first and It didn't take long to find a good ram. Dad was done within the first hour of the hunt, taking an awesome 33" TANK at 50 yards! I don't think I have ever seen him so happy and excited; it was a great experience for us, and I am so happy I brought my oldest son so he could be a part of it.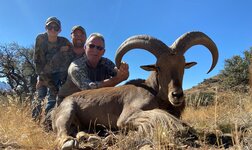 Now I am up, once we were done with dad's ram we headed further up the mountain. We get to a good glassing point and find a big band with several nice rams; one really wide ram caught my interest. Roy and I decide to head around the mountain and put a stalk on the ram. We slowly picked our way down the ridge the rams were on, trying not to bump several smaller bands of sheep. Crawling from rock to rock we finally find our ram bedded under a tree with at least 10 other rams and unknown number of ewes. After about 10 minutes he finally stands and works to the right, stops broadside at 220 yards and I let my 300-win mag rip, hitting the ram right in the shoulder, he goes about 40 yards and piles up. We all get to the ram, and he is a solid old 31.5" tank with awesome chaps, I couldn't be happier. High fives and celebration all around, unfortunately though, our hunt was over on the first day. We get the ram cleaned up, hike out and head to the ranch for dinner.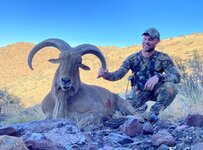 Roy says we can stay as long as we want, so we decide to ride around his ranch the next day. I had never been to West Texas before and was just floored at how beautiful and rugged I was. I also had no idea of how many different animals were in that country, it is a truly target rich environment, from Aoudad, Mule Deer, Whitetail, elk, hogs, and javelina, all free range. Also, Ft. Davis is a really freaking cool place, I felt like I went back in time. If you are looking for a place to hunt Aoudad or any of the other animals, I cannot recommend Roy Hurley at the H.E. Sproul Ranch enough.