Joined

Jul 16, 2021
Messages

26
Location
I wanted to start this review off with a disclaimer as this is only my group of 4's experience and everyone can have difference experiences, but I still wanted to write a "short" review on our Caribou hunt we just returned from with Brooks Range Aviation. I am not trying to start any debates and really do not want any negative comments I just want to post how we felt about our experience with Brooks Range Aviation as I know when planning these type of hunts the more reviews someone can read the better.
We scheduled a drop camp Caribou hunt with BRA back in 2019 for this fall and our hunt was from 8/26-9/4. We were delayed slightly by weather and did not get out until 8/27 but we were picked up on the day we requested on 9/4. From a hunting perspective we ended up with 3 out of 4 caribou and a bonus wolf and our 4th hunter passed on many respective bulls waiting for that special bull that did not show up. Not only did we do well but of the 22 hunters that we talked to that were there either before, during, or after us 19 caribou bulls were harvested (all non-residents so only 1 per person) for an 86% success rate. There were a lot of quality respective bulls taken and it seemed like the groups that went later in the season did much better than the earlier groups.
We had a very exciting time in the field and while out hunting we saw over 1,000 caribou, 15-20 grizzlies, 5 wolves, and 2 wolverines. We also had great fishing and caught many Greyling at the lake were camped on. Overall there were lots of great memories and plenty of stories to share with for those interested in hearing more about our hunt itself and what I would recommend for that piece of the experience.
In regards to what to expect with a BRA "Caribou Hunt" itself and our experience I want to be real with a few people so you know what you are getting into. I have "Caribou Hunt" in quotes because they changed their information this year and they are no longer a big game transporter and instead do them as a Part 135 Air Carrier as an "Incident Hunt" this is info directly from Judy. In regards to picking a location you can do all the research in the world but depending on what lakes are available and what lakes the weather will allow pilots to get to you may be limited on options when you arrive. I included a photo that they have posted on the wall of half of the 15 or so lakes they have to pick from so when you arrive you will basically see what all is taken and decide where you would like to go or they may help with that depending on who they are picking up the day you are going out so they can possibly drop you off at that same lake like they are picking up a group like we did. It felt like they were more so concerned with getting people to the closest easiest lakes that would burn the least amount of fuel over going to the lakes with the best chances of killing Caribou. I fully understand Caribou do move a lot and success can be had at any of them but obviously some are going to be better at certain parts of the season than others. They have been doing this for 40 years at the same lakes so I would sure think they have a good idea when certain camps are doing well where the next best places to be are.
They mention having a bunkhouse to stay in while waiting to get into the bush or back to Fairbanks but just so everyone is clear the bunkhouse is only a small garden shed with 2 bunk beds that is approx. 10 x 14 in dimensions. If that bunkhouse is full your options are sleeping in the hangar (no door so the entire wall is open) or a $150 cabin that is about the same size as the bunkhouse and those may or may not be available. There is a shower available which is great and some decent food options in Bettles. BRA has frozen and processed foods that were not bad for a decent price (my go to cheap option was a $3.50 Totinos pizza that you could cook right in their office).
If you want real meals head over to the Bettles Lodge in town, this is also where they have beer and mixed drinks. The food was more pricey at $30-$45 a plate for dinner depending on the night, while there they basically give you 1 or 2 options for dinner but we felt it was worth it. Bettles Lodge was very inviting, we thought they were great people and honestly, I felt more at home hanging out there having a few $7 unique alaskan beers playing cards than we did around the BRA which leads me into my next point.
The biggest thing that I want people to be aware of with BRA right now is that the business is for sale (not very actively as I even was curious on a ballpark price and could not get anywhere). The whole time I was in Bettles, we arrived the afternoon of 8/25 and did not fly out until the evening of 8/27 and then another 2 full days on the back half I hardly saw Jay and only knew who he was because I asked a worker who that was walking by. As one of the owners who was in town (there are 14 people in town) the whole time I would at least think introducing himself and seeing how we were doing as we were sitting around for days inside his hangar would not have been too much to expect. Judy the other owner (husband/wife team) was not very welcoming either if I am being honest, she did not really introduce herself nor ask anyone else's names in our party or seem to care much about me and my group. I understand that this is a DIY hunt through a "Transporter" but as a group of 4 that is about to write a $12k check to the operation I was at least expecting a little more of a warm welcoming experience while in Bettles and at the BRA headquarters from the owners and pilots. Most of the younger folks they had working/helping them were very helpful and seemed to care about us as customers and our experience. Unfortunately, the owners and pilots were very distant even though they were present and around town the whole time but they didn't seem to want anything to do with the hunters or guests flying with them.
I do not want this to detour anyone and there are tons of great reviews on BRA but after 40 years I am afraid that until someone else buys the place and pushes a few changes and adds some more energy to the operation I may look elsewhere. If I am being honest from the time I arrived in bettles to the time I got into the field I was feeling very uneasy with the decision I made going with BRA. Like I said once we were finally in the field hunting it was completely different as we did well along with many others. The place has so much great potential but it is sad to see the place starting to fall apart a little bit.
My bull I took on the 1st day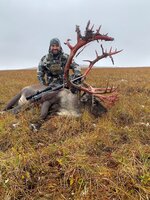 My brothers bull took on day 5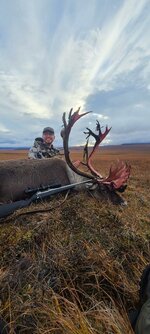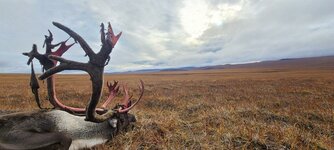 Another member of our parties bull taken on day 5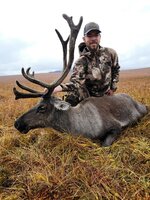 The wolf I was able to take (they are very skiddish up there)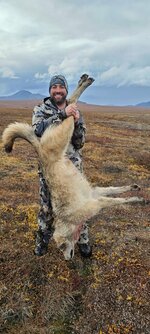 One of many Greyling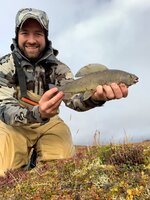 The bunkhouse that is open for guests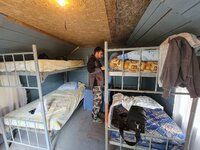 The map of available lakes