SOLD

Price is net to me, shipped within the US
(i.e. you can use the form of payment you prefer, but if there are fees involved, you cover them). I'm new on Rokslide, but I've sold a few pairs of binoculars on BirdForum (where these are also listed), and I'm a long-time member and seller on BladeForums (under username "Brummie" on both sites). Any questions, feel free to reach out. I can provide extras pictures if wanted, but please note that the glass is perfect in all cases (otherwise, I wouldn't have said "as new" in the thread title!).
IMHO, these are the finest 10x42 binoculars you can buy, except for the NL, with its best-in-class FOV (and at close to twice the price I'm offering these at). I would put them ahead of the 10x42 EL - wider FOV, a little lighter, better balanced, quicker focusing, and much better close focus.
They are essentially unused, come with all original accessories in the original box, and still have almost 5 years on the warranty. I took them to a local bird reserve on one occasion (only time out of the house) and noticed a tiny piece of debris in one of the barrels, so I sent them in to Zeiss to be sorted out, and they also replaced the eyepieces.
They are exactly the same as the newer black SF 10x42 except:
1) They have the gray, rather than black armor. Personally, I like it - it's nice to have something a little different.
2) The focusser has a different feel - it's more dry than the newer, more hydraulic feel. Again, personally, I like it - I find it very fast and precise.
3) Some people detect a very slight difference in color tone between the older and newer SF. I've never noticed it myself (comparing to the SF 8x32 and 10x32).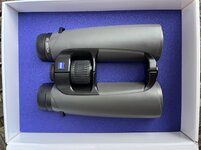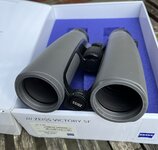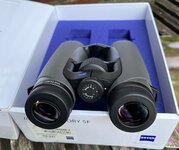 Last edited: