Well I'm a little late on this one, but we recently got the mount back and hung in the vault. I'm ecstatic with the taxidermy quality and often find myself staring at it and going back to lala land. Remembering how much fun that hunt was, and proud of my wife I am for her grinding it out and punching her tag on a stud bull.
The excitement started in the spring of '19 when draw results came out. I put her in for a decent muzzleloader bull hunt that was close to home, so we could really do our homework. She went in the draw with 10 points, and pulled 1 of 15 tags. The season was Sept 23-Oct 15, so we knew the bulls would most likely still have harems and be distributed out from where we originally found them. We also knew it was going to be a challenge getting within a good shooting distance of a bull potentially with cows in open country, especially since WA is open sights only for black powder. We scouted our asses off, both days every weekend and sometimes getting a little glassing in before dark during the week. We found a ton of nice bulls, but nothing that really wowed us until 2 days before the season. We found this guy and had the highest of hopes and prayers that he would be there opening morning, as we had only seen one other guy cruising through the area one day out of our entire time of scouting.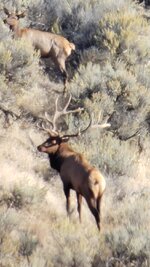 That was a bust. Apparently everyone and their mother knew that was a hot spot. We were the first ones in and thought we had a good chance, but on the way out there were 9 rigs parked on the ridge road. The game plan had changed anyways because on our opening morning hike down into the draws we did get on a couple bulls, 2 rag 4/5's and a decent 6, I guessed him around 260". We talked about a goal going into it, and decided decent 6 was our goal, and we were going to attempt every opportunity because it's hunting and things don't always pan out. She got a good look at that bull and just said "he looks young". I said "he is, but he's a pretty nice 6 point..". Her response was "I don't know, I'm not excited. It just seems too easy, and it's opening morning", I said "so we're trophy hunting now?". She said "I guess", I said "SWEET, let's GTFOH!".
Throughout the first week the action kinda died off, we finally got in on a bull mid week and she missed right over his back from rushing the shot in the heat of a quick moment. At the end of the week though, we went for a hike and I spotted a group of cows and we hit the dirt. I started scanning, and I glassed up her bull. I saw he was a 7x7 and I started shaking like a cat crappin peach seeds. I told her "let's get in a better position, there's a good bull in there" trying to downplay it so she didn't get too worked up. Didn't work. We got in below him and let him feed in front of us broadside, and she got bull fever when she saw him up close. Yanked the shot and clean miss, they ran out of our lives and I was crushed. She was too, and felt terrible.
We took a couple days off and went back to work, I planned on one more decent attempt Thurs-Sat. Thursday morning we were headed out to where she missed him, just in case. On the way in we glassed a couple rag bulls bedded in the breaks and she kept saying "there's one, let's just go shoot him. I'm just ready to punch my tag". Nope. I took a low road that would give me a good view of the couple big draws on the mountain and busted out the spotter. Immediately getting focused up, I saw a blonde dot in the bottom of a draw. I thought no freakin way. Zoomed in and got a good look, and there he was. Bedded, and alone. We watched him for about 20 min and he seemed tired and lethargic from the rut. He would stand up and feed a few feet, and bed back down. After consulting with a mentor, he said "get your ass up there and go kill him, he'll be in there". So I hauled back to the road that would take us up on the ridge, and we all but sprinted across the first 2 draws. Took a quick break to catch our breath, and started scooting around the knob on our butts. There he was. Bedded quartering away, with the wind in our face. Like a sign from God. We kept scooting inches at a time, as slow as possible. At 170 yards we were completely exposed, sticking out like sore thumbs in dark Kuiu pattern on a yellow landscape. We got to 150 yards and I told her to get set up, and she says "no, keep going". I can hardly hear from blood pounding in my ears. I ranged him at 130 yards and grabbed the shooting sticks stuffed into some rocks so they were solid. I carefully got the gun laid out, and positioned her up. I just kept whispering "stoplight. Line up the dots evenly, put the center one center mass, and right on the back edge of his shoulder line. Squeeeeeze that trigger" and about the 3rd time repeating myself, I was abruptly cut off with click and BOOM of the ol smoke pole.
Nothing. Didn't see any impact above or below, and the bull didn't even flinch. I frantically reloaded and got a cap on, and got her back into position. At this time the bull had stood up and was facing straight away at an upward angle, so I told her don't shoot, just wait. He stretched, turned, and laid back down broadside. I said "hit him again, same spot". BOOM. Nothing, WTF!? Frantically reload again and get her set up, again he was standing at a bad angle. I'm watching through the binos, and I see his head shake just once. She saw it too and says "what is he doing?", I said "he's coughing". It dawned on her at that point as I could see her start to almost vibrate, she asks "and what does that mean?", and I said "it means his lungs are filling with blood, and you just drilled a giant bull! STAY ON HIM!". Within seconds he attempted to step, and took a nose digger into the dirt. It was all over. She had placed 2 shots only inches apart, perfectly on the shoulder line, and the bull expired quickly. It was the perfect end to an extremely challenging hunt.
The packout wasn't bad, we were able to get a truck at the bottom of the draw on a skid road. We got him all loaded up, and were basking in the success on the slow cruise out as the sun was setting. She broke a little stint of silence with something I still laugh about to this day. She says "babe", I go "yeah?", she said "I absolutely love hunting with you, and I appreciate everything you do, and how hard you worked on this hunt. But f**k elk, you can hunt them with your buddies".