Joined

Dec 6, 2016
Messages

122
Location
Several months ago, Jon Allen, Co-Founder of Tract Optics, graciously agreed to provide me with one of their Toric UHD Hunting Rifle Scopes. When discussing the review, I explained I would be checking tracking, zero retention, and return to zero. Checking those items would include drop test mimicking actual drops I had experienced with my scopes over the years, which were knocking them over while on a bipod and knocking them over from a leaning position. The eval would be objective, and the results were going to be posted without modification.
Tract promptly sent me the FFP MRAD/MRAD version, which, out of the available variations, would be my choice for a hunting scope. Packaging was protective and kept the scope in good shape. Included was a 3" sunshade which I used throughout the entire evaluation, a lens cloth, and hex wrenches appropriate for setting the zero stop and zeroing turrets.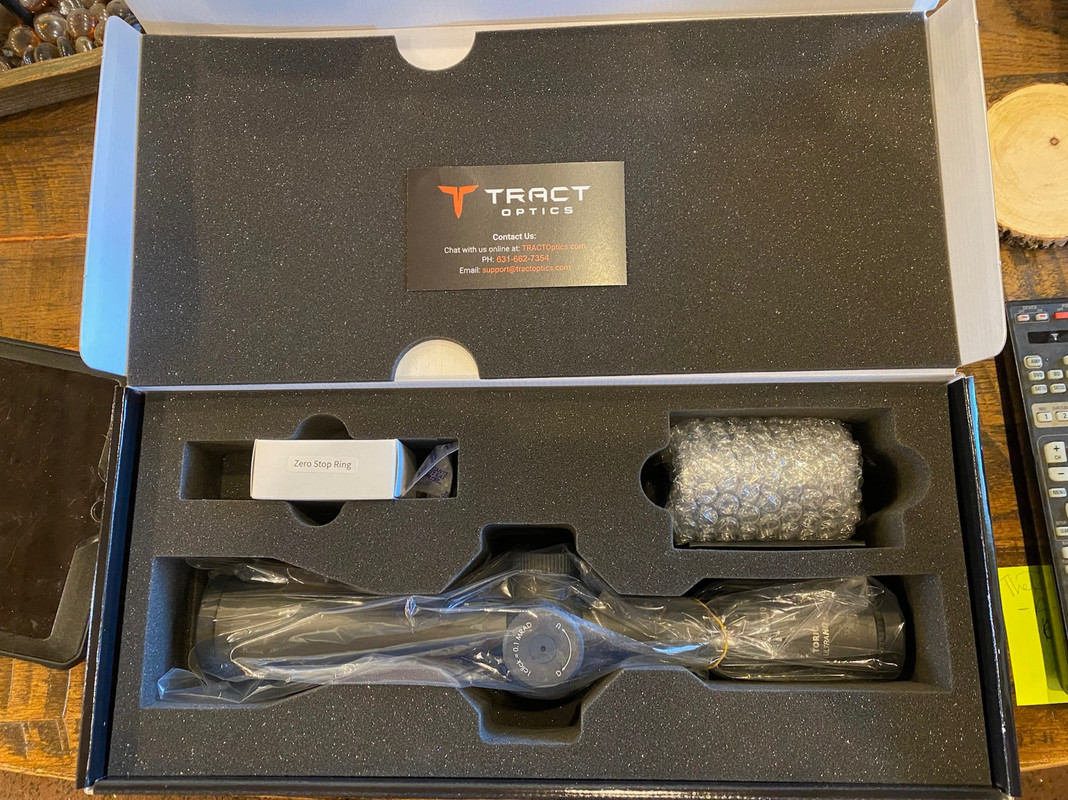 Toric UHD Hunting Scope In The Box
The elevation turret is a locking turret to prevent inadvertent adjustment. You raise the turret to adjust and then push it back down to lock it. It works as designed. The elevation turret is fairly tall, approaching the height of the turret found on the SWFA SS fixed power scopes. I'm not sure it that adds in elevation travel, or not, but the elevation travel is good, advertised at 30 mils. With the 20 MOA rail on my rifle, I had 20 mils of remaining elevation travel after zero. The windage turret is capped. I like to dial for range and hold for windage, so actually prefer a capped windage turret when I can get it. This windage turret is a little bigger/ taller than the one on the LRHS, but is not obtrusive in any way.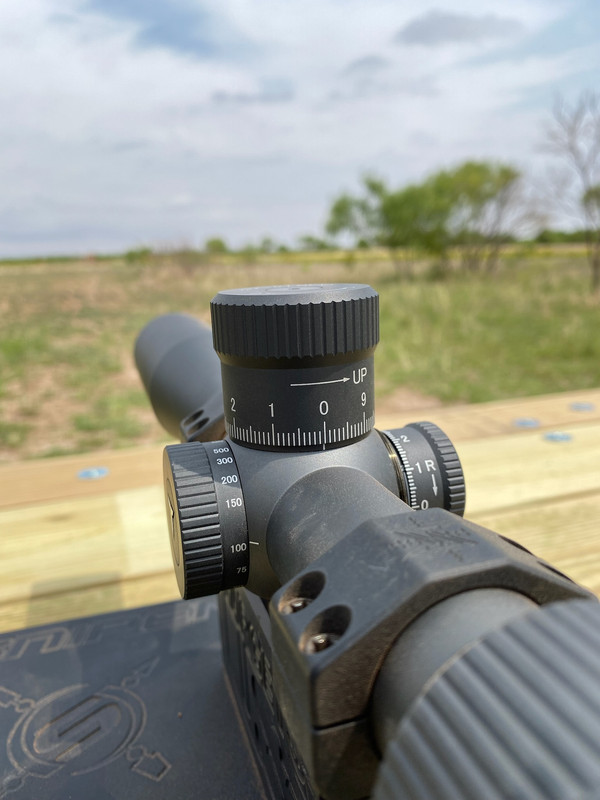 Elevation Turret Locked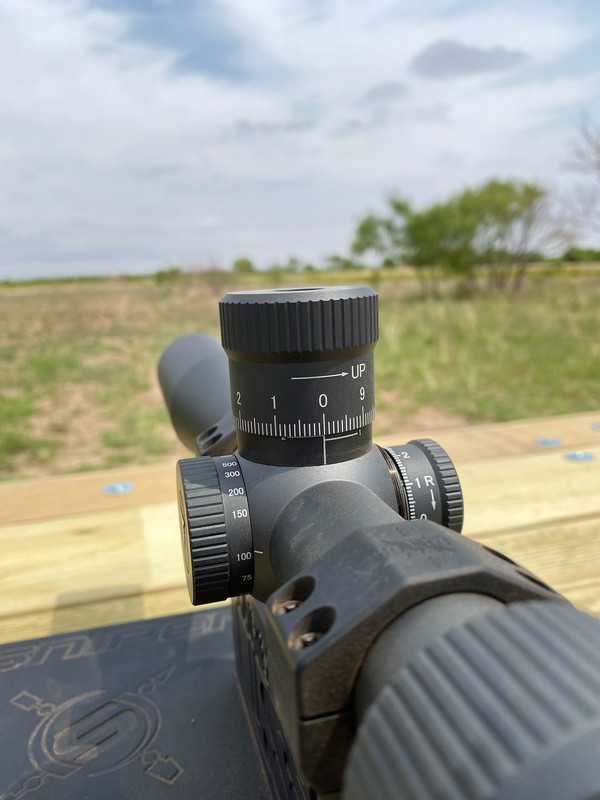 Elevation Turret Unlocked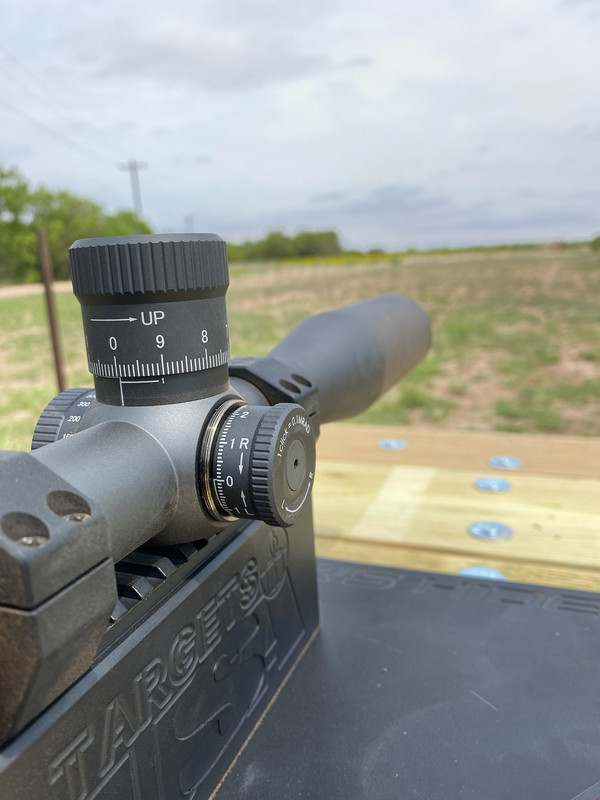 Windage Turret Uncapped.
The reticle is simple when compared to many of today's milliradian based reticles. In my mind, for a hunting rifle, this is a good thing. The center portion of the reticle is a little thicker than many, subtending .05 mils. Again, on a hunting rifle I view this as a good thing. I shot a pig using the scope at about 100 yards at sunset +30 minutes with magnification set on 6x and did not struggle to see the center portion of the reticle. The post are .5 mils thick. The horizontal posts end at 9.5 mils from center, allowing me to hold for a >100mph wind at 600 yards. Way more windage reference than will ever be necessary, but on the other hand, the post do not obstruct the field of view in any way, which makes it easier to spot your impacts. The bottom post is 10.5 mils from center, enough elevation to get the same 6.5 Creedmoor load to 1210 yards without dialing. If I were to improve the reticle, I would thicken the post to 1 mil, bring the horizontal post in to 5 mils from center, and bring the vertical post up to 1.3 mils below center. This would allow you to more effectively use the horizontal post for bracketing vitals at close range in low light engagements at low magnification or hold the pointed tip of the vertical post directly on your desired POI at 25 yards, and be dead on, as with the THLR reticle.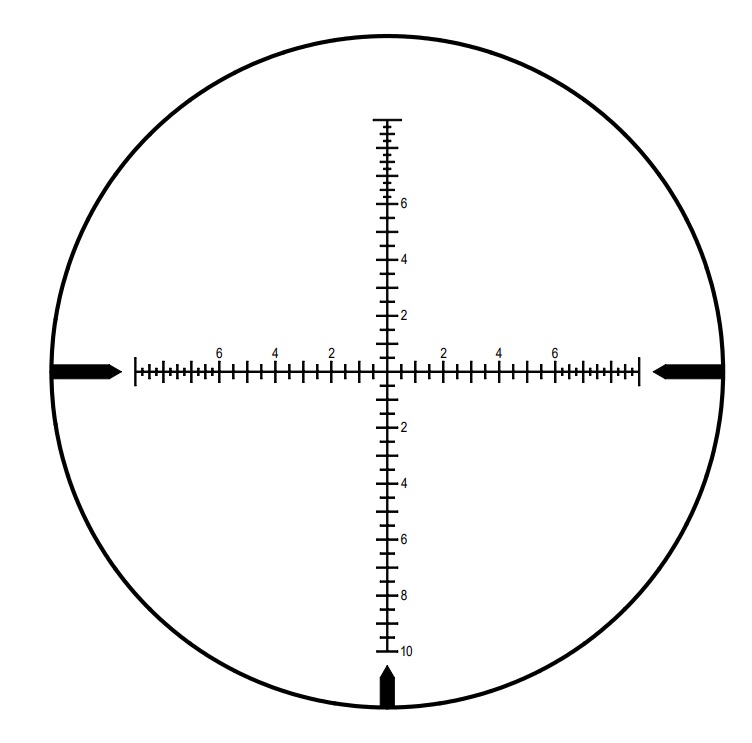 Toric Hunting Scope Mil Reticle.
Tract advertises using Schott glass, and it is superb. This scope has as good an image quality as I have ever seen, better than my LRTSi and DMR II Pro scopes, and right up there with any alphas I have looked through.
The scope was mounted on my primary hunting rifle, a Jon Beanland barreled Bighorn Origin riding in an MPA BA Ultralite chassis. The barreled action is torqued to 65 In/lbs. The action screws are treated with blue Loctite. The mounting system consisted of a Bighorn 20 MOA extended Picatinny rail and Seekins 30mm low rings. All fasteners were torqued to manufacturer's recommended specs and secured with blue Loctite.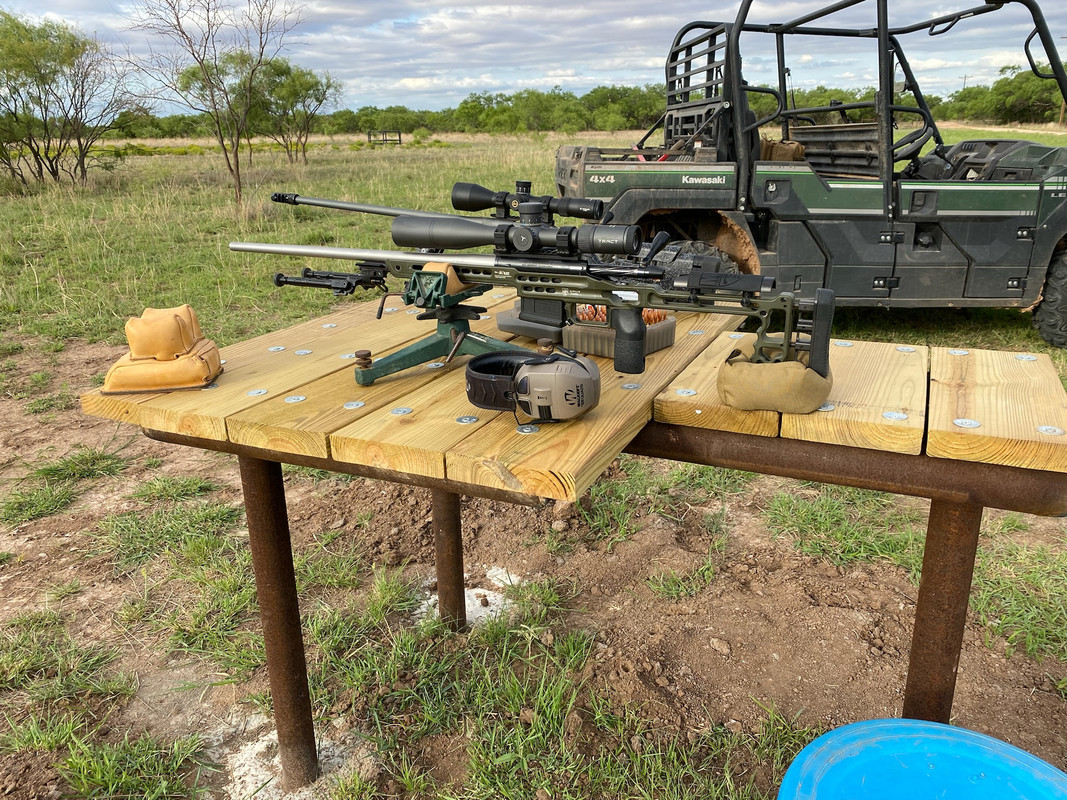 Toric UHD Hunting Scope On Rifle
After zeroing, I removed the scope from the rifle and placed it on my
Targets USA Scope Tool
. This is a rock solid setup, weighing about 30 pounds, and when set on my concrete supported shooting bench, allowed no uncommanded movement during the static tracking test.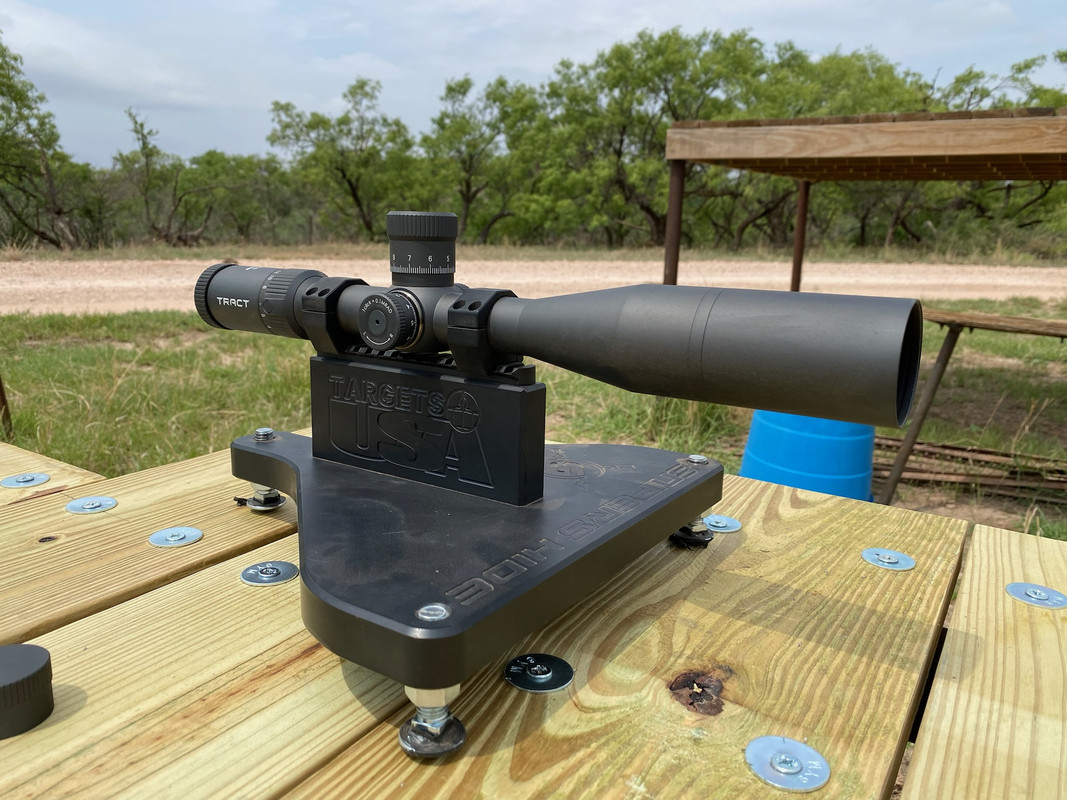 Toric UHD Hunting Scope Mounted on Targets USA Scope Tool.
The short version is the scope tracked perfectly during the static tracking test. While I had 20 mils of elevation adjustment left after zero, I tested the tracking up to ten mils of elevation and the scope tracked perfectly, hitting every dot, spaced 1 mil apart at the appropriate adjustment. There was no left or right deviation during vertical adjustment. I also adjusted two mils left and two mils right and repeated the test with perfect results. Turret clicks were positive with minimal movement between clicks. The clicks are distinct, a little more so than my beloved Bushnell LRTSi and a little less so than a friend's Athlon Cronus.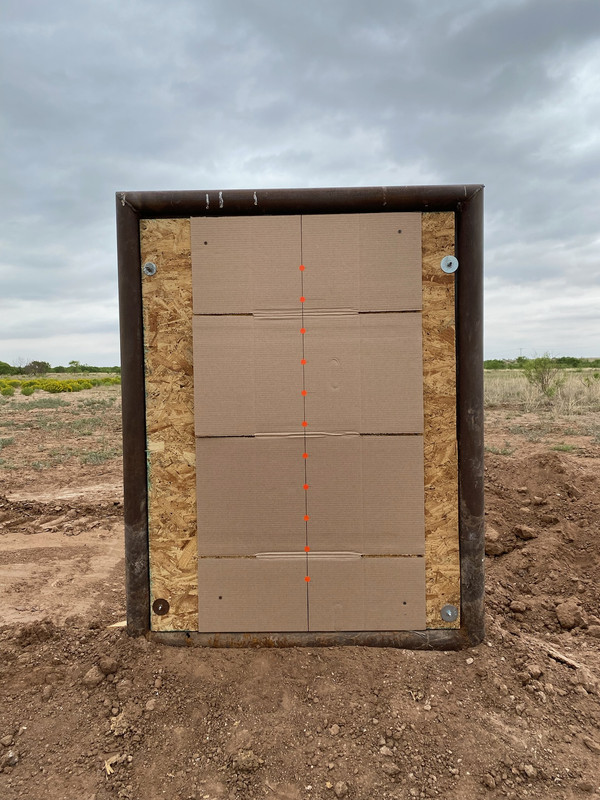 Tracking Target
With the static tracking test complete, I removed the scope from the scope tool and remounted it on my rifle to conduct the live fire tracking test on the same target at a later date. As expected, even after removing the scope and replacing on the rifle, it was within .2 mils of POA. I fired a five shot group, made the adjustment and went right to live fire tracking. On the live fire tracking test, I only went up to 8 mils of elevation due to my target berm not being tall enough to stop a bullet above that. The test was conducted by aiming at the bottom dot, making a 1 mil adjustment and shoot another group while still aiming at the bottom dot all the way up to 8 mils of elevation. You can see that all groups impacted about .1 mil high in relation to the orange dots which were 1 mil apart. In hindsight I should have fired another group to after the adjustment verify zero, but that rookie mistake was my fault, not the scope's. The scope tracked very consistently with every group impacting the same place in relation to the respective dots all the way through 8 mils of elevation. Once I completed the live fire tracking test, I climbed up on my shooting platform and engaged my 900 yard target, resulting in first round impact as expected. The scope tracks as it should.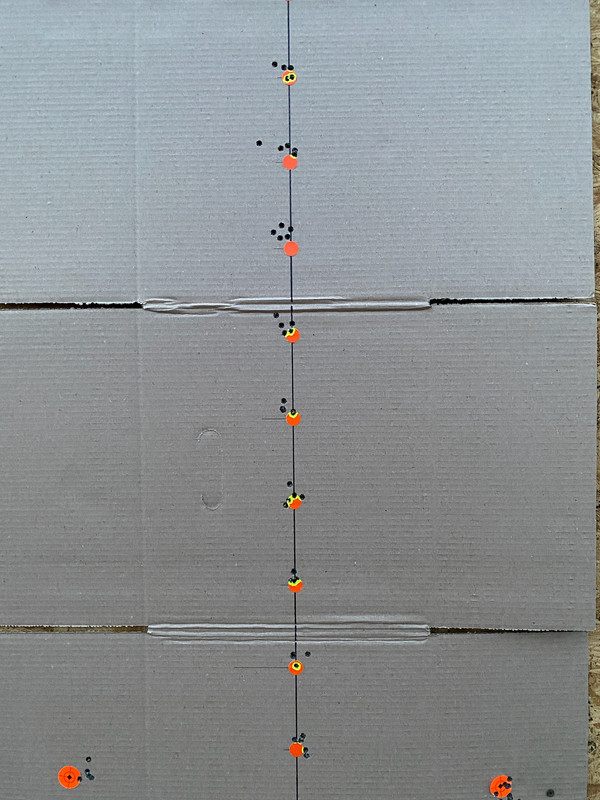 Live Fire Tracking Results
To check zero retention, the rifle and scope rode uncased in my UTV over miles of washboard dirt roads and through rough pastures and drop test consisting of drops and knock overs that I had actually accidentally done in the past. I have had a name brand scope completely fail after riding in a padded case over that exact same road and through the exact same pastures. Before I did the drop test, my rifle was due a cleaning, so I cleaned it. I also had to load another batch of ammo to continue testing. I fired two five shot groups to foul the bore with the clean barrel and new batch of ammo. The rifle settled in during shots 6-10. It was not perfectly zeroed, but I didn't pursue it, as my goal was to determine whether the scope would maintain the same POI after being dropped. Shots 11-15 were after two drops from the leaning position. I leaned the scoped rifle against my bench and pushed it over so that it fell while pivoting on the butt pad. I did this once to the left and once to the right and then fired a group, shots 11-15. POI was the same in relation to POA, no zero shift. After shots 11-15, I put the scoped rifle on my shooting mat, resting on the bipod. I then knocked it over twice in each direction then fired shots 16-20. Again, no change in POI in relation to POA, no zero shift. The Tract Toric Hunting Scope withstood impacts I have previously experienced, withstood vibrations and jolts in the UTV that all my scopes are routinely subjected to, and retained zero. Not all scopes I have had in the past have survived that.
Upright Knock Overs
Bipod Knock Overs
In summary, the Tract Toric Hunting Scope is a very nice, high quality, rugged, functional long range hunting scope. It tracks as it should, retains zero through real world abuse, has a useful feature set and superb image quality. I like it.
John