Joined

May 25, 2012
Messages

1,635
Location
Some of you may have seen me post this story on hunt-wa back in november but Id figured Id post it up here for yuh!
I first spotted this buck on sunday October 28th. He was looking right at me. Range 323. I knew he was a shooter but took a little too long to judge him. I laid down to get in the prone position for a shot and he took off.
Fast forward to Halloween. I didnt have a costume and after a few beverages my buddies convinced me to cut my hair into a mullet and be Joe Dirt
The next day they convinced me it was good luck and to keep it until I shot the buck I saw on sunday, i'm a good sport so I played
November 3rd I left the house at 2 pm and arrived at the small state section I had seen him on sunday at 3:15. I made my way to the back drainage I had seen him in. I crested a hill and sat down to glass, boom, I picked him up right not 75 yards from where he was bedded on sunday, looking right at me! I crawled up to a dead tree in front of me. Range 398. Looked at him and he was looking away not paying attention to me :dunno:
I wanted to get closer and belly crawled foot by foot. After 4 feet I put the binos on him and he was looking dead at me
I laid motionless for 5 minutes and he decided I was nothing. I figured I should get settled in for the 400 yard shot.
I crawled back to the tree inch by inch remaining undetected. I took 10 minutes getting completely settled in laying prone. It was starting to get dark and he didnt seem like he was standing any time soon.
I ranged him one more time and looked at my drop chart again. 18 inches low at 400. I put it 12 inches above his back and squeeezed the trigger.
After I recovered from the recoil his head was down and he gave a few kicks. I couldnt believe it. He didnt move an inch.
As I walked up to him he was better than I though. I thought he was just a big 3 point with out eyeguards. My gun must of gotten knocked off because I didnt hit very close to where I was aiming but he died an immediate death.
Not a trophy to most but he is my biggest buck. Good mass, good eye guards and his rear tines are 13 and 14 inches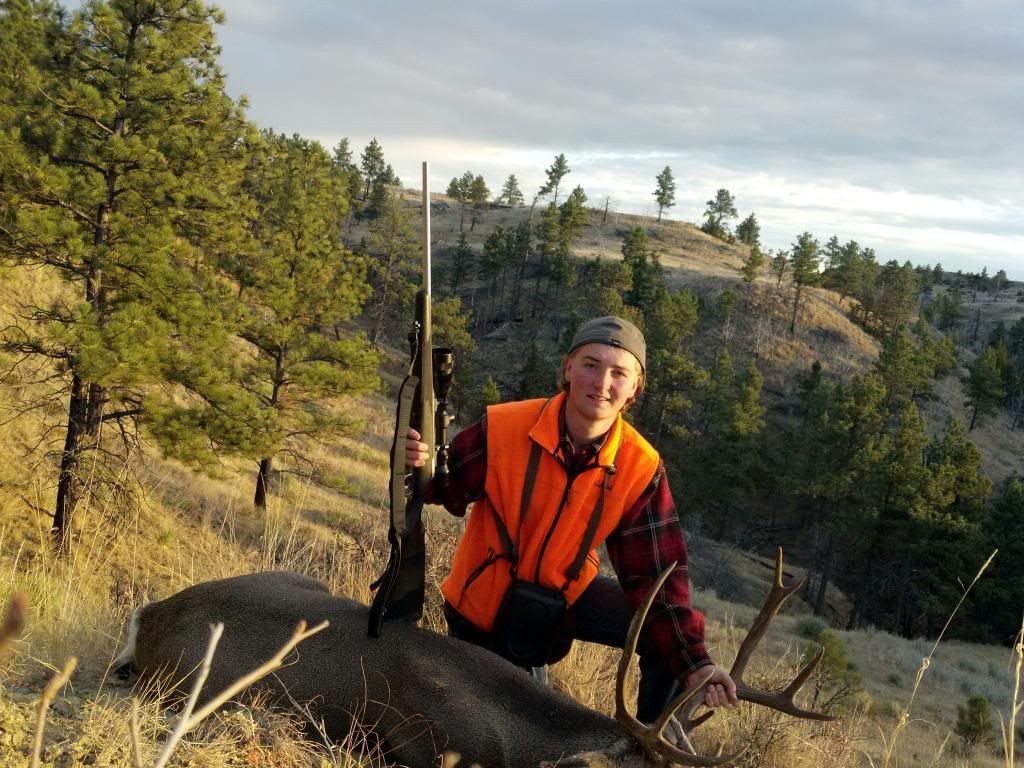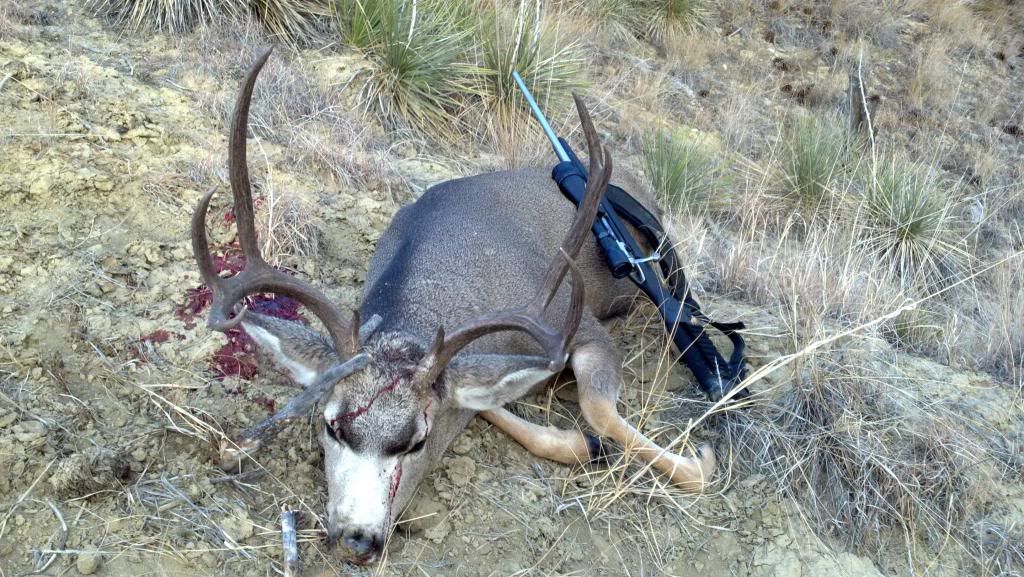 Last edited: