MADE IN THE USA - VETERAN OWNED
Rokslide Sponsor
Joined

May 31, 2023
Messages

144
Hey guys,
So, I wanted to do a thread going over our leg gaiters. I will go over materials, pros, cons, and what you can expect from us as far as the warranty goes.
These gaiters are 100% Made in the USA if that matters to you as a user. Over the past several years of manufacturing them, we have made numerous adjustments to really narrow in any gaps that were present.
As you will see from the below picture, we do not have any closure up front. The #10 Zipper and Velcro closure is in the back, as we wanted to minimize debris and moisture from entering as you walk forward. We use all metal components with no buckling system. Our under the boot strap is a braided steel to minimize failures. The wire goes under the boot, through a metal D ring, and back under the boot until attaching to a black metal snap hook. There is no left or right gaiter. It's totally user preference if you want the black snap hook on the inside of outside. There is a method to the madness with this. For one, we don't use buckle systems that often fail, and the wire acts as a cinch to pull the gaiter down and tight around the boot. Some folks may see a setup like this as a potential for snags, which can ultimately occur...just like any piece of equipment. Yet, I have not heard of anyone having a specific snag issue. The braided steel underwire does a great job of minimizing snow build up, which has been an issue for some of our customers with other brands.
The top of the leg gaiter features 1.5" nylon elastic webbing with a velcro cinch. This is great for preventing the gaiter from sliding down the leg, while also preventing debris and moisture from entering the top of the gaiter and running down into your boots or lower pants. The bottom front of the leg gaiter is outfitted with a metal G Hook as a shoelace hook, and also has a metal triglide slide to adjust tension for the shoelace hook. The tension keeps the gaiter more tight/loose to the front of the boot.
Finally, the bottom of the leg gaiter on the back is outfitted with a G hook and numerous webbing slots to prevent the gaiter fabric from rolling up when dredging through snow. This sounds complicating, but is pretty straight forward when you see it.
The outside is made with 1000D Cordura with an inner 400D Nylon packcloth lining. We have done many tests on water penetration when these two fabrics are stacked. We have seen zero penetration even after several hours of exposure, but this does not mean they are waterproof. Leg gaiters are not waterproof, no matter what a company tells you. Statements like this are simply a sales gimmick to get you to purchase. What you can do is treat the outside of the gaiter with a good DWR several times a year, and seam seal any stitches you see inside the gaiter, as these will be the points where tiny particles of moistures can enter. It should be noted, our 1000D Cordura comes coated with a DWR from the factory.
The PROS:
-Highly Durable, Water Resistant, and we see low amounts of failures. Surprisingly, even with the heavy duty materials we use, they are pretty unnoticeable after walking a few hundred yards.
The CONS:
-It can take longer to put on than other brands.
-It is not super breathable or silent. Tightly woven fabrics structured for high water or abrasion resistance are not going to be breathable (no matter what a company says), and 1000D Cordura is certainly not fleece.
Warranty- We guarantee all workmanship, components, and wear and tear. As long as you don't intentionally damage product to get new product we will take care of you.
This was a short down and dirty. If you have any specific questions, concerns, or comments...feel free to drop a comment, send me a PM, or email me at
[email protected]
We also have numerous videos on Youtube going over this product. Simply search "T & K Hunting Gear".
You can use code ROKSLIDE15 (all caps) during checkout to save 15% on a pair at tandkhunting.com
Thank ya!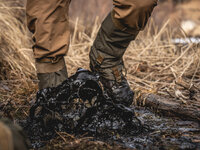 Last edited: