I just got this email and thought I'd share it. I wish the best of luck to clint and hope someone turns up his buck for him.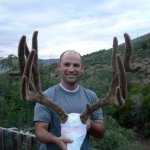 As many of you know, I shot a rather large buck this year with my bow. On Thursday evening, I picked up the buck from the taxidermist. We spent the night at my in-laws in Sandy. Sometime Thursday night, my car window was broken out, and the buck was stolen.
As you can see from the picture, there are matching kickers, a 16" inline point, and only one eyeguard. I was having artificial velvet put on it so when it was stolen, it was just a cleaned up skull and all the velvet is off the antlers. Right now, the antlers and skull are washed and bleached white.
I know it is a long shot, but if you could forward this message and picture to your hunting friends along the Wasatch Front, just maybe someone will come across my buck. thank you for forwarding this email to anyone you know that may come across it.
Clint