Alright. I won the SKRE Ptarmigan jacket back in early December
here
on Rokslide. Per the rules I am here to post some feedback and initial thoughts.
First-off, the goat trip I thought I would be going on got canceled. I have not been able to use this jacket on a hunt but I do spend a fair amount of time outside weekly if not daily.
Here is a link for manufacturer
details
. I put the jacket on my scale and it came out to 17.4 oz! I little below the listed weight, which is always nice!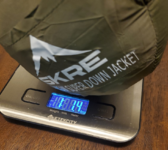 Always nice to have a little stuff sack from lofty items. My first impression was that the face fabric seemed much stouter than some of the other mid-light weight insulative jackets I have used (RAB Xenon, Kryptek Aquillo, Western Mountaineering Flight). Certainly not made for busting brush but it has a heavier feel. This jacket is warm! I believe the fill is right around 5oz. I have been wearing it on walks in the low 30's and upper 20s (flat ground, no pack) and I have to keep my pace pretty slow or else I start to overheat. I have also been wearing it on a couple mile pack hikes with the family in rain/snow mix. The jacket does a good job of repelling water (it is basically brand new so it should in my opinion).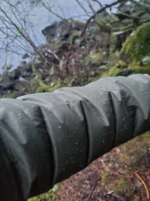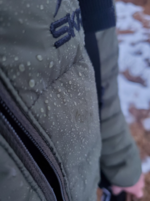 The jacket also sheds the water well. Here the arm is covered in beads of water. ONE quick snap of my arm and most of the beads shed off.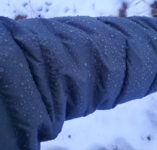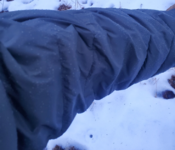 I have also used it to sleep on the deck of a boat outside for a few hours crossing Prince William Sound (upper 30s). I never got cold. This jacket would be a good fit for static use (glassing, eating, sleeping) but there is no way I could use it if I was being active. I have got a few feathers to stick through (I am somewhere around 25 miles hiking with it now) and I have noticed that near the armpit area I am getting some stiches to pop.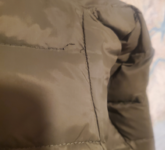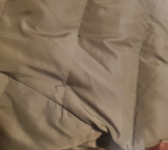 I will keep putting the jacket through the paces and keep this thread updated. If anyone has any questions or requests let me know! Thanks to SKRE and ROKSLIDE for the opportunity.