I'm selling all the Sitka Gear Optifade Forest clothes that I've accumulated over the years. I no longer hunt early season archery... now it's either late season or rifle and I wear the EVII pattern. I'm 5'8" with short legs (30-31" inseam) and weigh 175 lbs and these clothes all fit me. On some of the pieces, I marked over the Sitka logo with a Sharpie turning the logo brown instead of orange (this tends to wash off with a couple of washes). I specify "b" for brown (and "o" or nothing for orange) logos, in the descriptions. Let me know if you have a preference when buying and I will send what you want.
All the clothes have been washed in scent-free, non-UV soap, hung outdoors to dry, and stored in a sealed chest with Doug fir boughs, in a smoke-free home. Everything is in excellent condition, no stains, tears, smells, etc. unless otherwise described. The tops are almost all large (unless otherwise specified) and the bottoms are almost all 34" waist or mediums. The few medium-tall or large pants have been hemmed to a 31" inseam. If the pants had boot covers, they were removed. The prices are firm (what I paid for everything... trying to break even) and are... "to your door" (TYD), so please don't make offers, I will not respond. Pay with PayPal (and not F&F... to protect yourself).
I'm posting these on another Forum too and will sell first claimed, first served (by the time stamp). If you say you will purchase, send a PM and I will post the items as "sold, pending payment" (SPP) and then will mark "Sold" when payments are posted in PP. I will try to keep up with showing what's still available and what's sold.
Here's what I got (I will post pictures in the order of this list, in follow up responses):
1 - Incinerator jacket (L) - $400
1 - Kelvin vest (M) - (b) - $160
2 - Stratus Windstopper jackets (L) - 1-(b), 1-(o) - $275/each
1 - Stratus Windstopper bibs (M) - hemmed to 31" - $260
1 - Stratus Windstopper pants (M) - (b) - light pilling (see pic) - $200
1 - Downpour jacket (L) - (b) - Gore-Tex lining perfect - $235
1 - Downpour pants (L) - (o) - Gore-Tex lining perfect - $200
4 - 90% jackets (L) - 3(b),1(o) - all w/pit zips - $175/each
2 - 90% pants (M) - 1(b),1(o) - $175/each
1 - 90% pants (L) - hemmed to 31" - $175
1 - 90% pants (LT) - (b) - hemmed to 31" - $175
4 - Traverse pants (34T) - 3(b),1(o) - hemmed to 31" - zip back pocket - $125/each
5 - Traverse pants (34R) - 2(b),3(o) - zip back pocket - $125/each
5 - Long-sleeve tees (L) - 3(b),2(o) - $85/each
7 - Long-sleeve Zip-tees (L) - core (lw) - 3(b),4(o) - $100/each
4 - Long-sleeve Zip-tees (L) - mid-weight - $120/each
4 - Long-sleeve Zip-tees (L) - heavy-weight - $130/each
1 - Long-sleeve tee (L) - brushed fabric and seems smaller? - $25
1 - Hand muff - $200
1 - Incinerator hat - (b) - $100
1 - Incinerator mitts (L) - $200
2 - Stratus Windstopper gloves (L) - 1(b),1(o) - $85/each
2 - Stratus Windstopper beanies - (b) - $70/each
4 - Merino beanies - 1(b),3(o) - $45/each
2 - Core fleece gloves (L) - lightweight - $35/each
2 - Merino gloves (L) - 1(b),1(o) - $50/each
1 - Merino gloves (XL) - $50
1 - Merino glove (L) - (b) - right hand only - $5
1 - Core polyester glove (M) - midweight - right hand only - $5
2 - Core polyester gloves (L) - midweight - $40/each
1 - Core polyester gloves (XL) - midweight - $40
1 - Core polyester gloves (M) - midweight - $40
2 - Merino gloves (L) - Open Country Camo (new) - $50/each
1 - Sitka belt (M) - $5
1 - Core base-layer bottom (M) - lightweight - $35
2 - Ball caps - (b) - $40/each
2 - Poly neck gaiters - 1(b),1(o) - $50/each
4 - Mesh neck gaiters - $45/each
2 - Core poly beanies - 1(b),1(o) - $20/each
Misc
1 - One-sleeved tee (L) - used sleeve to make bugle tube cover - $5
2 - Boot cuffs - removed from ESW pants - $2
1 - Fleece bag - sold as fletching cover - $5
1 - Small fleece bag - sold as quiver cover cover - $5
1 - Homemade fleece Bino-Buddy small bino chest cover w/diaphragm call pocket - $20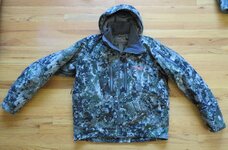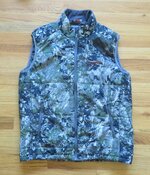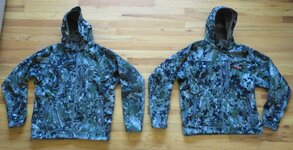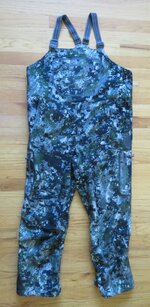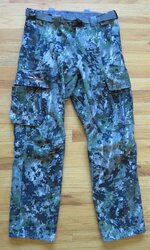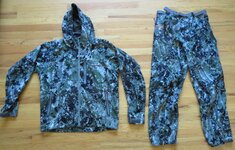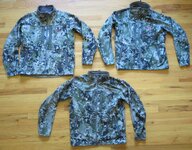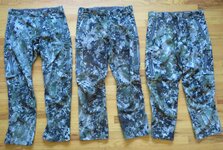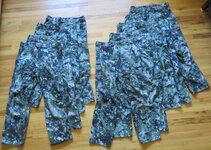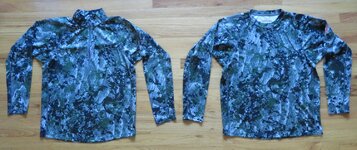 Last edited: