Looking to sell my Seek Outside Redcliff I bought in June.
Factory seam sealed with door screen and carbon fiber pole.
$960 new - Asking $770 tyd FF or add 3% for G&S.
I just got back from its very first outting and am just deciding to go a different direction.
I left the stove up for a bit windy of a day and there is a bit of rubbing on the stove jack (see picture). It doesn't affect functionality in the slightest.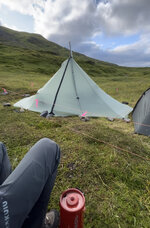 Last edited: