Super Moderator
Staff member
Joined

Feb 27, 2012
Messages

3,100
Location
I am back from my Nevada Mule Deer Hunt with Ed and DJ. I saw a lot fewer bucks then I did 5 years ago when I was hunting this same unit.
We got dropped off by an outfitter on Thursday the 9th about 4 miles in from a non-public trailhead. We set up base camp and within a couple of hours had our back packs loaded and were off. I had my Kifaru DT2 loaded down with 6 days of food and 8 liters of water as we were unsure of where water was going to be located. We only packed in about another 2 hours and made our first camp.
The opening day we saw about 14 bucks, some close enough to hunt and some more than a day away. The following day we saw many of the same bucks and 8 bow hunters coming up from the bottom of the drainage we were on top of. With these bowhunters moving in we decided to pack up and head further back. Once loaded we pushed back about another 2 hours and found ourselves fairly isolated from most human traffic. We set camp and were again ready to start hunting.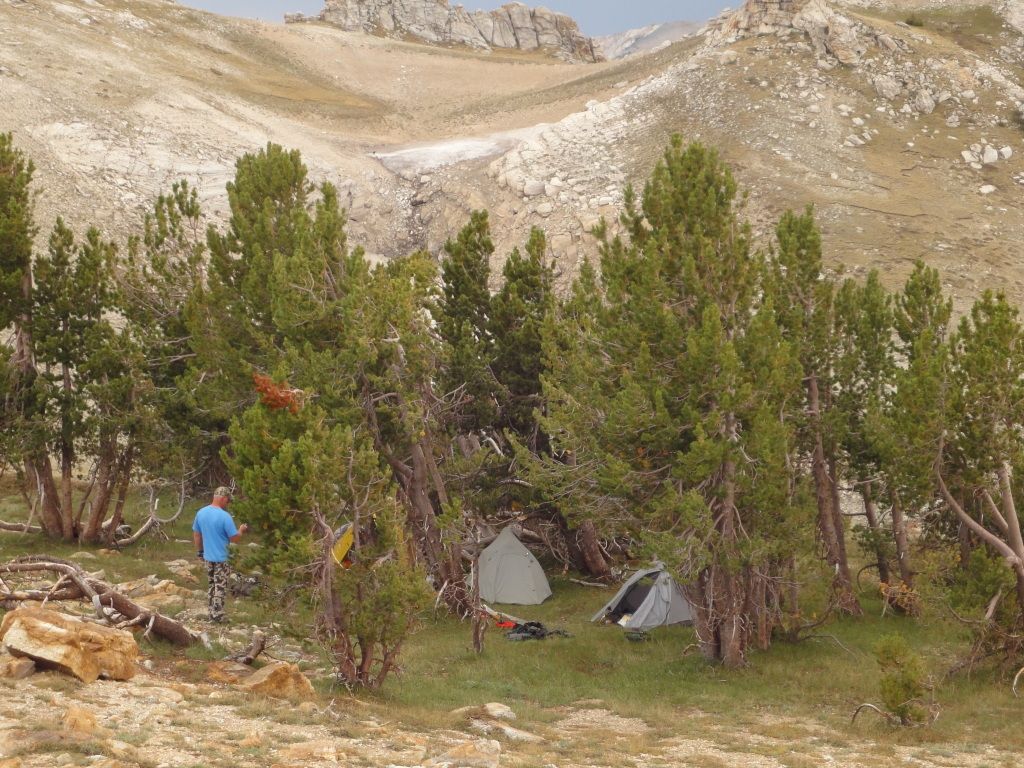 Although this area had no other hunters, it had very few deer and several goats. We glassed from many vantage points and saw very few bucks. On the 12th I located one buck in a medium sized basin that was all alone. I spotted him at 7:30am, watched him make several beds through 10:30am and began my stalk.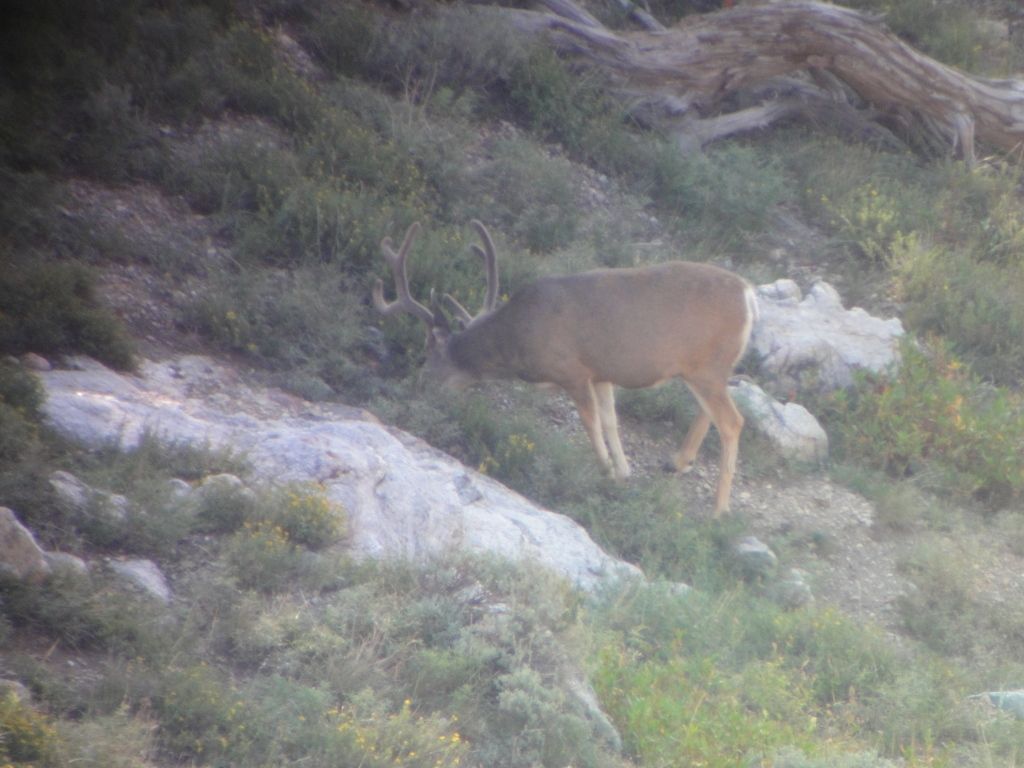 It took me two and half hours to make my way down to where he was bedded. The wind was fairly good, so I waited him out. Within about a half an hour, a the mid afternoon thunderstorms were rolling in and the wind was getting challenging to say the least. I was thinking at any time the buck was going to blow out of there and it would be over. I ranged the buck the best I could without being seen and it was reading 50 yards.
The buck stood up at 1:30pm and from kneeling behind some rocks, at a fairly steep angle down to him, I drew my bow and was ready. The shot felt solid and the arrow flew right over his back. Luckily, he didn't know what was going on and only moved about 10 yards to his left and stayed at the same distance. I didn't re-range, I thought I just must have missed on my own. I shot the next arrow again for 50 and it again sailed just over his back. I was a little pissed at this point, because I am generally a pretty good shot. The buck jumped about ten yards out and to his right not knowing what was going on. I loaded another arrow and knew his was out passed 50. I settled my 50 yard pin just below his spine and it put my 60 yard pin just about his heart. I let the arrow go and it hit him dead perfect. Blood was pumping from him. He went about 50 yards, stood there for a couple of seconds and fell over dead.
I didn't wait long as I could see him laying there dead. I went over and grabbed my first two arrows and ranged back to where I had shot, 42 yards. I don't know if I was picking up grass behind the deer or I had my rangefinder in the wrong mode reading the true distance verse the angle compensated distance. Either way I missed twice, but made good on the third.
Ed and DJ watched from the ridge and headed down to help me with the buck. We took some pictures, broke him down and packed him back up to our second spike camp.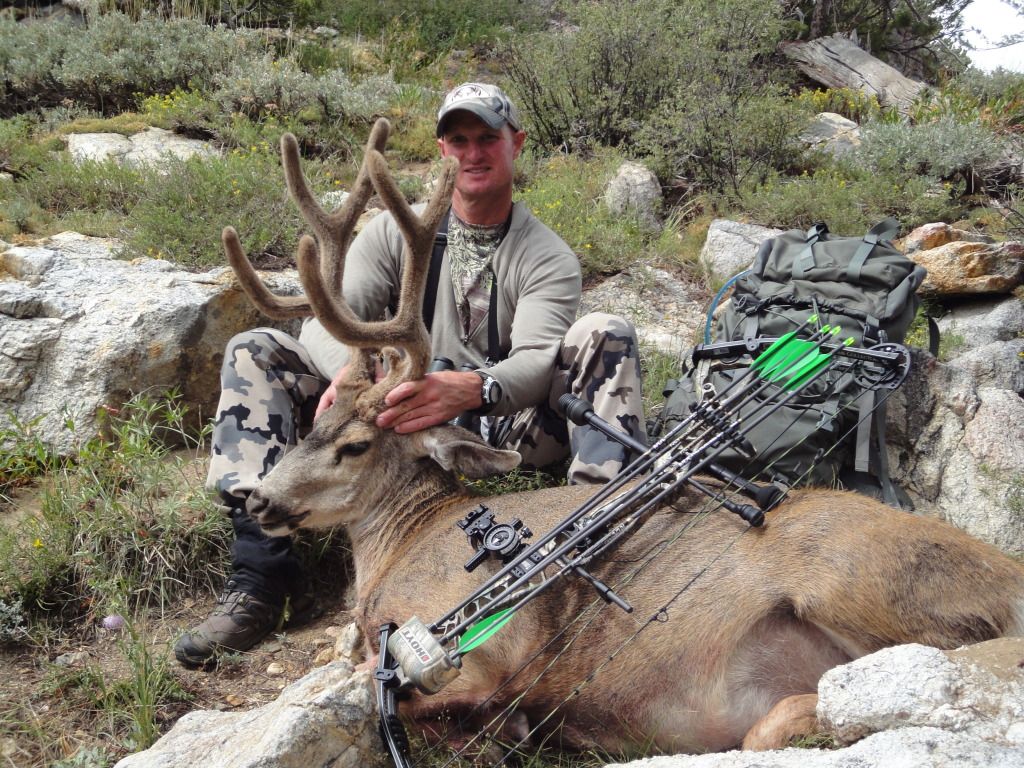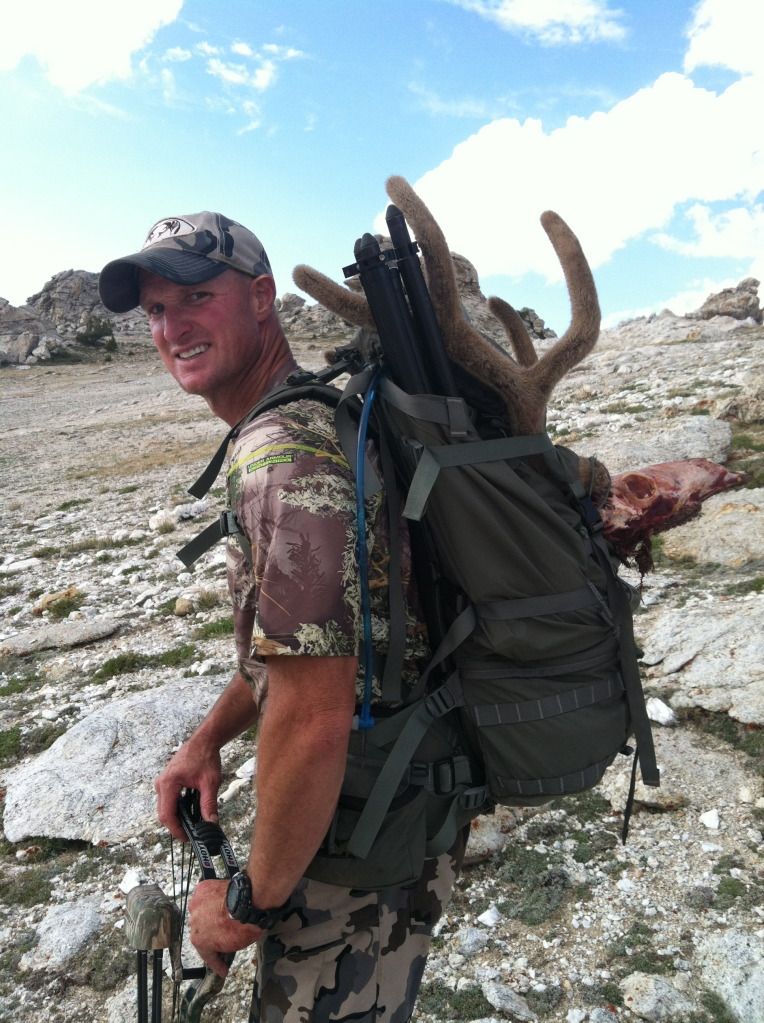 From where I shot my buck I could see my truck about a mile and half the way the crow flies down in the valley. Unfortunately I couldn't take him to my truck as I was rim rocked all around. We packed him back to our base camp which was about four and half hours, then I packed my camp, the meat and the horns out to my truck the last 2 hours yesterday.
Ed and DJ were still up there when I left yesterday still chasing some bigger bucks around.
I have another hunt I am leaving for on Sunday and I needed a couple of days rest after spending a week in the high country of Nevada. I am pretty happy with the buck, he is not huge for Nevada, but I am not some super accomplished trophy hunter by any means. He green scored a little over 140", which is plenty trophy for me.