Like new with roughly 15 rounds through it. Savage Axis II Precision in .223. Will come with like new Meopta Meopro Optika6 2.5-15x44 RD SFP, 4C/1 reticle scope. Scope is mounted on a Picatinny rail using Vortex Pro mounts. Will come with Magpul M-LOK Bipod too. One magazine.
I am the only owner and purchased everything new summer 2022. The whole package has roughly 15 rounds through it. No known issues whatsoever. Only selling to fund more hunting gear.
Will consider trades for Leupold VX6HD with the TMOA reticle 3-18 or Nightforce NX8 4-32 or reticle or Leupold Mark 5HD illuminated (open to different MK5s).
Asking $1200 and I will pay shipping, insurance. Prefer PayPal G&S. Rifle MUST be shipped to an FFL in your home state.
Also willing to separate....
Just rifle: $800 shipped to FFL. Original box.
Just scope: $400 shipped TYD. Original box.
Thanks,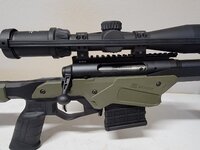 Last edited: