Joined

Feb 26, 2012
Messages

319
Location
The wait is finally over. I was leaving work friday afternoon headed to the mountains to hunt elk. The area I was hunting was a limited draw unit in Southern Colorado. I had hunted this unit a few years back, 2009 to be exact, and shot a nice 6x6 with my .300WSM. I had high expectations this year and could hardly wait to hunt since this would be the first year to hunt the unit during archery season.
I arrived to late on friday to be able to get out and hunt. I have scouted the area several times this summer. Here are pictures of the scouting trips.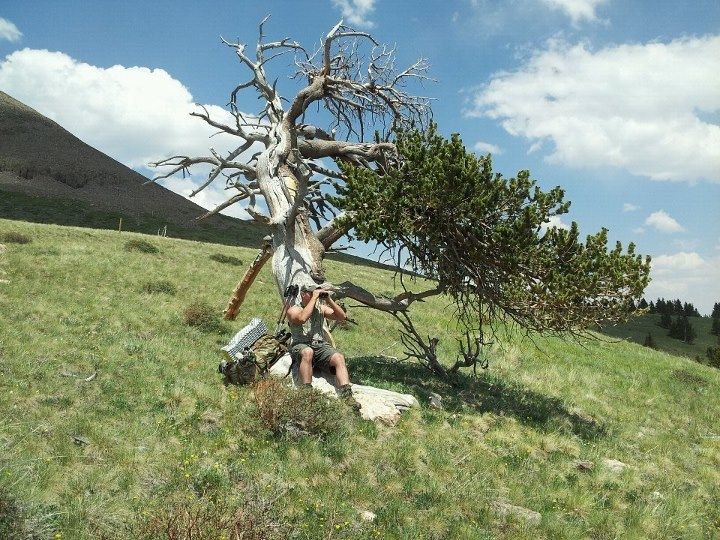 SUMMER SCOUTING
I had put in my time with google earth, boot leather, and maps. When it came time to hunt I had Plan A,B,C laid out.
Saturday morning I was up very early and started hiking from the road beofre it was light enough to see. Saturday yielded very little elk activity. The early morning sun brought zero bugling and very little elk sign. I heard a distant turkey gobbling but no bugling. It was very hot on Saturday and the midday heat seemed to drag on. By saturday evening I had planned on spike camping from the truck in a area I seen about fifty elk one week before the season started. As Saturday ended the elk never really seemed to pick up and I seen literally no elk and heard a very distant bugle or two. The second bugle was so distant that I thought I might have been just hearing things. Plan B was looking better and better so I decided to head for higher ground and jump up in elevation. I drove up a nasty four wheel drive jeep trail that night and arrived at a flat enough spot to camp around 9:30. I decided to stay the night in the truck and was planning on getting after the elk very early the next day.
Sunday morning was a change of pace. I had gained nearly 1,500 feet in elevation and the temps were cooler. It felt better to me as soon as I was hiking in. Once I was far enough in the timber I decided to see what I could shake up and let out a few locating bugles. It took a few seconds but I had two different bulls answer me pretty fast. Take my pick of the two. Checked the wind and it was perfect for the bull bugling south of me. He bugled a few more times as i tried to pin point him. I knew I needed to move quick as they were most likely going to heading to a bedding area early since the full moon kept them up all night. Long story short; I played cat and mouse with a bull and about a dozen cows until 8:30 that morning. It was going good until the wind swirled on me when i was within 40 yards of his cows. It only took once and the elk stormed out like a earthquake erupted off the mountain.
I had family in town Sunday afternoon and was unable to go out for the evening hunt. With the way the elk were moving that morning I was making plans in my head for the Monday morning hunt. I left the house early monday morning and was leaving the truck before the sun came up. With that big moon I didnt even need a headlamp to get down the trail. I had a plan laid to make loop on some common ground that I new very well. The elk were there but I seemed to bump them out ahead of me before I seen them and they were gone.
Rain was on the horizon and I knew that would help the elk stay active longer. I decided to stick after it and hunt some more but i need to move to a higher elevation. I parked the truck at 10,400 and headed west into the dark timber. I knew of a certain meadow about a mile from the road and just up the valley from where I had the close encounter with the bull and his harem yesterday. The temperature was nearly fifteen degrees cooler Monday with the rain coming down and the elk were stirred up. I found the targeted meadow and checked the wind. Headed to the ridge on the far side and started slowly up into the trees. I figured it was time for a break and decided I could try a few calling sequences. Mainly just lost calf and cow calling. About 30 minutes after I started calling I looked over and seen him walking through the trees. He was only 25 yards at first glance.
I had decided before I started hunting that weekend I was gonna shoot any branch antlered bull that came in. I seen good horns and he stopped in a random opening at twenty yards. Perfect broadside shot oppurtunity and I had double lunged him and it happend that fast for me . I knew I made a good shot as the arrow passed through him.
I gave him about 45 minutes and started tracking. He went farther than what I expected but I found him piled up down hill about three hundred yards from where I shot him.
Now time for the real work...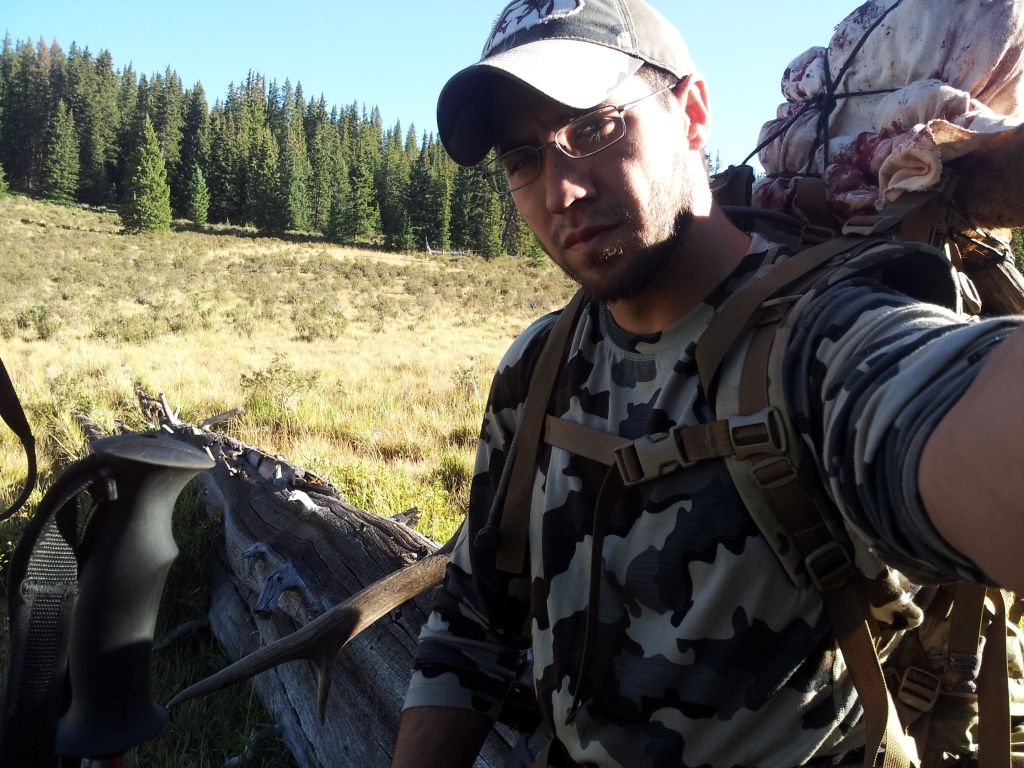 This was a solo trip on public land and it was going to be a solo pack out. I now had my hands full...
All in all I had the bull out in less than 24 hours. I used my Kifaru Timberline 2 and packed him out in three trips. I am a happy hunter and excited to eat elk meat again this winter.
I hope everyone has a good season. Check the wind often and remember to never let your guard down!!