Joined

Jan 14, 2021
Messages

6
Like the title says, how important is the moon? How much does it factor into when you plan your elk hunting trips?
I am planning my first archery elk hunt to CO this upcoming September and have been creeping on this site for a while trying to learn what I can. As of right now, it will be myself and my brother in law making the trip. There is a possibility of him not being able to go, but I will be going regardless.
I've done my research and talked to a buddy who has been going out west for a few decades, so I've got a good idea of where I'm going to try to hunt. What I'm trying to decide now is when to go. I am able to get 2 weeks off of work to make the trip. I'm stuck between hunting the 1st and 2nd weeks, or hunting the 2nd and 3rd weeks. The 1st and 2nd weeks would have what I'd consider a better moon phase, but I am in a wedding on September 5th, so wouldn't be able to leave until Monday the 6th. This would leave me roughly 9 or 10 hunting days. Or I can wait and leave on Friday the 10th after work and increase that to about 12 hunting days, but would have a less favorable moon phase. How would you weigh the moon phase vs. number of hunting days? Which would be more important to you and why?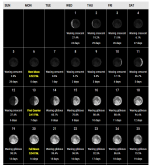 Thanks in advance!