Joined

Feb 27, 2012
Messages

169
Location
Heres a quick rundown of my Muley hunt from this fall.
We made it to the trail head at 2:30 am on the 3rd. We met up with the packer and horses about 9am that next morning and we were up the mtn and dropped by 4pm. We glassed a little and called it an early night.
We got up about 530 or so and listened for some elk bugling since my buddies had tags. We waited until we could see a fair bit and headed to the next ridge to look into another basin. We saw some younger bucks and does. Around 9:30 or so i spotted a pretty decent buck in the timber feeding. I decided he looked pretty good, especially since it was my first muley.
... We let him bed down and watched him for a bit. I wasnt too comfortable on how he was positioned and how i would have to make it to him so i decided to wait.
After an hour or so he decided he was still hungry and got up to feed some more in the edge of the timber. After he got his belly full this time he picked a much more stalker friendly tree to lay under. it was around 11 now and decided he will probably stay put for a bit. The wind was scooting up the hill and he was bedded facing away! I ranged him a little over 1100 yds away, picked out some good landmarks and told one of my buddies "lets go".
Cleatus stayed back on the spotter and was to pick up a red dromedary bag if the buck was to get up or change position. So off we go down and across the basin and up the other side to about the same level i had figured on "Clyde" being. We side hilled across to about 1000 yds (3rd Timber strip) and slowed way down. We got to the edge of it and sure enough my dead falls that i had mentally marked were there. Only problem was the rock slide that i couldnt see haha. I decided to drop my pack here and slip in the rest of the way.
The wind was creating a decent sound block i thought. Jp was like I'll just stay here and wait, i told him nah, we came this far and we will make it. Just be SURE of your footing
. We slipped across the miniature ravine and made it to the other side. I still couldnt see the buck, but figured we were about 50 yds or so and he was probably on the other side of the crest. So we went into full creep mode and made it to the crest of the ridge. I sat up a bit more and all i could see was velvet tines! (oh, he had PERFECT velvet...) I looked back at JP and had the Oh Sh&% look and said 20 yds. He got an interesting look on his face haha.
I watched him for a bit longer and decided to make it happen. I nocked my arrow and slipped up the mtn about 5 more yards and got a good quartering angle. I drew back and checked my bubble on my sight, made sure my anchor point was good, settled the pin behind his last rib and pulled into it pinching my shoulder blades. (Not sure if all that really happened, except for drew the bow, put the pin where i wanted it and let the arrow go haha)... The arrow went in perfectly and exited the left shoulder. The buck stood up on his back legs and went backwards. He then proceeded to roll down the mtn at a high rate of speed. All we saw was dust and heard crashing. I looked back at JP like what just happened and he had the same look. We stood there a minute to collect our thoughts and looked at the blood. The Slick Trick Mag 125 and FMJ at 73#'s blew through him.
I waved cleatus on down and went back to get the pack and drink a lot of water. That ordeal had me parched! I made it back to point of impact and down the mtn we went. We finally caught up to him bound up in a tree and snapped a few pics. We then scooted him down the hill to some flatter ground to break him down and load him up.
We got all that done and packed up. We made it back to the camp right at dark. I left the GPS on on the way back and it showed a little over 3 miles. Not bad for a days work!. Oh and 12k' aint no joke to some cornfed flatlanders!
Oh, no luck on the elk. They moved in the morning we were leaving...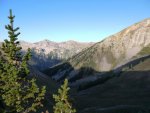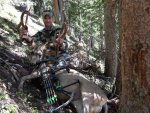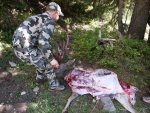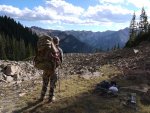 I condensed it down and burnt it out as quick as i could.
Any guesses on score?