New to the forum, here to share my experience as I go with a new rifle.
After getting orders to Alaska this past spring, I started looking into adding a magnum caliber rifle to the safe. I decided on 300 win mag for availability and prior experience with one I owned years ago. My goal was to have a rifle that I am confident with out to 300 yards, cerakoted to protect the finish, and
My first 300WM rifle was a nightmare to shoot, and I don't think I ever managed to even get it zeroed due to lack of experience at the time.
I settled on Bergara and ordered a B14 hunter through my local shop, and also had them thread the barrel for a brake and install one as well to tame the recoil a little bit.
Out of the box, the rifle felt great in my hands. Ive handled bergaras over the Years but never fired them.
For optics, I chose to use my Vortex Viper HSLR 4-16x50 MOA scope. I picked this up years ago for a great price and I have yet to find another one as vortex discontinued them.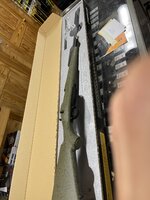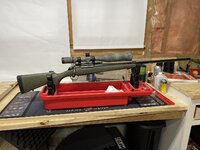 I mounted the glass on an EGW 1 piece scope mount, and Warne Mountaintech Medium height rings.
and off to the range...
I ordered several different loads of Federal Premium, and started with Trophy Bonded 165gr.
After using a wheeler laser to get the optic on paper, I fired my first 3 shot group at 100 yards to get a feel for the recoil and trigger.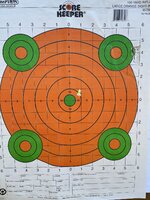 Ive spent a lot of time over the last few years reading, researching and practicing dry fire to find out the right way to go about shooting at distance. I was thoroughly impressed with this group and decided to pack it in for that day.
Yesterday I went out again and pushed out to 200 yards, which is as far as I can get at my local gun club.
The berm at 200 is shaded in trees, so impacts were difficult to see on paper maxed out at 16 on the scope. I don't own a spotting scope yet, but its on my list of equipment I still need to buy.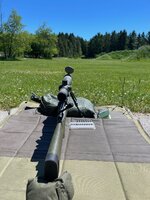 Shooting off of a bipod and front and rear bags, I fired 4 rounds in 20 seconds at an extra target I had that I don't usually use.
Overall, I still have a lot to learn and more time to spend with this rifle. Im extremely happy with its performance so far. Once I get settled in Alaska Ill plan to take it out and shoot it in different positions rather than prone before I start hunting with it. The whole setup minus bipod comes in at just under 10 pounds, for a lighter rifle (compared to one of my precision rifles) it is extremely comfortable to shoot.