Joined

Feb 26, 2020
Messages

997
Location
Just wanted to share an epic adventure from this weekend that ended with a young man shooting his first buck.
A group of 4 of us - me, two youth hunters (brothers), and my other friend - set out the afternoon before the archery opener to backpack in and set up camp next to a high mountain lake known for its trout fishing. There were a few other hunters at the lake too, which was not usual, but there was plenty of room for us all.
The evening started by getting camp set up, and tossing a few lines on the fly rod for trout. Our group of 4 only caught one fish that evening but it was fun nonetheless. The scenery was beautiful, and the night peaceful. No tents for us - just slept under the stars.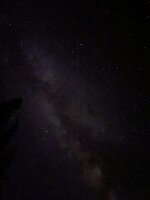 Opening morning and we were up bright and early. Out the door before the other hunters were up for two reasons - be in shooting position at daylight, and not let the others see where we were going. Being there 5 minutes too late can make all the difference.
We get to our positions that surround a large meadow. The oldest of the boys set up in a draw where a finger of the meadow ends before it goes uphill towards the bedding area. The youngest set up above him on the ridge separating that draw from a creek. Then set my friend up on the creek adjacent to the draw and ridge the boys were at, where a section of tree edges, meadow, and creek meet - pinch point. I setup just inside a tree line overlooking a hillside full of groceries where the creek empties into, but where its fairly open. I picked all these spots based on scouting deer movements in previous years - every spot has had an opportunity at a shot before. We were all spaced roughly 200 yards apart.
Orders were to stay put until 9am when most the deer activity would have passed by then. It was very quiet until 7:30 when I saw movement at my spot. Doe and a young buck. I have no interest in shooting a young buck anymore, especially one thats barely more than a spike. I snuck in to get a good look at the buck - barely legal with one tiny fork. No one else in the group has shot a buck before, so I go get my nearest buddy on the creek to go chase after the jail bait buck. We looked and looked but they disappeared into some tall willows like ghosts - gone.
At this point its close to 9am so we head on over to the boys and check on them. Find some very fresh buck droppings on the way from a sizable animal. They must have split my buddy on the creek and the youngest boy on the ridge by taking a slight depression uphill to bed - just out of sight. Between the 3 of us, we just saw the doe and jail bait buck.
The oldest boy (hes actually bigger than me lol) comes up from the draw and we ask what he saw. With wide eyes he said: 4 groups of deer!! One group of 4 does with fawns, a group of does and fawns with some forkies, a group of 3 forkies, and then some bigger bucks - 3x3 and something bigger!! He was only 5 yards out of position from being able to get a shot on one of the deer! His younger brother was in awe - all that action and he didnt see a thing. My buddy was shocked too - his spot was also a bust. I wasnt surprised…. That draw is the best spot!
Back to camp we went for an afternoon of fishing and relaxing. Took a swim in the lake, threw some lines, took a nap, ate food, and just chilled. The boys and my buddy decided to hunt in the evening, and although we could hit that area again, I told them to wait until morning as its best worked with deer going through the funnels uphill. So they poked around the rest of the mountain with the other hunters, which also helps push the deer back to the secret honey hole.
I stayed in camp with my spotting scope, binos, and fly rod. I had two goals of my own - glass a pocket meadow across the canyon that holds big bucks that Ive seen before, and catch a fish on my fly rod. Glassing didnt go to well, but I did catch my first fish on the fly!!
He was a wiggly, fighting SOB for his size lol.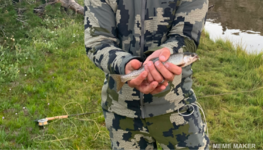 (Cropped since lake is well known)