Joined

Jan 19, 2022
Messages

197
Just to set the record, I know the wolves are a problem. I am sharing this because I no longer live in the frank and my honey hole will still be my honey hole. And I will hunt a few more times ( bought my lifetime licsense ) at this special place. And I am sitting in a hotel room waiting for my appointment to rush my passport so I can drive the 2600 or so miles to Fairbanks. So I will share these hunts, mine was solo and helped mine friend with his.
My camp in the Frank was 7 miles in and 5000 feet of vertical off the salmon river. Living back there allowed me the time to make and supply my camp in the summer. I arrived at camp three days after opening, set up the eight man teepee I had packed a week earlier with two cases of beer and some whiskey. I was waiting for two buddies to show up and they did around ten that night. The next morning was casual. I showed them the spring we could get our water and chopped some wood for the stove and fire pit. Around ten we heard that most beautiful sound all elk hunters want to hear. "the bugle". Right after that the forest lit up. there were two heards with seven or eight mature bulls. All pissed and singing!(when i get to the pictures my friends bull was the first one we call in to us) We called him into camp! Messed it up! I love hunting.(wolves have a lower percentage of killing than i do with a 7 saum or 300 at 100 yards) If they were watching they were laughing! So after a quick lunch we decide to get back at it. We start climbing through that nasty lodge pole down fall up a through the beautiful frank. About forty yards below a bench the woods start screaming that beautiful elk talk again. Wind busted us. So we just start looking for elk sign again. its everywhere. Decide to let a locater bugle go. Nothing. Twenty minutes later we sit down to regroup get some water. We are sitting on a log and I glance at my buddy, his eyes are like saucer plates. He is discretely pointing to left mouthing "big bull"! I look to my left and sure enough there is a bull staring at us at thirty yards.! Naturally ( if you have hunted whole life you know this to be true) our rifles are no where to be useful. I think this is where the wolves were watching and laughing! WE screwed the pooch! Head back to camp for a beer and some gut wrenching mountain house. unfortunately shit happened that night and they had to leave and stumble out in the dark through a down pour.
The next morning I am up early, ready to go. It is dumping cold rain. But I go back to the area where we saw that bull staring at us. It is dumping rain. Let a locater bugle. Nothing. Decide to sit down for a bit longer. Getting ready to hike other places and just let a bugle go. Instantly a response! Maybe three hundred yards below me in thick timber. Sit quiet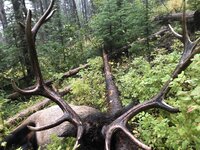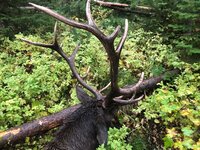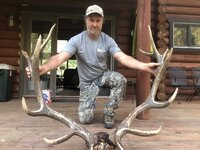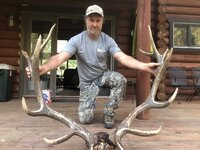 and wait. Not thirty seconds later a raging pissed off bugle two hundred yards below me. (thank you elk nut. I knew how to work this bull because of your help!) Two cow calls that probably didnt matter, but one good challenging bugle. This bull broke 120 yards below in old growth but through little spruces. He was running right at me. Drooling and pissed! He got to around 20 yards and I was set up but hate frontal shots. So I waved my hand. He stops dead in his tracks,. I know what he thought, OH SHIT! 30 feet a 160 grain accubond from a 7 saum turned him into good eats!
My packout was by myself. 7.5 miles and 4500 vertical one way. So it waa three trips back and forth. It was hot out too. So after I got everything to camp I would do trips to 2500 below at the creek and take the game bags and put them in dry gags and stuff them into the creek(its fall so the creeks are cold) And I packed out the cape. On my last trip my friend showed up and helped with a quarter. But he wanted to go hunt.
Sooooo, we loaded up again and went back up and got hijm a dandy.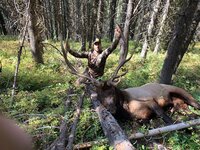 His bull actually scores bigger, but it was the same heard and mine was the bad ass bull. The neck on mine was 35 and 3/4 inches. I am just saying, there are no big bulls in the frank.
Overall I did 130 plus miles and 70 thousand feet of vertical packing elk that year.
(the last day of the season my friends shot one right out my camp. He was a beautifu;l 6 x 6 around 300.
But, there are no big bulls in the frank.