Joined

Mar 25, 2013
Messages

635
Location
To keep in my theme of hitting the ground running here at rokslide.
Once i got the bug, and started to wear out some boot leather carrying around entirely too much crap in a eberlestock j107 for the first couple seasons of scouting and hunting lightened gear a bit, got a j104 at the time and then i tagged along with a buddy who had a ewe tag and we went up and got one, finally got to put my hands on a rocky mountain bighorn sheep and pack some out, i was obsessed.
I drew the ewe tag the following season and got my ewe solo, packed her out with head in one go with a j104, not comfy but did the job, no injury but did bend a leki trekking pole pretty good on way down. I was up high all day looking for ewes and on my last swing across to my last glassing point before heading down later in day i spot white rumps way down in the trees crossing through some slivers of open and the adrenaline rush was incredible, it was on like donkey kong. I came down as fast as i could on one ridge and knew i'd lose them but at their pace figured i could shoot across to the next ridge if i could find them in the tree openings when i got down there so set up in likely spot at elevation i anticipated they were at and started glassing hard across to that next finger, it took awhile for them to materialize, lots of highs and lows, seeing them, losing them and trying to find them again, then finding them again, emotional rollercoaster. Now i gotta find a 'ewe' and get it done, studied and found one at 311 yards and the sako a7 270 wsm with federal 140 accubonds did the job. Lost her in the trees and as soon as i dropped down i knew i'd lose all vision until i stumbled upon something so again, the question marks, the wonder, took what landmarks i could and down i go across the deadfall, is it dead? Shot felt good etc. Sure enough i spot her dead from about 30 yards, i walked right up to her as if on a string, amazing. Day running late, field pics and hiked her out in the dark but what a day!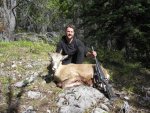 Even more obsessed now, gotta get that ram monkey off my back. This same year as my ewe only later in season i got a tip on a ram that was likely legal, found him and had him to myself for hours, lots of snow and -11c, but could not give myself a 100% and had to walk away.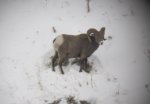 That was tough, bugged me all winter, i studied hard, took 3 years to finally get on a likely legal ram and was still weak in one area...judging...don't like to make mistakes like that more than once! So later in my 4th season i found a ram, it didn't take me long at all when i saw the profile at 1000 yards to see him legal, the homework paid off, on like donkey kong! Snapped a couple pics thru spotter as usual and it was getting late in the day for what i thought was the more ideal stalk attempt, i just had to go for it direct and hope for the best.
I already had him legal in a pretty large band and he was noticeably darker than all the rest so all i needed was a glimpse and to find the dark one and shoot. So i climbed, and once up through the trees with things opening up into verticle fingers of open strips and tree strips i came through and peeked up and saw two of the lighter rams looking at me at 330 yards straight above me....crap. Backed into trees and got pack off and ready to come around to no sheep...nothing i can do but gear up and climb some more.
I cross that opening toward the downwind and cross the next sliver of trees and climb that edge when all of a sudden i hear commotion. Although the sheep i spooked had ran back upwind likely to the larger group i had to assume it would get them rattled but because only a couple young ones saw me i thought the confusion may not hurt me? and that they might stay in area long enough for me to get eyes on the dark one. So i kept heading downwind so they couldn't get that on me which is the direction they were travelling anyhow so sure enough i hear commotion, sheep start blowing through the tree strip right above and into and through opening right in front of me, my first hike with a kifaru gun bearer and rifle was up and shouldered instantly(i'm a believer in that little piece of gear!), two sheep stop for a second in the middle of the opening and one was the dark one, scope went from head to behind should as all was green light and boom!
He rolled once into the lone two trees in the chute and i could see a limb bouncing from him doing the bicycle upside down. I loaded another and was back on target lightning fast and stayed there for a couple moments before i even thought about taking my eye out of the scope. I could not see him, just the limb bouncing up and down. I make my way cautiously up and around tree and he's upside down foot still barely cycling, i run a final shot up the sternum from point blank although totally unnecessary it felt like the right thing at the time. And scream i did! Fred Eichler had nothing on my reaction that day. That was a four year obsession, the miles hiked, the ups and downs, oh man i let that mountain know what time it was! The ram monkey is off the back. I ranged back to where i was standing when i shot....35 yards, i laughed, all that work building that sako up to do long range and i kill my first ram at 35 yards, i definitely saw the irony. In fact it was my shortest kill that season and my only one with rifle. I killed a 189 muley with my bow at 53 yards, a little bull moose at 40 and a little whitetail buck at 65....oh the irony. Again getting late in the day, got it caped and deboned, meat bagged and tucked well away from my grizzly offering and my sweat soaked merino base layer on top to ensure my prize would remain untouched overnight as i packed cape/head out and back in morning for rest with a buddy who was keen to come for a hike the next day. At this point i'm quite a bit lighter than when i started, running a gregory z-55 and very minimal size optic and gear. That z-55 doesn't handle weight worth a crap and hurts me if i kill something but its light for most of the time i don't kill something lol, more on that to come.
Making him legal and trying to figure out how best to get within shooting range?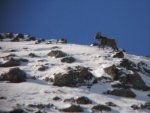 And no words here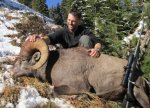 He goes around 161, and 6.5 yrs old with 15 1/2" bases, a perfect first ram, not a squeaker, not a stud so i'm not spoiled early with a stud and will use whatever years i can going forward to look for the stud and get as much sheep blood/memory with close fam/friend doing this as possible before one can't do it anymore.
Waiting for the taxidermist to get the cape back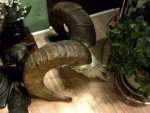 More coming soon, we are only up to year 2010 at this point, bit more left to go.
Last edited: