Elk season stared and ended with a bang this year. My youngest son 16 and I stared the seasons backpacking in 6 miles the day before the opener. We could see 2 other groups camps below us on the ridge we wanted to hunt so we stayed up a little higher.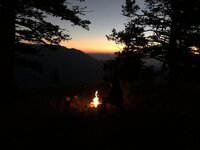 Opening morning I awoke to a guide with a client on horseback 10' from our camp on a trail we didn't know existed. The guide completely ignored me wave and good morning. The client looked back and forth between us like a lost puppy!!
I continued getting ready for the day and told my son it was time to get up. As daylight was just breaking he was still in bed. I looked up on the hill to a tan spot I didn't remember, sure enough it was an elk 900 yards from camp. I tell my son to get up I had spotted an elk. I get my spotter on him it was a small 4pt bull! By this time my son is up and blurry eyed. We hike up to a little glassing point and watch the bull feed over the ridge. We continue glassing for a few minutes and see nothing else but I hear a crunch in the timber to our left. I let out a few cow calls and we listen. It turns out to be a squirrel dropping pine cones. I then catch movement 100 yards to left of where the first bull was. Another bull walks out of the draw towards us at 800 yards. He is walking down towards us and stops at 640. My son is behind the gun at this point and I ask him how feels about that distance. He said he is ready and I give him the drop. Problem is the bull is on a mission and won't stop. He continues on until he enters the timber 400 yards away. At this point I tell my son he is coming to us, he heard my cow calls.
About 3 minutes later my son says elk. I look directly in front of us at 90 yards and there he is!! I tell him to wait until he clears a branch and then aim for the chest. The bull takes 1-1/2 steps and mid step my son lets him have it. He didn't know what hit him and was dead before he hit the ground!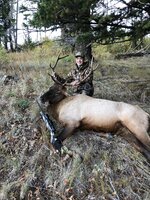 We spent the next two days packing him out just the two of us. It was a great time with my son. A hunt we will both not forget.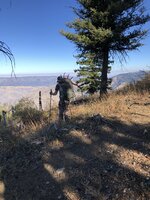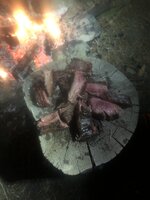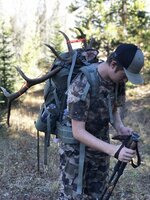 Last edited: