Lightly used P220 5" DA/SA Match Elite in 10mm, probably 200-300 rounds thru it. Originally was 2-tone, but I sent it back to Sig to have them apply factory nitron coating to the frame, so now it's all blacked out, factory matching finish. Factory G10 grips and night sights. Short reset trigger, Armory Craft adjustable "slightly curved" trigger blade. 2x 8-round magazines. Includes the factory case shown, OWB holster, and appendix IWB holster.
If desired, I have a couple other airline/TSA approved cases, if that's something you want, we can work that in.
$
1400
$1300/OBO, Zelle, wire transfer, or check. We have a few options on shipping. I can ship to your FFL and we split shipping cost. I'm located in Maryland, and can meet you at your FFL if you're within a reasonable distance, and we can do the transfer there. Lastly, the week of Thanksgiving, I will be flying into Salt Lake and driving north to Idaho. If you're in that area, I could potentially meet you for the FFL transfer there.
Let me know if you have questions, or if you want pics of more specific parts of the gun.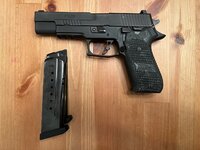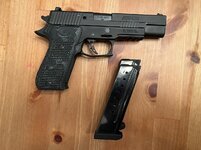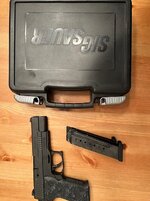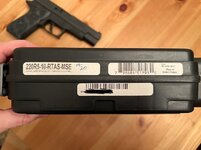 Last edited: