Joined

Feb 7, 2017
Messages

946
Location
How close is too close for BH distance to the drop away rest? As a side project, I'd like to cut down a couple of arrows very short and add some brass inserts. With my DL at 28.5" (drawboard measured), a 26" arrow is about 1/2" in front of my rest. I shoot small fixed BHs and my fingers are curled down. My BHs on my normal setup are already over the shelf and I'm not too worried but I don't want to cross any danger-lines!!
I'm comfortable with paper/bareshaft/BH tuning and can usually get my BHs shooting well. I've never experienced a "weak spine" and don't really know what to look for. Is it mostly BHs will group better out of a stiffer arrow and be more forgiving?
Here are two 340 spine setups, with 125 vs 100 gr heads. Both are "Good" in OT2. I'll shoot them both to see but would be interested in any feedback on my spine. Thanks!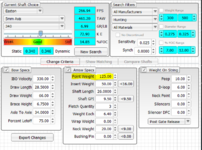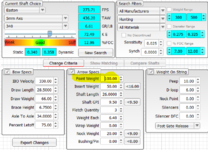 Last edited: