Super Moderator
Staff member
Joined

Feb 25, 2012
Messages

2,454
Location
I used to do a lot of running races. After 3 knee surgeries and evaluating how long I wanted to be able to hunt the mountains I have backed off on my running. I started biking hard last year and swim training a lot this year. Competed in my first two races last week, in over 2 years! I miss the competitive fire it brings out
On Sunday June 10th a group of us did the Eau Claire triathlon. Then 6 days later we saddled up and drove to Appleton and did the High Cliff triathalon. Definitely glad to be "back". Not having the mountains to train in, this extra training will help me be at a higher level come September.
Felt that I did ok and was happy with where I was...that said my goals are loftier for the next two, although they get harder from here.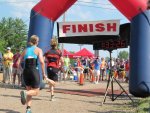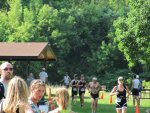 First picture is my actual finish time at EC the first race. I managed to pick off 5 spots in the last 200M. The second picture is me rounding the bend (1177) with 150 to go. I got all 3 of those before the line!