Joined

Aug 3, 2015
Messages

415
So, I had the opportunity to get out last week, FINALLY. It was just a quick over night pack in but it was better than nothing. So I'll give a quick run down. I drove up to Pisgah national forest Thursday morning after I dropped the girls off at school and the sitters. I had my Slumberjack Bounty 4500 packed and ready in my truck and off I went. I got to the trailhead around 9-930 and hit the trail. My camp sight I had chosen was the same one I've hunted out of last year and about 3.5 miles in and up the mountain. At the top there are 2 big fields that I was interested in hunting. About 300 yards or so below the first field I decided to stop and get my camo face on. I didn't want to get to that field and miss an opportunity to work a bird or screw something up because I wasn't ready. I eased through the first field along the edge watching really hard and listening even harder. Nothing!!! On the back end of that field is another trail that runs up the mountain further. I hit that trail and started toward the very top field. My camp site is on the backside of that field about 200 yards in a creek bottom. As I'm easing along that trail between fields which are about 300-350 yards apart I think I hear a gobble. I lock it down and listen. Nothing, so I take a step and there it is!! a gobble up on the top in I think the field I'm heading to. I stop and look around for a set up and in that time he gobbles again. So I drop my pack where I stand and drop to my knee kind of behind a burm. I give a couple light clucks and he cuts me off with a triple gobble!!! I get down on my belly and crawl up behind a down tree and lay my shotgun over the log. I call again and he gobbles and he's closer!!! Then I see movement and a white head up the mountain and to my right about 80 yards or so. HE'S COMING MY WAY!!!!! I can't move so I hope he ends up following this draw he's in that passed right past me. I lose sight of him in the draw for a bit but he gobbles so I know he's still there. Then he pops out and fans and gobbles once. My heart is pounding but he's still a little to my right and I don't want to move at all. I can feel my heart pounding against the forest floor since I'm laying flat on my belly. Then he takes a few more steps right in front of my barrel. I'm already on the gun waiting and I let it fly!!! It blew him ass over tea kettle!! I put my safety on and rack another shell in. He's flopping and I run up to get him and take I think my first breath since I think I saw the bird the first time. He was at about 22 paces.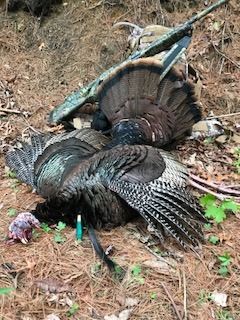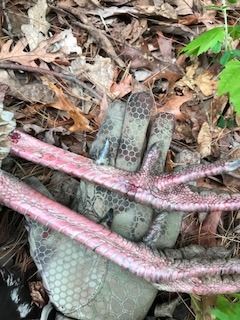 Then I actually stood over him and said to my self" what the hell do I do now?" I had the time off and killed a bird on the way into camp. My options were, go back to the truck and head home or head to camp and set up. Then try again in the morning for my 2nd bird. We're allowed 2in NC. I opted to head onto camp and set up and try again in the morning and try to limit out.
Day2 is another story with action but no joy as far as getting another bird. That's fine though I had a GREAT time and I think it very successful even if it was a big part shit house luck. I packed out heavier than I went in!!!!