Well Known Rokslider
Classified Approved
Joined

Jun 15, 2016
Messages

1,992
Kuiu Storm Star 2P in Major Brown

Footprint and extra spikes included
Slept in this 2 nights. One night in Colorado on a Elk hunt when we spiked out from base camp, one night back East.
Bent one of the longer poles trying to put the longer pole in the short section, and while bending back on the corner of my kitchen counter to fix it, I put a kink in one piece, so I called Kuiu and told them what happened and they sent me a new link under warranty. I replaced that link. That pole is still not perfectly straight, but when you pitch the tent it takes the appropriate shape.
There is a mystery stain I have shown in pictures...smaller than a dime. Almost looks like rust.
Before I realized there was a ram head only on 1 side of the tent, I wrote "Head" with a black magic marker on that end of the tent, so I would know which side to put uphill.
The instructions from Kuiu mention a Yellow sleeve on the corners of the tent, but there is no Yellow. There is only Grey, Blue, and Orange. I corrected the instructions, and also labeled the poles, so there is no way to screw it up.
Selling because I want something a couple of pounds lighter, and also 3 season. This one is a little too warm/overkill for my purposes
SOLD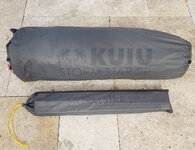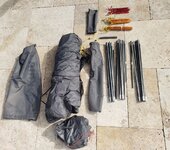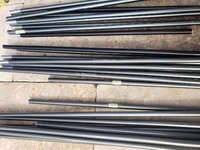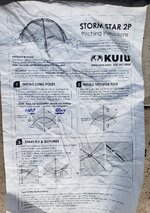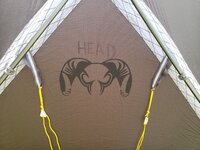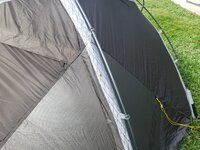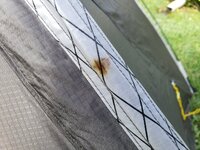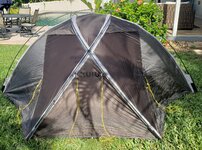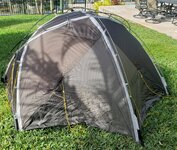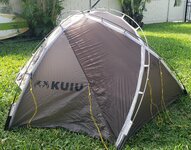 Last edited: