Joined

Dec 4, 2018
Messages

1,480
It seems like my Covid fat is here to stay. Had to size up to 34 in all my pants. These are all size 32. Would like to keep these as a package to save on shipping but would entertain offers if no takers for the whole deal. These are all WELL used hence the price. Will describe more under each picture. They all fit as they should and are the older versions with slightly more stretchy waist than the newer stuff.
$220 shipped for the lot
Kuiu guide verde 2.0. (Top right) Well worn and recently reapplied DWR. Compared to a new pair the fleece is not as soft, been washed many times. Couple sap stains on the butt. Otherwise fully expect these to last many years.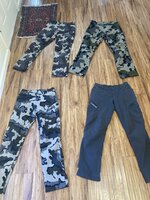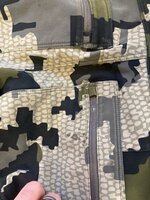 Kuiu Teton pant size 32 vias. (Top left) These are discontinued but very durable, not much stretch. They fit somewhere in between a tiburon and attack for warmth. Good shape, no holes or anything I could find.
Kuiu attack size 32 gray, maybe steel, not sure exact color. These are the older attacks with a more stretchy waiste. Well worn but no significant damage.
Kuiu tiburon size 32 vias. These are about 10 years old and have quite a bit of wear. There is a hole opening below the fly which needs to be sewed. There are some wear holes in the legs. One is patched with tenacious tape. Basically I am throwing these in free, but I have worn them probably 10 times in this condition and they continue to hold up just fine..