Joined

Mar 25, 2013
Messages

560
Location
All P&Y, diy, but not really 'high country' mulies, they are river drainage muley's right in my backyard in the Calgary Bowzone. I do put a fair bit of time into scouting/watching/hunting them and have been fortunate with access where good deer live as that is a key and i've got them pretty figured out. I held out for a specific deer(old warrior) the season before last and it bit me as i turned down two very nice mature easy p&y from 26 to 40 yards and did same this last season but decided near the end of the season if any P&Y gave me a chance i'd take it. I'll start with the one that started this great run.
From a spotting on way to another area and wheel into a yard and knock on the door to 'it will be a one time thing i won't bug you again', a 57 yard heart shot and 25 yard recovery in early October and cloud 9. Grossing 168 and change.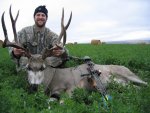 Then 55 yard shot for this guy, 80 yard recovery in November. I'd have to dig out the P&Y certificates as my memory is fading fast but i think he grossed around 164.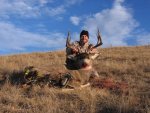 Then a 35 yard shot for this one on a very cold November day.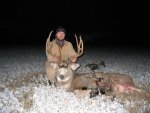 Now i start getting fussier and more patient instead of making plays on the first decently forked 4x's i lay eyes on. An opening day buck this time grossing 174 3/8" and netting 2" less...that was easy to remember.
42 yard shot from recollection.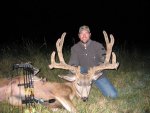 Then my best comes the following year, grossing 202 7/8". A close range surprise in cover on brutally windy day that required a very quick yes or no, had no idea he's break 200". 20 yard shot 50 yard recovery.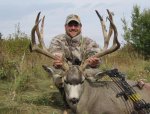 To be cont...