Joined

Sep 22, 2013
Messages

6,301
A while back I mentioned I was working with a guy to create a multi-application woobie/doobie suitable for the NW Territory. Well it is done. You haven't seen this before!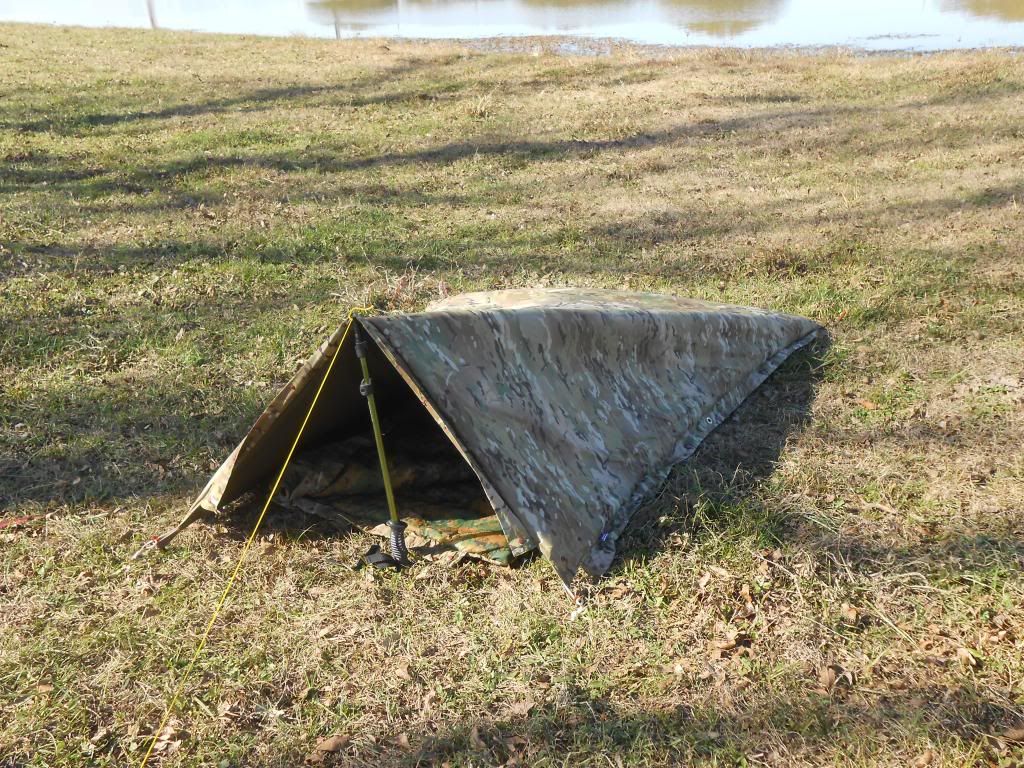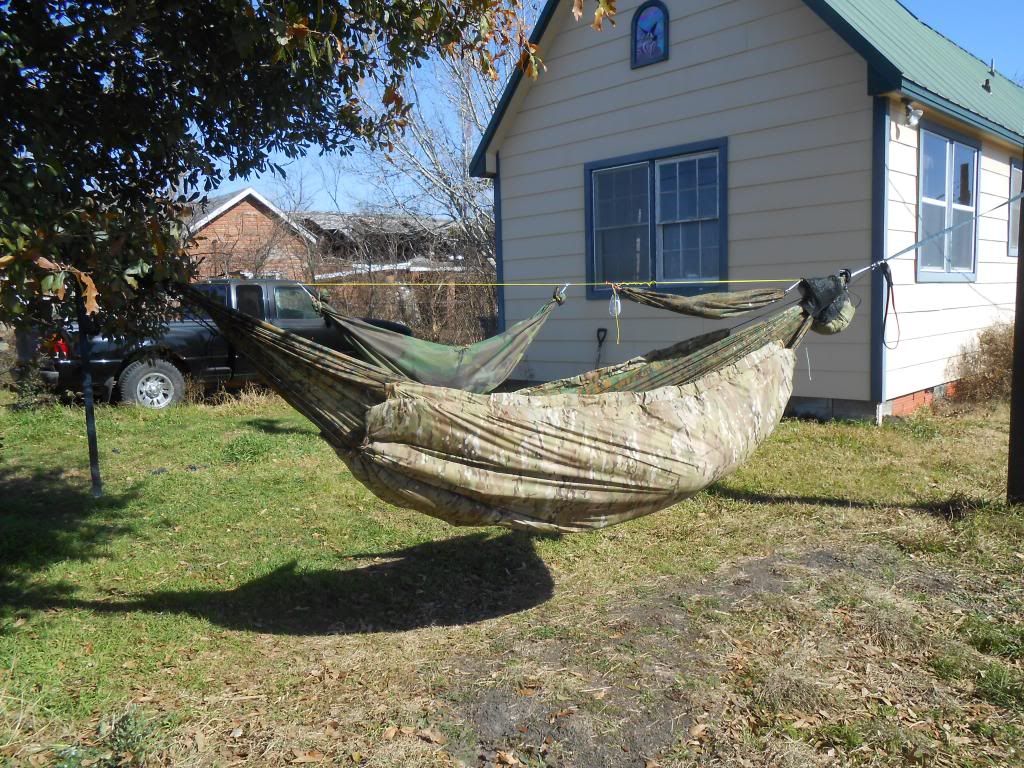 The Underwoobie is a combination of military poncho, poncho liner, and shelter half, a spotting/hunting blind, with the added functionality of use as a hammock underquilt and as a hammock top quilt or ground quilt. If you want to know what it can do, just search the Web for what a poncho or tarp can do, then add a hammock.

Here's the project info for you DIY guys:

The Length & width of insulated area: 59" x 80".

Overall (includes suspension channels): 63 1/2" x 84"

Weight with suspension included: 3 pounds 3.5 ounces with 5 oz/yard Climashield Insulation and 1.9 oz/yd DWR inner shell.

Due to seam allowances this number will vary somewhat from Underwoobie to Underwoobie and, because I'm doing this by hand in Texas and not on some assembly line in Wang Chow, none of these will ever be a perfect rectangle. Length and width variances do not affect functionality or the ability of one Underwoobie to snap to the other.

Underwoobie Definition of terms:

Outer Shell: this is the surface of the Underwoobie that will normally be presented to the weather when used as a quilt or shelter.

Insulation: A synthetic material intended to trap body heat.

Inner Shell: the opposite surface, normally where the body would come in contact with the Underwoobie when used as a quilt or shelter.

Suspension channels: One on each side to be used to suspend the Underwoobie when used as an Underquilt. These also act as miniature draft/mudguards when used as a shelter, and storm flaps when used as a sleeping bag or topquilt/ground quilt.

Suspension: a system composed of elastic shock cord, carabiners, and cord locks that allows for adjustment of the Underwoobie when used as an Underquilt.

Materials:

Outer Shell: is composed of Duro Epsilon in a MultiCam pattern licensed to Duro by Crye:

http://multicamfabric.com/shop-fabrics/epsilon

It is extremely strong and light weight. It resists tears and abrasions better than anything I've ever seen. When UPS tossed two five yard rolls over the gate here at the prairie bungalow, they spent the afternoon in the front yard with my dog (who has a side job customizing hiking shoes and slippers). The packaging was ripped to shreds and about a yard was pulled from the end of the roll. The only damage I found was a 3/4" long tear at the very end of the roll. I patched it with adhesive patching material and its on Underwoobie #1 right now.

Finished Weight - 1.55 oz/yd² approximately
Fiber Content - 100% nylon
Construction - 164/118 (warp/fill) approximately
Elemendorf Tear - 5/5 (warp/fill) lbs, minimum
Air Permeability - 2 ft³/ft²/min

It is a waterproof breathable fabric. Legally, I cannot advertise the water resistant finish on the Epsilon as I am not a licensee, but if you go to the link above you will see that Duro says it is treated with a Nanosphere finish. Information on Nanosphere is here:

http://www.schoeller-textiles.com/en/technologies/nanosphere.html

I absolutely love this stuff. I won't make an Underwoobie with anything else as an outer shell.

Insulation: Apex Climashield, a continuous filament synthetic insulation, in the weight/thickness of your choice.

http://climashield.com/durable-warmth

I can personally vouch that 5.0 oz/yd Apex will keep you warm and comfortable down to 40 degrees, and with proper base layers and clothing, down to 30. However, the Underwoobie is designed so that two quilts can be snapped together to boost that temperature rating. A man with two Underwoobies using 2.5 oz/yd Apex will have a top and bottom quilt that will keep him warm to the 50's, and when snapped together, and Underquilt that will perform better than one of 5.0 due to the additional layers of fabric. A man with a 5.0 Underwoobie and a 2.5 Underwoobie can get down to the 20's.

Inner shell: Usually composed of a waterproof breathable fabric of the customer's choice. This is a generic fabric that is available from several suppliers, the quality from each of the same. The most common choice for underquilts is a Ripstop fabric that has been treated with a "durable water resistant" (DWR) finish. Most of these fabrics weigh 1.1-1.6 oz/yd before the finish is applied and the resulting weight is generally 1.9 oz/yd.

Weight savings can be made by using an untreated fabric, but these types of Underwoobies, while serviceable as an Underquilt, should be used primarily as a top quilt and are not quite as durable as DWR.

Underwoobies with DWR inner shells should be used primarily as underquilts or shelter tops and floors. While serviceable as a topquilt, the material is not as comfortable as unfinished Ripstop, and there may be condensation issues if used without proper ventilation. Underwoobies are designed to be ventable at the foot end, but care should be taken.

There is another product available for use as an inner shell that is superior to DWR both in weight and performance that just came on the market: Argon CS-90

http://dutchwaregear.com/argon-cs90-ripstop-fabric-orange.html

Color selection is limited, and the price shown is an introductory price that is sure to go up. I have several yards in my possession now, and have used its predecessor, Argon, in the past. It is extremely soft and lightweight, almost translucent. It is half the weight of 1.9 DWR and 25% less than 1.1 unfinished Ripstop. The principal difference between the Argon I have used in the past and CS-90 is that the new fabric has a Ripstop grid for added strength and durability. Its principal drawback is that the fabric width is 58 "usable" inches, which means that an additional 2-4 " of fabric at the sides would be required to make a standard 60" wide Underwoobie that would work with other Underwoobies. It would be cost prohibitive to use CS-90 as the side fabric so another fabric of similar color, probably 1.9 DWR would be used and there would be a noticeable difference.

If I could get it in 60 "usable" inches, I'd throw rocks at any other fabric out there and use only Argon CS-90 as an inner shell. It's that good.

Another option would be to use Epsilon as an inner and outer shell. It is as soft as the unfinished material, and a good deal stronger, but cost is high and it has similar issues regarding condensation as DWR, but on a vastly lesser scale.

Suspension Channels: These are made of the same material as the Outer Shell so as not to disturb the camo pattern. If camouflage is of a secondary concern, another fabric can be substituted as a cost savings measure.

Misc Materials: All snaps and grommets have, in addition to the visible shell material, at least two layers of a lightweight polyester fabric to prevent tear out when the snaps are pulled. The snaps used are common in custom backpacks and other outdoor gear. Snaps and grommets in Suspension channels go through four layers of material, snaps in the insulated area go through three layers, and grommets at the corner go through six. Brass Grommets are used at the centerline of each side and all corners for use with trekking poles or trail wood and guy lines when used as a tent or tarp. Double stitching is used at the corners and thick bar tacks in two directions reinforce the Suspension Channel. The thread used is Gutterman Mara, the most recommended thread for outdoor use. Milspec nylon thread was considered, but is not being used for now as it is intended for modern commercial machines and does not work well in the vintage machines I use---machines that were manufactured when this country made stuff and it good stuff.


Design and Production Philosophy: A couple of years ago, I designed a backpack specifically for use with hammocks. I paid the guy $250 to build it for me. Now he features it on his website:

http://www.zimmerbuilt.com/hammock-pack---vining.html

I don't, and can't, make a dime off of it and was distressed to hear that he is selling it exactly as I designed it, and not allowing those who order to make changes I would make.

That was a lesson learned. I now make everything I design. Its not the best sewing in the world, but my production philosophy will always be that the next one will be better than the last one. I don't do that for you, I do it for me. It takes longer to do and some ideas are on the back burner until the Underwoobie is sufficiently standardized that I can make one in a night. That might take a while because I am never really satisfied with a design. I always see something that can be tweaked. I need to break myself of that habit.

I spent my misspent youth in 1960's New Hampshire hunting and camping using surplus WW2 field gear----most of stuff my Dad had bought right after the war. My Dad still had a lot of it when I visited him in Vermont in 1984. I want the stuff I design to last that long. While other folks are going for the lightest damting they can find or make, I'm going for bombproof first and weight second. My stuff will not be attractive to the Appalachian Trail thru-hiker who will spent his nights in crowded trail shelters and go through a town every couple of days, but my hope is that folks who need durable gear that performs well when needed find it useful.

I use synthetic insulation because when down gets wet, it can be a death sentence in a back country emergency situation. Down loses all of its insulative qualities when wet, and takes forever to dry. Synthetics suffer in comparison to down in both weight and bulk, but if you're shivering on a ridge in a light rain with a broken ankle and you're down sleeping bag is wet, that helicopter better get there fast. Synthetics will dry faster and perform better when wet. I use Climashield because its the best synthetic currently available to civilians, and I use APEX because its the best Climashield for this application. That being said, if you're doing alpine trekking or expect to be in sub-zero temps for an appreciable length of time, down is still the best insulation for those conditions.

I've already spoken about Epsilon, and I can't say enough about it, and Argon CS-90 has only one drawback, and that's from a production standpoint only.

I'm using the word "production" a lot, but that's because I can't think of a better term. Right now its just a fat old widower with three sewing machines and a lot of ideas floating around in his head. I love my day job, the woman in my life, my children and grandchildren, and hiking and camping---and at the same time I find I have a slight addiction to nylon and thread. I don't want any of those relationships and activities to suffer. So for the time being, "production" will be limited to custom orders on a first come, first served basis. Currently, I'm capable of churning out an Underwoobie in a week to 10 days. As time goes by and I'm able to standardize more, that should increase, but if anybody needs immediate shipping I'm not going to be the best place to go. This also means I won't be the cheapest as eight now I'm paying only slightly less than retail for some components, and full retail for others. I'm also paying myself about $2.00 an hour. Time will allow me to build up inventory of some parts in wholesale quantities, but that's only going to result in me paying myself $2.75 an hour at some point in the future.

Future Products:

The Wet Woobie will essentially be an outer shell only for use as a rain cape or serape and as an underquilt protector. Additional sewing and better materials will be used on the inner surface to present a finished look that the Outer Shell of the Underwoobie lacks as it is not visible. Pockets will be added in the inside snap reinforcement strip and each will contain a length of Zing-It for use as guy lines and stake loops.

The Fuzzy Woobie will be a Wet Woobie with a fleece inner shell that will snap to the Wet Woobie making it functional as a cool weather top or bottom quilt. One could use the Wet Woobie filled with forest duff as an Underquilt with the Fuzzy Woobie as a top quilt in cool, but not cold weather. The fleece inner will also be able to snap to an Underwoobie to boost its performance as a quilt.

The Woobie Woobie will use a standard military poncho liner in the place of the Fleece Liner. Customers can purchase their own poncho liners and send them in for modification, or I will provide a used surplus "Very Good" to "Excellent" condition poncho liner.

The Underwoobie Kit. You provide the insulation and suspension, I provide all the sewn sub assemblies and cut inner and outer shells with snaps and grommets installed on the sub assemblies.
Last edited: